Opel has totally upstaged the small car market with a new Corsa that raises the brand potential by more than a few notches over the competition. This new Corsa, just launched in Ireland last month, is impressively different to the car it replaces both in terms of styling, features. This new Corsa has an overall richer feel to it.
Existing Corsa drivers will instantly get the feel of something different. The layout and design of the dash, the overall touch of the car's interior features means that this new Corsa has jumped strides in placing Opel's small car into a new league. The car has gone from being an also-ran to a real competitor for the Ford Fiesta, Toyota Yaris, Renault Clio and Volkswagen Polo, while offering more engine choices than Toyota's hybrid Yaris.
I took the new Corsa for a lengthy overnight test drive and while its 3-cylinder turbo-petrol engine whirred at times, it showed power in bundles to make it a lively car to drive. Opel is offering three engine options to start with made up of two 1.2 three cylinder petrol versions one of which is turbo-charged. The third engine option is a thrifty four-cylinder,1.6 litre turbo-diesel engine that comes with a €4,000 price premium over the entry level petrol version. Later this year Opel will offer a full electric version of the new Corsa and that range of engine choices means that there is a new Corsa for everyone.
The test car that I took to the road was the 1.2 litre turbo-petrol version with an impressive 100bhp engine that's slightly less powerful and with lower torque than the diesel choice. The three-cylinder engine is lively with the turbo addition and once on the road it powers on well and is smooth to drive. The car has impressive acceleration at a lively 9.9 seconds in a 0 to 100km/hr race.
The six speed gearbox allowed me to motorway cruise at 120km/hr at just over 2,500rpm on the engine. That was enough for me to get a fuel consumption figure of 15.6km/litre (6.4l/100km or 44mpg). That's about 8% over the rated figure and that's a good enough figure to achieve in real driving conditions. The car is over 100kg lighter than the Corsa that it replaces and that helps with economy too.
This is car is competitive with the petrol powered competition in terms of fuel economy, if not marginally better. This new Corsa is as big as Ford's new Fiesta and that makes it a sizeable car in its own right. It's bigger than the Toyota Yaris with a bigger boot space and feel significantly more spacious.
The overall height of the new Corsa has been reduced to deliver better aerodynamics and lower CO2 and consumption. Opel claims that there is more front headroom, and that the car's longer wheelbase and increased overall exterior length gives more space and comfort.
The boot volume is increased (+24 litres) to 309 litres, or up to 1,081 litres with seats folded. That's maginally better than the Ford Fiesta boot space when the seats are folded, although the Fiesta has a slight edge with a full compliment of passengers.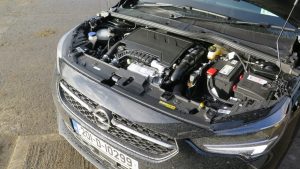 This new Opel Corsa is available in three trims, SC, SRi and Elite. There are impressive safety features as standard, dependent on trim including forward collision alert with automatic emergency braking and pedestrian detection, radar-based adaptive speed control, lane departure warning and traffic sign recognition.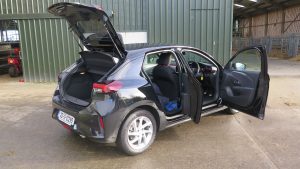 The new car has a 4 star rating in the tougher 2019 Euro NCAP testing programme. That's marginally lower than the rating for the Audi A1 and new Renault Clio, both of which achieved a 5 star rating, while Ford's Fiesta achieved a 5 star rating in its slightly less strenuous 2018 test.
Entry prices for the new Opel Corsa start at €17,975 or £15,750 in N. Ireland, and that's marginally more expensive that the entry level Toyota Yaris, but significantly cheaper than Ford's equivalent entry level Fiesta models. There is new Corsa is competitive while there is a big €4,000 jump from petrol to diesel. There is also a big jump in price terms as you move up the specification ladder, so step carefully, because you could quickly get gazumped into a €20,000 car once you opt for the turbo petrol or diesel versions. That's getting pricey for a small car, even though its well improved.