Nissan bridges range anxiety gap in new e-Power X-Trail
Nissan's new X-Trail has all of the external characteristics of a new SUV, with new styling, more interior space, and features. Underneath that is an entirely new drive system called e-Power that brings a new take to electric power.
Nissan has added the e-Power drive system as an option to the new X-Trail and it's well worth considering. This brings electric driving with a difference and without the range anxiety. I've had the new Nissan X-Trail e-Power e-4Force 4WD on the road recently to experience a new type of electric SUV driving and to see how near it comes to thrifty diesels in terms of fuel economy.
The X-Trail has always been among my short-listed SUV, so I came to the Nissan X-Trail e-Power e-4Force 4WD with some form of bias coupled with any slight e-Power apprehension. That's because you need to understand that this new generation X-Trail combines a 1.5 litre petrol engine with a generator system, large battery, and a 213hp (157kW) electric motor to drive the wheels. There is slightly more power in the e-4Force versions.
That quiet petrol engine has a sole function to generate electric power so that the direct drive to the wheels comes only from an electric motor. That brings instant smooth acceleration response that's fast and responsive. At 7.2 seconds in a 0 to 100km/hr run that's impressive for a large seven-seat SUV that weighs in at 1880 kg on the scales.
This system also means that there is no plug-in charging needed. This efficient petrol engine is always at hand (providing you keep it fuelled) to generate power to keep those wheels turning. Gone in an instant is range anxiety and in return comes a new element of freedom to drive a clean SUV.
The X-Trail that I had on test was the seven seat version with the addition of the e-4Force 4WD system that gives off-road ability and enhanced towing strength up to 1.8 tonnes. That's probably the best towing ability that I've noted in an electric powered SUV, so trailer pullers and those with caravan ambitions will be well satisfied.
Out on the road, I took the X-Trail across a range of conditions in an economy seeking test drive that covered more than 800km with great comfort. The X-Trail's 55 litre capacity fuel tank returned a fuel economy figure that brought me closer to diesel economy that I could have imagined.
The economy figure that I achieved was about 10% off the rated figure of 6.4l/100km or 15.6km/litre. That delivered almost an 800km range on a full tank. I was careful to maximise the system's ability combining the use of Nissan's e-Pedal system for town driving with cruise control where I limited my driving speed to a relaxing 100km/hr.
Nissan claims that the e-Power system means that the engine can always run within its optimal range, leading to superior fuel efficiency in urban settings. The system means that there is no delay as with an internal combustion engine or traditional hybrid. The instant response delivers high torque feel and fast acceleration to give more confidence when overtaking or merging onto a motorway.
Nissan claims that the e-POWER system ensures that the engine is turning at an appropriate speed relative to road speed. This avoids the "rev-up" effect of other hybrids under hard acceleration. This also means that the engine is running only at the speed it needs to, which is typically low in town driving. It also ensures a very quiet driving experience.
At low speeds I found that occasionally the engine did rev up to boost the battery and that experience was new in terms of hybrid driving. At higher road speeds, that effect was not noticeable at all.
The comfort is impressive in the new X-Trail enhanced by the quietness of the driving experience. The interior layout is more modern and easier to get comfortable with. Getting connected with a smartphone was equally easy and the functionality of the system, combined with a large central infotainment screen means that you are easily in control.
The digital dials are very easy to navigate, and the car's heads-up display was clear in all driving conditions. I found that the learning process to get comfortable with the car's controls was effortless.
The heating system controls were clear and understandable with fast windscreen clearance on those frosty mornings. There is a secondary rear heating control system that can be useful especially when children are on board.
The seven-seat arrangement was an easy kit to use once the flexible rear cover is stored and away. With all seven seats in use, boot space is modest while Nissan claims to have added 20 extra litres of storage capacity.
This new generation Nissan X-Trail has a five-star Euro NCAP safety rating to inspire confidence. This is supported by a host of safety features and a clear reversing and front camera system supported by parking technology for tight spots.
Entry prices for the seven-seat Nissan X-Trail e-Power e-4Force 4WD start at €54,995 which is about €5,000 more than the equivalent outgoing premium diesel version. There's a whole more on offer this time, the new electric drive technology with an absence of range anxiety and a smoothness that makes driving very attractive. This fourth generation X-Trail is more than a step forward, it's a leap ahead in terms of a seven-seat SUV offer.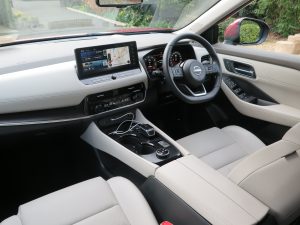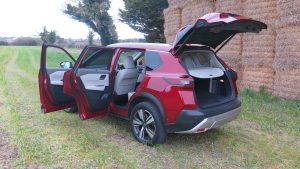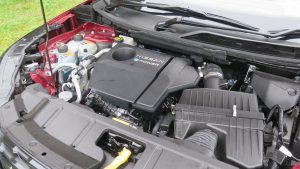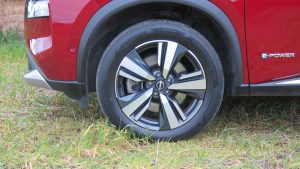 Nissan X-Trail e-Power e-4Force 4WD – specifications
Engine/Moto2
1.5 litre turbo petrol
Engine + Electric Power
211bhp
Engine Torque
330Nm
0 – 100km/hr
7.2 seconds
Economy
6.4l/100km or 15.6km/litre
CO2 Rating
146g/km
Road Tax Annual
€270
Main Service
12 months or 12,500km
Euro NCAP Rating
5 Star (2021)
Luggage Capacity
465/1298 litres
Towing Capacity
1800kg
Warranty
3 years or 100,000km
Entry Price
€54,995