Nissan's Ariya is the new take on an electric car where Nissan has given car buyers a full electric option this time in a mid-size SUV alongside the well-proven Leaf hatchback. I can't help feeling that this new Nissan SUV has a solid American car feel to it that will satisfy some car buyers and perhaps annoy others.
New electric cars are developing a personality of their own as car makers strive to develop individuality and a separate identity when the electric drive mechanisms tend to have a sameness to them in terms of performance. Nissan's new Ariya goes some way towards that separation of identity with styling and features that make it stand out.
New electric SUV's and crossovers are emerging sometimes to fill gaps in the market and at other times to create new niche demands. That's why for me comparisons are always very useful, if you can find them.
While I have yet to drive Toyota's new all-electric bZ4x it is the obvious one to compare with Nissan's Ariya in terms of appearance and styling. There is a similarity in terms of the stance of these respective new electric SUV's. That's why this report coupled with a desk top comparison provides some of the background to my report.
I quickly and easily got comfortable with the Nissan Ariya. There's a sparseness about the controls that are built around a large floating digital display screen that spans almost half the width of the car's front interior. The heating controls are touch type integrated into the panel underneath that screen to give a clutter free feeling.
These controls have their benefits in terms of styling but I'm not too sure about the lack of the tactile feel of buttons or other controls. The design style shows how well they integrate into the dash area, but they can be distracting in a way that almost demands bringing the car to a halt in order to make setting adjustments.
There is a wide spacious feel to the interior of the car. Seat adjustment was excellent as was comfort. Boot space was average at 466 litres, even though the large battery to drive the car is positioned under the floor. Toyota's bZ4x has a slightly smaller volume boot.
After an almost 800km test drive that gives a feeling for its performance and its true range ability, I was well impressed with the Ariya. I opted for eco modes where possible and used Nissan's more economical e-Pedal for my lengthy motorway drives. The e-Pedal allows you to accelerate and decelerate using only the accelerator rather than braking. I found that the drive mode defaulted to standard drive after each journey while the e-Pedal setting remained, which seemed a little contradictory.
In a performance sense, the new Nissan Ariya is a super car to drive, delivering impressive acceleration when you want it, with driving aids to maximise its range. The 63kWh battery pack gives a power rating of 160kw and acceleration torque of 300Nm.
With an acceleration performance of 7.6 seconds in a 0 to 100km/hr race, this car has the ability to excite. Toyota's b4Zx has similar battery capacity with a slightly lower torque rating and almost equal acceleration performance.
I've found that you have to be prepared to make some compromises however if you want to get maximum value from an electric such as the Nissan Ariya and indeed most of its competition. The main compromise is speed. This car has a performance ability that you must measure against economy and range, especially when it comes to longer distance driving. That's why I'm getting used to keeping under the 100km/hr threshold for most of my motorway driving.
In the Nissan Ariya that type of careful driving gave me a range of around 430km on a full charge. That's impressive for what is a big car that weighs in at about 1.8 tonnes. The slightly heavier Toyota b4Zx comes quoting a better range ability with equal performance figures from a similar battery output.
The entry grade Ariya is called the Advance specification model and it comes with standard features such as wireless Apple CarPlay, cabled Android Auto, a wireless phone charger and intelligent personal assistance technology.
Nissan's Safety Shield System is also included in the Advance grade. This includes so-called Intelligent features such as 360 degrees around view monitor, forward collision warning, driver alertness, cruise control and lane intervention, emergency braking (Pedestrian & Cyclist Detection, Junction Assist), rear emergency braking and cross traffic alert technology. The car has an impressive 5-star Euro NCAP rating from 2022 but its smack up to date in terms of safety performance.
Other useful and now standard features for the Ariya include ProPilot with Navi-Link, Dual 12.3" TFT screens with Navi display, Nissan Connected Services, USB Type-A & Type-C (front and rear). The Ariya is well equipped even if it looks sparse on first impression. This is a car that that's not short of technology, you just have to be prepared to use it to its best.
Entry prices are quoted to start at €48,995 which is marginally lower than the entry price for Toyota's new b4Zx, but only marginally and Toyota claims to have lots of car in stock. Both come with 8-year battery warranty and easy maintenance, so making that final choice will be very much down to design style as so little separates them in terms of practical features.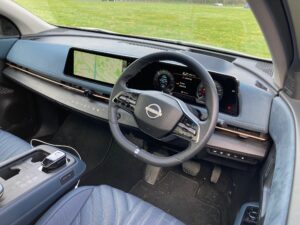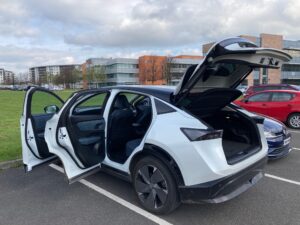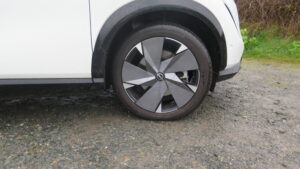 Comparison specifications
 
 
Nissan Ariya
Toyota bZ4x
Engine/Motor
Full Electric
Full Electric
Battery Output
63 kWh
64 kWh
Electric Power
160kW
150kW
Engine Torque
300Nm
266Nm
Max. Range
403km
505km
0 – 100km/hr
7.6 seconds
7.5 seconds
Economy
NA
14.7kWh/100km
CO2 Rating
0g/km
0g/km
Road Tax Annual
€120
€120
Main Service
12 months
12 months
Euro NCAP Rating
5 Star (2022)
5 Star (2022)
Luggage Capacity
466 litres
452
Towing Capacity
750kg
750kg
Battery Warranty
8 years or 150,000km
8 years 160,000km
Entry Price
€48,995
€48,575