The Tiguan, which has sold more than six million units globally, is Volkswagen's best-selling model in Ireland and was the 3rd most popular in 2020 (Volkswagen remains Ireland's No.1 brand for total sales). To further build on this momentum, the latest model is now available to order in Ireland featuring a host of new exterior, interior and technological updates.
The new Tiguan has been revised and refined to be cleaner and more digital. There are a range of new, more efficient petrol and diesel engines and these will be followed later this year with an all-new Plug-In Hybrid Model (PHEV). There is also now a separate Tiguan R model for the very first time, offering the levels of performance associated with R models, with all the practicality of a Tiguan.
The new Tiguan has a new bonnet design along with a new wider radiator grille with LED headlights, with the new Volkswagen badge positioned centrally at the front. There are redesigned bumpers, and at the rear the Tiguan lettering is now in a prominent central position below the Volkswagen badge.
Inside there is a new steering wheel featuring touch controls (standard on R-Line and R) and Volkswagen has also digitalised the climate control functions by means of touch sliders and touch buttons in some trim levels. Optional IQ.LIGHT (€512 on R-Line, standard on Elegance and R) – LED matrix headlights guide drivers through the night with enhanced convenience.
The new Tiguan starts from €32,510 'On the Road' or from just €339 per month with interest-free 0% PCP Finance (on a Tiguan Elegance). 0% APR PCP Finance is also available on the Tiguan R-Line (from €349). The petrol range consists of 130hp and 150hp 1.5-litre engines with a choice of manual or DSG automatic and at the top of the petrol range is the new 320hp 2.0-litre TSI 4MOTION R model at €66,990.
The diesel range is comprised of 2.0-litre TDI engines with 122hp (manual only), 150hp (manual and DSG automatic) and at the top of the diesel range, a 200hp 4MOTION DSG version.
The particularly popular TDI engine in the Tiguan has now been equipped with two sequentially arranged separate AdBlue injection systems and SCR catalytic converters. Thanks to this twin dosing technology Volkswagen consequently reduces nitrogen oxides (NOx) considerably compared with the predecessor vehicle. All new Tiguan models equipped with TSI and TDI engines fulfil the requirements of the Euro 6d emission standard. In addition, all such models – regardless of whether they have a petrol or a diesel engine – are equipped with a particulate filter.
There are new trimlines for the new Tiguan. The 'Tiguan' trimline offers a value for money entry to the Tiguan range – at €32,510 with a 1.5-litre 130hp petrol engine and €34,345 with a 2.0-litre, 122hp diesel engine. All 'Tiguan' models feature 17" Montana alloy wheels, 8" Ready 2 Discover radio system, 2 USB-C ports in the front, Air Conditioning and LED daytime running lights. There is also Wireless App Connect for Apple CarPlay and Android Auto.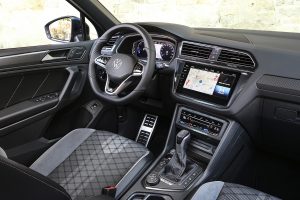 Later this year, the Tiguan range will become electrified with the addition of the new Tiguan eHybrid, which will form an important part of the brand's "Way to Zero" campaign. This Plug-In Hybrid (PHEV) version of the Tiguan forms part of the brands steps to becoming a CO2-neutral company by 2050. The Tiguan eHybrid features a 1.4-litre TSI engine twinned with an electric motor that produces a combined 245hp and makes the eHybrid capable of covering up to 50km in electric mode. More details of the arrival of this important version of the Tiguan are expected in the coming months.
A 3-Year Service Plan is available for the Tiguan, to ensure your Volkswagen receives the best possible maintenance including genuine Volkswagen service parts like oil filters, pollen filters, high-quality lubricants and brake fluid changes. This is available for just €14.99 per month.