With a level of Japanese subtlety Toyota has refashioned the popular Hilux to make it more desirable while still retaining its bullet proof reputation. It feels that as each new year opens, Toyota delivers an upgraded Hilux.
I've had the latest GR version on and off the road in recent weeks to test its challenge to Ford's market leading Ranger. The numbers speak for themselves, Ford's lead is emphatic. Toyota knows that it has to offer more, hence the fresh face and improved specification in the Hilux GR that I recently drove.
The GR version is at the top in terms of specification and is powered by a 2.8 litre turbo-diesel engine coupled to a smooth automatic gearbox. This is the power and comfort combination that the market is looking for and Ford leads with way by a distance with its popular Ranger models.
While Ford may have topped the 4×4 pick-up market in 2022, Toyota's Hilux was the top used imported version, making it the second most popular used imported light commercial vehicle in Ireland that year. Toyota's new GR model aims to offer the type of styling and comfort that Ford offers in the Ranger, so I've compared the Hilux GR against the Ranger Wildtrak rather that the slightly different Raptor model.
This new Hilux has strong styling and in the white body colour against the contrasting black wheel arches and three-dimensional grille, there's a feeling of strength and work ethic in this upgraded Hilux. The important basics remain intact. They are dominated by the strong towing ability at 3.5 tonnes with a braked trailer.
That power is provided by a 204bhp engine rating coupled with 500Nm of torque. The test Hilux was not fitted with a towbar, so a trailer test was not possible. Given its high engine torque, towing should come easy.
The Hilux power is very well matched to the automatic gearbox giving smooth acceleration and its fast at 10 seconds in a 0 to 100km/hr race. Ford's Ranger will deliver equal performance, so there is no challenge there.
There is little to separate them in terms of fuel economy either. The Hilux delivers a real-world economy figure of 9.4l/100km or 10.6km/litre, almost a match for the Ford. I found that my test drive over 720km returned a similar but slightly higher level of fuel economy, and I was impressed.
The interior is also very well presented with changes to the dash layout and the addition of simple features such as Apple CarPlay Android Auto for smartphone integration. That enhances the driving experience and it's also another practical features that's presented in a more stylish and integrated way around a new 8" tablet-style touchscreen. The GR package includes an impressive equipment list with smart entry and push-button start, satellite navigation, automatic air-conditioning, and front and rear parking sensors.
The Hilux reputation for strength is not lost in the GR model. Life the tailgate and you'll feel the weight in the load area, which is marginally smaller while deeper than that of the Ranger.
There are useful safety features for the latest generation Hilux models including trailer sway control which automatically detects excessive movement of the trailer and selectively applies brake pressure for individual wheels and reduces engine torque to bring the trailer back under control. This ensures trailing loads are kept in line, providing a safer driving experience.
The new downhill assist control system automatically applies braking to individual wheels to maintain control and give a safe rate of descent without any driver intervention. This allows to make tricky and loose surface descents safe and easy. Unfortunately, there is an aged Euro NCAP safety rating on the Hilux, so its time for an upgrade here to match Ford's Ranger.
So, in a market when both the Hilux and the Ranger have very similar performance features, up to now, in my view, what has separated them has been styling. This new Hilux goes a long way in providing a style option.
Maybe it's that the Hilux is slightly overshadowed by the success of Toyota's Land Cruiser which in 2022 was the second best-selling light commercial vehicle on the Irish market. And combined, Toyota's lead in the light commercial 4×4 market is substantial, while this new generation Hilux has to play catch up with Ford's Ranger. This Hilux has the image credibility that it needs to give the Ranger a solid challenge, even if the price level is slightly higher.
Entry prices for the GR start at €52,210, that's slightly higher than Ford's Ranger Wildtrak. That's also a significant price jump over the lower specification SR5 versions, while a smaller price lift over the Invincible version that I've driven in the past. Compared with the Invincible versions, the GR has more styling, but I'm surprised that Toyota is charging more than €1.000 extra for the towbar feature.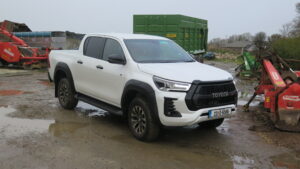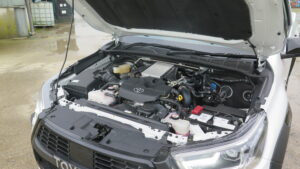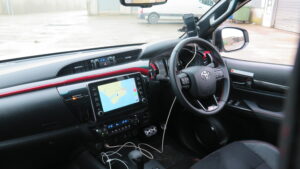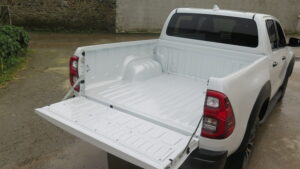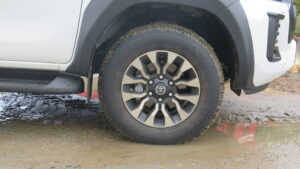 Toyota Hilux GR  – specifications
Engine
2.8 litre turbo diesel
Engine Power
204bhp
Engine Torque
500Nm
0 – 100km/hr
10.1 seconds
Economy
9.4l/100km or 10.6km/litre
CO2 Rating
248g/km
Road Tax Annual
€333
Main Service
12 months
Euro NCAP Rating
5 Star (2016)
Load Area Dimensions (mm)
1404 x 1480 x 1170
Towing Capacity
3500kg
Warranty
3 years or 100,000km
Entry Price
€56,210 incl. VAT