Volkswagen is making a strong statement of intent when it comes to electric cars and that's clear once you begin to drive the new generation ID.3 model. The ID.3 was the first of the new ID generation of all-electric Volkswagen models which which Michael Moroney recently drove and which more recently has been joined by the even more successful ID.4 SUV.
Volkswagen's investment in the ID concept is clearly paying dividends.  The brand has registered over 1,300 new electric models in the range in Ireland for the first five months of 2021. Drive the ID.3 like as I did recently, and you won't be surprised about its success.
The ID.3 is a mid-size family car that feels more spacious than the Golf. In terms of dimensions, its wider and higher than the Golf and feels roomier. So, it's an obvious family car for every reason possible, apart from the price; more about that later.
This ID.3 left some lasting impressions on me. It's spacious interior is striking to begin with as is its design which is modern and less caricatured as an electric car. Those features give it obvious appeal.
The range issue has been central to this car and with a theoretical range of over 425km, this is a car that can work in Irish conditions. I drive long distances on a regular basis, but rarely top 400km in a day. That's what makes the ID.3 a real option, especially as I found that the car comes close to that figure in typical Irish driving conditions.
I charged the ID.3 from our domestic eCars charger installed by ESB Networks some years ago and on an overnight charge it was easily topped up for the next days driving. The ID.3 can be charged with either alternating current (AC) or direct current (DC) and has full fast charging capability. Volkswagen claims that the 77kWh version that I drove, charges with a power rating of up to 125kW, which translates to gaining a range of more than 300km in just 30 minutes. I didn't put that feature to the test.
Volkswagen is now producing its own batteries and they are housed in a lightweight aluminium structure under the rear of the car. The batteries have a cooling system to ensure their performance. Volkswagen is also guaranteeing that the battery will still have at least 70 percent of its original capacity after eight years of operation or 160,000km. That's one less worry in the longer term.
Volkswagen has developed a new MEB platform around which this new ID.3 is built. This claims to give the car a low centre of gravity and that helps to deliver the car's impressive handling.
The electric motor is located in the rear of the car, driving the rear wheels, an interesting overall vehicle balance feature that almost harks back the driveline of the original Beetle. The rear wheel drive also helps to give a tight 10.2m turning circle and that's despite its long 2.765m wheelbase, another feature that adds to its driving comfort.
In the ID.3 the drive and overall effect works especially well. The car delivers a smooth almost floating drive suspension that combines quietness with ease of driving. I found that driving experience to be a total pleasure in terms of comfort, quietness and power delivery.
On the inside there is a minimalist feel to the car with a large 10 inch digital central screen with touch screen features and a smaller one behind the steering wheel. All of the ID.3 controls, including those on the electrically adjustable multifunction steering wheel, are operated using touch-sensitive buttons. The only conventional tactile style switches are those for the electric windows, door mirrors and hazard warning lights.
The car comes with what Volkswagen calls an intelligent natural voice control system with the aim of simplifying yet enhancing the ID.3 travel experience. The system allows the driver or the front seat passenger to speak to the ID.3, simply by saying "hello ID." before giving a verbal instruction. The Volkswagen App-Connect system allows you to connect the ID.3 to a smartphone in seconds. For me, Apple CarPlay was on the screen with ease.
The small screen that replaces the conventional dials behind the steering wheel gives a large and clear display. Its just that it takes a little getting used to.
I didn't use the voice control system very much, once the car's settings were in place, I was happy to drive on. When needed and you feel like playing with it, it's very intuitive and you'll soon get comfortable with it. For me, cars are for driving and that tends to be my focus and that focus needs to be relaxing, enjoyable and value for money in every sense.
This new ID.3 has lots of safety features that have ensured a high 5-star rating in the independent Euro NCAP crash tests. The passive safety equipment includes the Emergency System and a new centre airbag. This is a new for Volkswagen and it allows an airbag to inflate between the driver and front passenger from colliding in the event of a side impact.
In its competition with Tesla, it is interesting that Volkswagen has said that its Volkswagen ID.3 and ID.4 models in Europe can now receive new functions and technical updates via W-LAN or mobile network. This claims to ensure that the car is always at the cutting edge of digital developments with the so-called "Over-the-Air" updates. The software version ID.2.1, which allows this, has been automatically included with all new ID. models produced since the end of February. Older ID. model owners can get this facility during one visit to their Volkswagen dealers.
Volkswagen has said that it will provide owners of ID. Vehicles with an update every three months. In addition to optimising software performance, these may also include new functions and customisation options. These updates means that all ID. models will be kept at the same software level as new cars throughout their entire life cycle.
After a week behind the wheel of the ID.3 there was only one feature that I found difficult to get used to. Like so many modern cars, and most especially electric cars, there is an on/off button on the side of the dash. Normally, you push it to engage the system and also to disengage or in old language turn the drive off. With the ID.3, the car seems to know that you are finished your drive, so pressing that button is unnecessary, or so it seems. I would just like a little more simplicity and clarity about this part of the drive.
The ID.3 is clearly an electric car trend setter in so many ways. But it's an expensive one. Please don't ask about its towing ability, that's for diesel 4×4's and tractors. Entry prices start from €32,404 for private buyers, after all the Government grants are included. Volkswagen has included the ID.3 in its July 212 registration 0% finance offer so that PCP buyers can have an ownership/rental cost of €259 per month. That's competitive as the electric running costs will be low with moderate use levels that are well within the car's impressive battery range.
This car is now a competitor for the diesel Golf. The driving experience is excellent, the running costs are low, the range is deal breaker, even if the entry price is still too high. We are nearly there!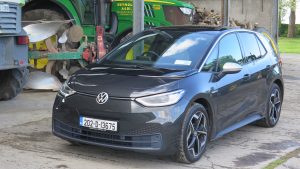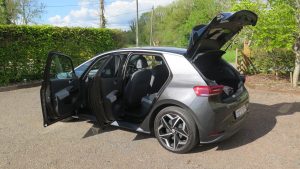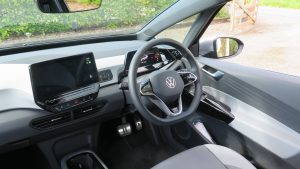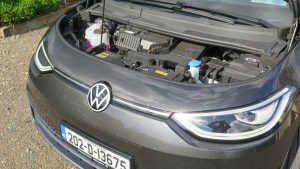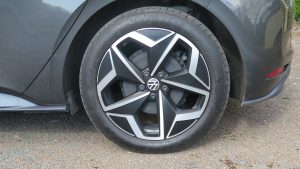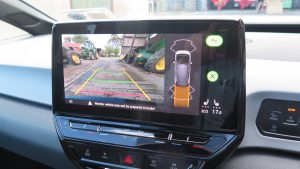 Volkswagen ID.3 Electric – specifications
Engine
All electric
Engine power
204bhp
Engine Torque
310Nm
0 – 100km/hr
7.9 seconds
Economy
15.7kWh/100km
Fuel Tank Capacity
0 litres
CO2 emissions
0g/km
Range Theoretical
425km
Road Tax Annual
A1 €120
Main Service
12 months or 30,000km
Euro NCAP Rating
5 Star (2020)
Turning Circle Kerb to Kerb
10.2 metres
Kerb Vehicle Weight
1719kg
Towing rating
NA
Luggage Capacity
385/1267 litres
Warranty
3 years on 8 years on battery 160,000km
Entry Price
€32,404 after grants & delivery