One of my earliest test reports was in a Suzuki SJ small 4×4 and I suppose that I developed a fondness for the Japanese small car brand ever since then. I've owned a few Vitaras in my day and always appreciated the no-nonsense Suzuki small 4×4 philosophy where off-road ability took precedent and delivered.
The world has changed since then with emissions targets deciding on our choice of cars and 4×4's. These new world rules have forced some to downsize, others to electrify, others still to hybridize, while some trusty models just disappeared for failing to Limbo dance under those ever-lowering emissions bar.
The Suzuki Jimny was one that nearly disappeared and was recently revived in its commercial version. The Jimny has a strange attraction, I don't know whether it's for it's retro styling or the simple off-road features that are uncomplicated.
The minute that I saw the latest generation model, I just wanted to drive it. I still can't explain why, because in today's motoring world the number of boxes that it ticks is getting limited. After some days behind the wheel, I found that it still holds me in its grasp, but it shouldn't because its simply no longer practical, even if its fun to drive, but only for limited distances.
Suzuki has yet to electrify any bit of the Jimny's transmission, there no hint of a hybrid features, so that's why the latest model is now only available as a commercial to sneak in under the lower passenger car emission rules. So, you can still enjoy the Jimny's off-road ability and simple robust ladder chassis, but there are some compromises.
One of these compromises is driver legroom. The commercial bulkhead position is such that I found the driving position a little tight. That's why this Jimny may be a cross-country winner in the fields, as long you don't contemplate driving across the roads of the country.
Suzuki has given the 1.5 litre petrol engine a little power boost in this new Jimny and it delivers a lively acceleration. The gearing means that when attempting one of those motorway cruises that I've warned you against, you are quickly up in the 3000rpm engine range well before your reach the 120km/hr speed limit. At this point the Jimny gets noisy and very thirsty.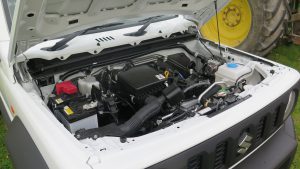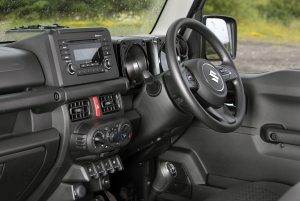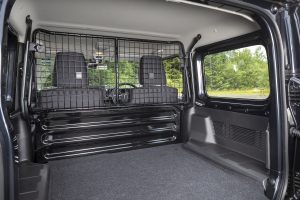 The Jimny has a theoretical range of about 520km based on its 40 litre fuel tank. But that's a bit of a dream if you intend doing some long journeys.
This a light commercial vehicle built around a traditional and robust ladder frame, with three body angles, 3-link rigid axle suspension with coil springs and ALLGRIP Pro 4WD with a low-range transfer gear.
The gearbox gives the option of two or four-wheel-drive with a low range available for more serious off-road driving. There's an electronic hill descent system included for the very brave. The Jimny has a lane departure warning system that flashes on the dash, but thankfully there are no gremlins hidden in the system that try to pull the steering wheel from you. The steering is easy and its very manoeuvrable with a tight turning circle.
The overall balance of the Jimny combined with its 1,095kg kerb weight means that it can handle almost any off-road situation, the muddier the better. To be fair, the Jimny is more for fun than for function. That's because the towing rating is just 1,300kg, which is very low in 4×4 terms.
Could I say that the Jimny was comfortable, certainly not. Could I consider it to be practical, equally not. But it's still strangely desirable and I can't figure out why I would like to own one. I would have to fork out €20,995 (including Commercial Vehicle VRT) to satisfy that desire, which seems expensive for this fourth generation Jimny which would also be my fourth Suzuki, if I were to buy one. If I still wanted that Suzuki sensation, I would probably opt for a used one; there are still plenty of them out there. They are still fun to drive off-road and they are affordable.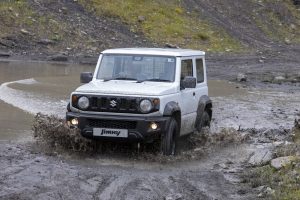 The Suzuki Jimny thrives in the mud, it has great off-road ability for fun driving but lowing towing power for real work.
Suzuki Jimny 1.5 Allgrip Commercial – specifications
Engine
1.5 litre
Engine power
101bhp
Engine Torque
130Nm
0 – 100km/hr
10.5 seconds
Economy
13km/litre (7.7l/100km or 37mpg)
Fuel Tank Capacity
40 litres
CO2 emissions
173g/km
Range Theoretical
520km
Road Tax Annual
Commercial €330
Main Service
20,000km/12 months
Euro NCAP Rating
3 Star (2018)
Turning Circle Kerb to Kerb
9.8 metres
Kerb weight
1095kg
Towing rating
1300kgs
Luggage Capacity
863 litres
Warranty
3 years or 100,000km
Entry Price
€20,995