Toyota delivers comfort and pulling in Highlander SUV
There is a big and strong feeling to Toyota's relatively new Highlander, which is a solid looking SUV that's available with a hybrid only drive system. This is Toyota's new entrant to the larger SUV market, where the Japanese brand continues its emphasis away from diesel power for passenger cars with a hybrid only Highlander offering.
The design lines of this Toyota Highlander give it an impression of being a long SUV, while it's shorter and more compact than Toyota's Hilux. The Highlander's seven-seat capacity gives it wider appeal and that impression of length converts to practical boot space that's larger than I would have expected, even with all seven seats in use.
This is a very smooth and quiet SUV to drive helped by the use of an acoustic windscreen and front glazing, coupled with roof, dash and floor silencers, and wheel arch and load space liners.
Toyota claim that the Highlander's GA-K platform is complemented by a lightweight and high-rigidity bodyshell and with a low centre of gravity. And that's confirmed by the relatively low kerb weight at just over 2 tonnes. This allows the Highlander to be easy to handle and gives very comfortable driving while motorway cruising and across the smaller national and regional roads.
The Toyota Highlander Hybrid comes with 3-zone automatic air conditioning, where the temperature can be operated in driver, passenger and rear zones to allow all passengers to be as warm or cool as they would like to be. Seat heating is available in the front and second rows and there are lots of individual storage spaces and USB charging points included.
This large SUV comes with the latest Toyota Safety Sense technologies designed to prevent the most common types of accident. The pre-collision system gives forward collision warning, pre-collision brake assist, autonomous emergency braking and emergency steering assist in the event of potential collision. A recent upgrade to the system delivers additional safety at junctions, thanks to the new Intersection Collision Mitigation function.
The Highlander Hybrid includes a system to detect danger approaching from behind and take action if a rear collision looks possible. Speed and lane trace assistance functions are also included. There are easy to use cruise control systems included and I especially liked the automatic high beam system that provides better night-time visibility.
An another important feature of the Highlander is its towing ability. At 2 tonnes towing rating, this hybrid SUV leads the field and gives more practical application than the slightly smaller RAV4 hybrid.
All of this is achieved by combining the power of a 2.5 litre petrol engine with an upgraded hybrid drive that allows additional power to drawn down for heavier pulling duties that will be required off-road or when pulling a trailer from a standing start.
The petrol engine is combined with front and rear electric motors to give all-wheel drive and this part is powered from a self-charging battery system, located beneath the second row of seats.
This system allows for automatic engagement of an additional rear electric motor independent of the main one, to distribute additional driving force to the rear wheels to reduce front wheel slip. Toyota claims that it works to reduce understeer, helping the Highlander Hybrid to cope confidently twisty road conditions, and we have plenty of them.
This large Toyota does the hybrid system with ease. There's a seamless connection between the drive systems that makes driving the Highlander very pleasurable. There is the option to choose three drive modes, Normal. Eco and Sport to allow you nto maximise the engine's performance to your needs.
I choose Eco as much as possible, being conscious of the fact that I was driving a pre-dominantly petrol powered SUV. It wasn't my  busiest week in terms of driving distance, but there was one day when I was more hurried that I would have liked, resulting in keeping the Highlander to its legal driving limits rather than with economy in mind.
And I paid the price in terms of fuel economy. That converted to a range of 500km on a full tank rather than the higher rated figure when first sat behind the wheel, based on the previous drivers performance. Lesson learnt. Drive the Highlander with some level of sympathy and you will get close to the rated economy figure of 15.2km/litre (6.6/100km or 43mpg) or take it to its limit and suffer the consequences in terms of running cost.
There was no towbar on the test Toyota Highlander, so I didn't have the opportunity to conduct a towing test. Toyota rate the Highlander's towing ability at 2 tonnes, but there are no figures for the economy rating with a full 2 tonne load on behind. Judge for yourself.
This Toyota Highlander is now competing against a growing number of Plug-in Hybrid (PHEV) SUV's including the latest Land Rover Discovery models. The Highlander is more modest in its performance, more economical and comes with a lower entry price for what is a very high specification SUV.
Hybrid SUV's are growing in terms of choices while the Toyota systems remains the most effortless from a driver's perspective. Driving a hybrid SUV requires more attention to your driving style than driving a similar diesel powered version. Erratic or excessive acceleration results in significant fuel economy penalties. That's in a sense why the Highlander's smoothness of drive encourages a better style and you need to remember that.
Entry prices start at €71,305 that's over €6,000 more than the entry price when the Highlander was introduced in 2021. New car price inflation is now biting hard.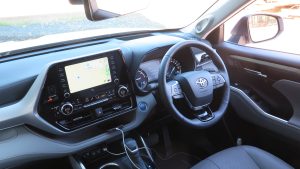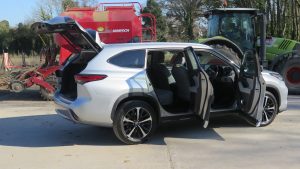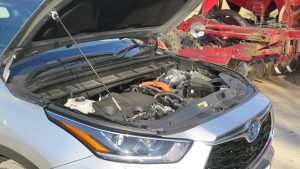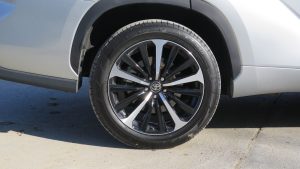 Toyota Highlander – Specifications
Engine
2.5 litre
Engine power
248bhp
Engine Torque
239Nm
0 – 100km/hr
8.3 seconds
Economy
15.2km/litre (6.6/100km or 43mpg)
Fuel Tank Capacity
65 litres
CO2 emissions
149g/km
Range Theoretical
988km
Road Tax Annual
Euro NCAP Rating
Not Available
Kerb weight
2050kg
Towing rating
2000kgs
Wheelbase
2850mm
Overall Length
4966mm
Luggage Capacity
509/838 litres
Warranty
3 years/5 years for hybrid parts
Entry Price
€71,305