The question that remains on the minds of many rural drivers that I meet, surrounds the economy of hybrid cars versus their traditional diesel models. This issue comes into particular focus when we look at popular rural SUV's such as the Toyota RAV4.
I've taken the RAV4 Hybrid test in recent weeks, because from the start of 2019, this was the only engine option available in the range. Can we cope with the change from diesel to hybrid in terms of driving style, but more importantly is the change going to cost us more in terms of running costs? These are the questions that I regularly face.
The new generation RAV4 introduced in January 2019 is a strong looking vehicle with a significant change in design to go with the new hybrid-only engine option. This system uses a powerful 2.5 litre petrol engine coupled with a self-generating hybrid system.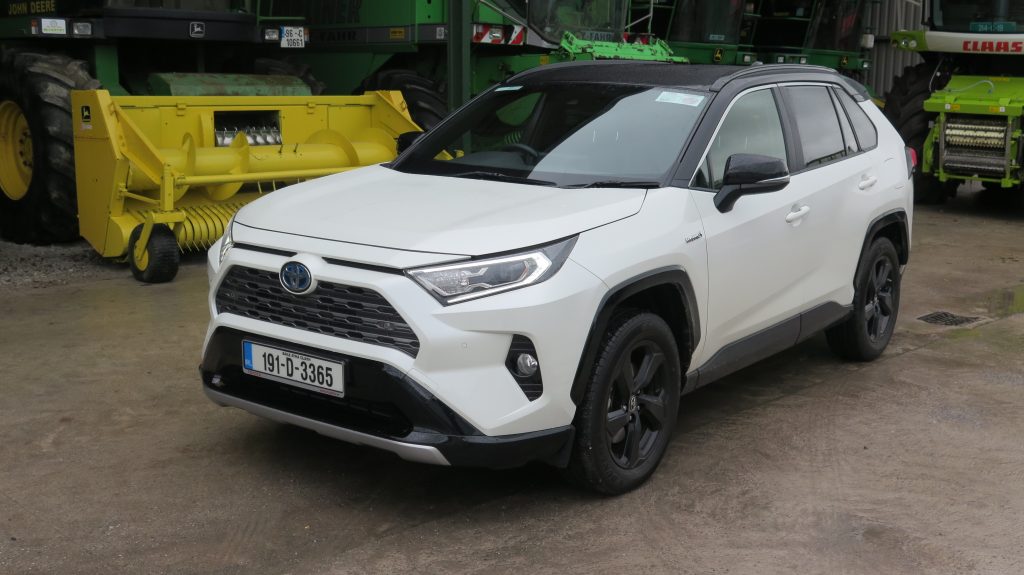 This means that you don't have to plug in the RAV4 to charge it, it simply charges itself as you drive. And it decides for you on the most economical way to drive, either with petrol power or using battery system that's constantly under charge as you drive.
The change from petrol power to battery power is so seamless that you mostly don't even know it. For me that's part of the problem with current hybrid drives, not everyone is astute enough the spot the difference. Many drivers, myself included, try hard to maximise the hybrid advantage. That's more achievable in town/city driving because there is a lot of slower driving and many more start/stop actions.
Out on the motorway or more particularly on rural roads where there is more cornering, more hills and declines to deal with I found that the petrol engine is more often in use. While Toyota will claim that the hybrid system allows for up to 50% driving in electric mode, I found that difficult to achieve unless in town driving.
Over a 960km RAV4 test drive that included a range of driving conditions, I achieved a fuel economy figure of 15.2km/l (43mpg or 5.5l/100km), which is about 15% off the rated figure. So I drove for about 760km before a refill, that's another way of putting it.
So how does this compare with the diesel RAV4 of the past? I drove the 2.0 litre turbo-diesel RAV4 back in 2016 with its slightly larger 60 litre fuel tank that delivered a range of more than 900km. I maxed out on my recent run in the new RAV4 hybrid at about 750km, that's almost 150km shorter and with a fuel that's almost 10 cent/litre more expensive.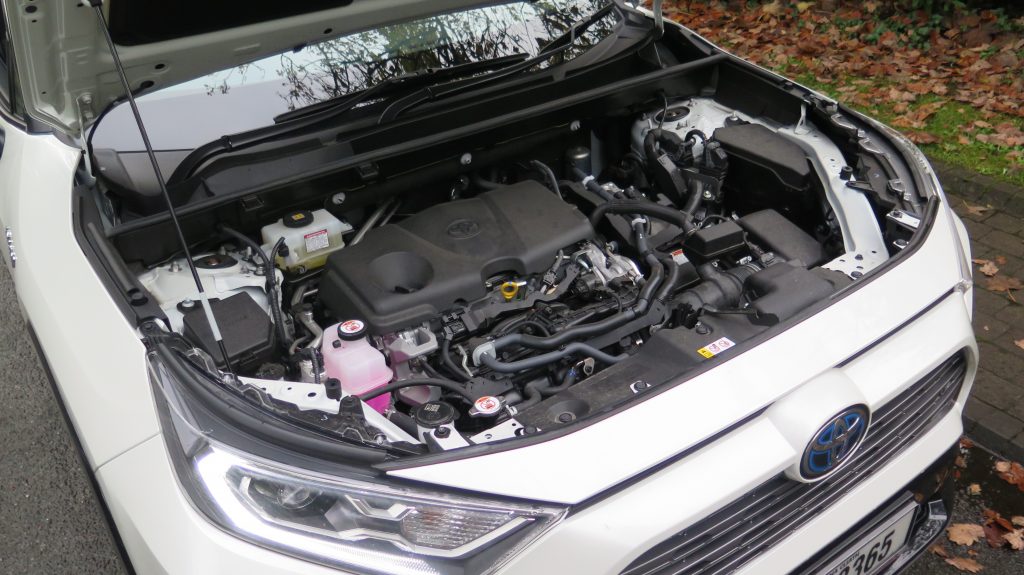 That's why I'm was struggling to see the benefits of the hybrid experience. So I did some more calculations.
Put it simply using 60 litres of diesel costing €1.31/litre will give me a running cost of €0.08/km based on a 900km range. Changing to the hybrid with petrol costing €1.41/litre will give me a running cost of €0.09/km in fuel consumption based on a 750km range. That's 1 cent/km of a cost difference. As rural drivers travel an average of more than 15,000km per year, that's a fuel cost difference of €150/year. Not as much as you thought, I bet.
Yes, the hybrid version will be cleaner on the environment than many of the older diesels and there is an annual road tax saving that almost matches the extra fuel cost difference. This hybrid RAV4 is also very comfortable and easy to drive with its smooth six-speed automatic gearbox.
I have to include a key warning. You need to adopt a different driving style in the RAV4 hybrid compared with driving the diesel version. You need to moderate your speed ambitions, a maximum of 100km/hr is an important cruising point, after that the fuel consumption gets very noticeable in any hybrid.
I drove the RAV4 hybrid in Eco mode for most of the time and I stayed closer to 100km than 120km/hr on the motorway. That's what I believe gave me the level of economy that I achieved.
The RAV4 is so smooth that it easily allows you to cruise at higher motorway speeds, but remember it's the kind of penal behaviour where diesel power is more forgiving. Diesel engines are also more suitable for trailer work. This new RAV4 comes with a towing rating of 1650kg, down from 2000kg in the diesel models.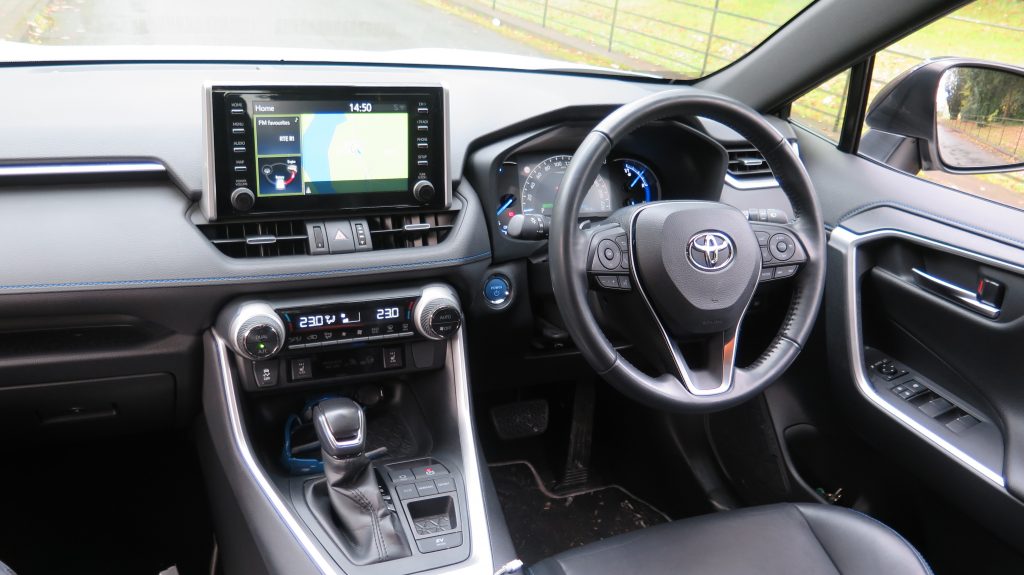 In every sense, this RAV4 has a new feeling about it. The car is packed with extra safety features and achieved a top five-star rating in the Euro NCAP tests. The upgraded Toyota Safety Sense system uses advanced technologies to help prevent accidents and provide greater driver assistance, including systems that claim to introduce a degree of automated driving functionality.
It's also more spacious than before. The bigger wheels give it an impressive stance on the road.
Entry prices start at €36,900 or £30,485 in N. Ireland and while it's cheaper than the previous generation RAV4 hybrid, it's still more significantly more expensive than the diesel models of 2018.
The answer to the economy question is an obvious yes; this RAV4 hybrid can match diesel economy, but only if you are willing to change your driving style. Calming down the pace will deliver equivalent fuel running costs, and probably help with other more important aspects of your life too!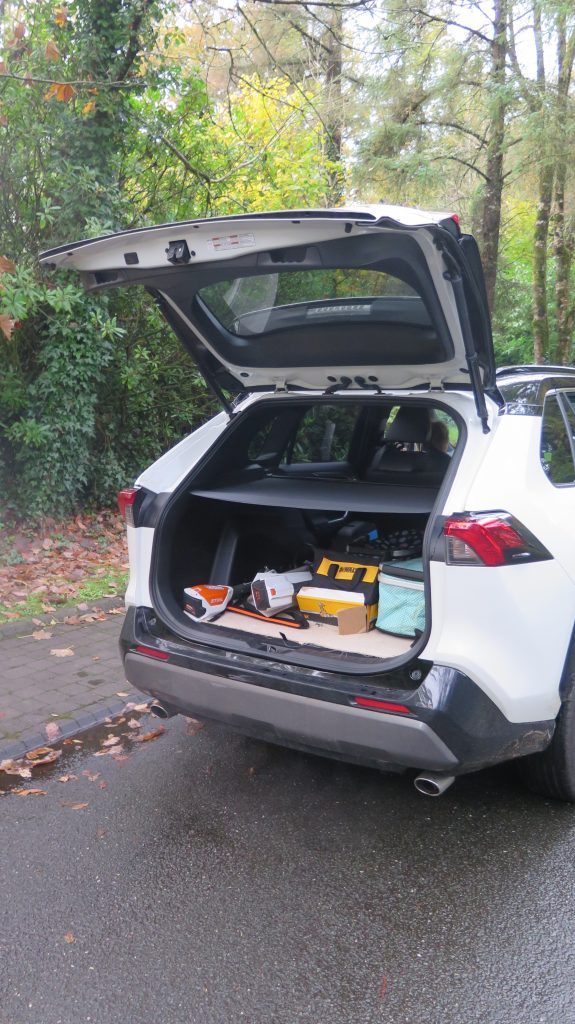 Toyota RAV4 Hybrid – specifications
Engine 2.5 litre
0 – 100km/hr 8.4 seconds
Economy 17.7km/litre (5.65l/100km or 50mpg)
Fuel Tank Capacity 55 litres
CO2 emissions                            102g/km
Road Tax Band A3 €190
Main Service 20,000km/12 months
Euro NCAP Rating 5 star (2019)
Towing rating 1650kgs
Warranty                                 3 year/100,000km                                                               
Diesel Entry Price €36,900
N. Ireland Price £30,485