There is a long and interesting British motoring history behind MG Cars that is now a distant memory for many car enthusiasts. Like so many iconic British car brands it has re-emerged under Chinese ownership and is now part of the giant Shanghai Automobile Industry Corporation (SAIC) group.
The new brand, called MG Motor, is a British registered automotive company with its headquarters in London and is a subsidiary of SAIC Motor UK, which in turn is owned by the Shanghai-based Chinese state-owned automotive SAIC Motor. Nowadays, MG Motor car manufacturing takes place at factories in China and Thailand.
The Frank Keane Group is now the Irish distributor for the new MG range and his team has brought back the iconic marque with what they consider to be an electrifying bang. MG Motor in Ireland now offers a range of fully electric and plug-in hybrid electric vehicles that are affordable and well equipped. The brand is supported by five new sales and aftersales dealers just two of which are located in Dublin, others in Cork, Galway, Limerick and Tipperary.
This new MG is different to the MG models of the sixties and seventies, where sports car styling and handling made the likes of the MGB GT and MG Midget hugely desirable but not always affordable to us at the time. The new emphasis is on electric and hybrid power and the British brand has now made a long way back to what it hopes will be a bright electric future.
For the Irish market the new all-electric MG ZS is a mid-size SUV that has impressive styling, dominated by the instantly recognisable MG logo on the front grille. The aim is to provide an all-electric SUV that's attractive to look at, has reasonable range and is affordable.
I've had the new MG ZS on the road in the past week and in truth is comes very close to delivering on its promise. The range is rated at 263km, which I failed to achieve, but often came close to it when I took the Economy drive option.
This new MG ZS comes with three drive modes, Normal, Eco and Sport. Selection of the drive mode determines the range and I found that switching from Normal to Eco gave an instant 10% range improvement partly due to enhanced regenerative braking. The Sport is impressively fast in terms of acceleration, but you pay for that when it comes to lower range on a full charge.
In Sport mode the performance is impressively fast. Most of my driving was spent in Eco mode to deliver the best range, without being obsessed about it. The car handles well, road noise is at a minimum, but don't expect this to be an SUV that you'll pull loaded trailers with.
When driving, a rotary dial is used for operation of the EV drive modes; forward, neutral and reverse, while tapping the dial engages the parking brake and cancels the drive modes. I found that the drive mode option defaults to Normal after each journey, so I had to remember to engage Eco each time to get the best driving value.
This MG ZS EV has a neatly under floor packaged and water-cooled 44.5 kWh lithium-ion battery pack. This feeds power to a front-mounted electric motor which delivers 105kW, the equivalent of 143bhp of power and 353Nm of instant torque to the front wheels. MG claims that water-cooling manages the battery temperature allowing frequent rapid charging and optimum range whatever the weather.
I tend to treat the management of an electric car like that of a smart phone. If I need performance and range, then it becomes an overnight charging habit that's easy to get used to. Having a proper house-based charging point makes a huge difference in charging time compared with a 13 amp three-pin socket, so if you option for an MG ZS include the cost that in your extras list.
The location of the battery pack underneath the car, means there is no compromise in cabin or storage space and the car has a low centre of gravity and good internal space. This gives MG EZ good handling on corners even if there is no weighty conventional engine under the bonnet. The battery weight is simply in the right place.
The lane departure assist system is noticeably strong. Vere off the road markings and you'll get an instant reaction that seems a shade too strong. Maybe it can be tuned to a lighter feel, but its reaction strength was the only disconcerting feature of my driving experience.
This MG's distinctive front grille which frames the classic MG logo, also integrates the battery charge ports, which are hidden behind it. There is however a plastic feel to the charging grille cover which is accessed by gently pushing inwards on the grille logo to reveal a Type 2 connection for regular charging. MG claims that this will give 100% charge in 6.5 hours and a CCS connection for fast charging giving 80% charge in 40 mins.
There is a lot of modern kit on this new MG, including the MG Pilot system which gives adaptive cruise control with traffic jam assist, active emergency braking and intelligent high beam assist for safe, stress-free driving. Apple CarPlay and Android Auto are included through the 8" touchscreen display that also incorporates the in-car navigation system for an entry price of €28,995, which includes the €5,000 Government SEAI grant and the €5,000 VRT relief.
The higher specification Exclusive versions, which come at €3,000 extras includes leather style seat upholstery with heated front seats and power adjustable driver's seat, rear cross traffic alert and blind spot warning. You also get a rear-view camera and power folding mirrors and a Panoramic Sunroof.
Is this the car to take on the popular Nissan Qashqai, which now has an electric option? This MG is slightly shorter and smaller on the inside than the new Qashqai which uses a petrol engine to generate electric drive on board. It has a shorter wheelbase, low power and less luggage space, based on the Nissan's latest specification update.
I would expect the electric option of the new Nissan Qashqai to be more expensive, so the MG value is a mix of the price, the style against the background of a re-introduced brand. This MG needs more range to compete with the likes of the Kia Niro, which has almost double the MG range. That's a more important feature along with the matching MG seven-year warranty.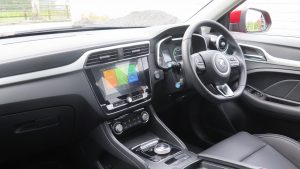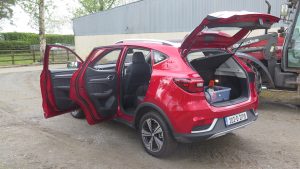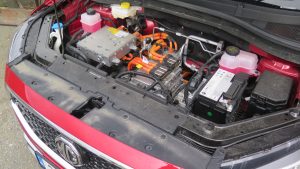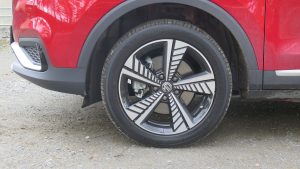 MG ZS Electric SUV – specifications
Engine
All electric
Engine power
143bhp
Engine Torque
343Nm
0 – 100km/hr
8.5 seconds
Economy
20.4km/litre (4.9l/100km or 57mpg)
Fuel Tank Capacity
0 litres
CO2 emissions
0g/km
Range Theoretical
263km
Road Tax Annual
A1 €120
Main Service
12 months
Euro NCAP Rating
5 Star (2019)
Turning Circle Kerb to Kerb
11.2 metres
Kerb weight
1502kg
Towing rating
NA
Luggage Capacity
NA/1110 litres
Warranty
7 years/150,000km car & battery
Entry Price
€28,995