Hiring employees always involves a certain amount of risk. Still, there are steps that agricultural and forestry contractors can take to protect themselves, explains Mary McDonagh, Head of HR & Payroll Services with ifac.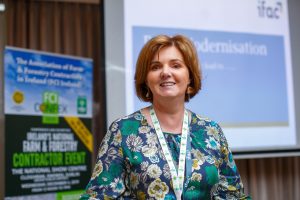 Employment contracts
The starting point of all employee-employer relationships is the employment contract. Employers are legally required to provide employees with written Terms of Employment within two months of their start date. This document should include a job description, details of the pay rates, and hours to be worked.
A well-drawn-up employment contract will ensure that your employees understand their rights and obligations and know precisely what is expected of them. The contract should also reference your grievance and disciplinary policy, setting out clear processes for resolving any disputes that may arise at a later date.
Employment policies
It is also a good idea to have policies that can act as a roadmap for day-to-day operations, providing guidance for decision making and streamlining internal processes. These policies should explain the expected standard of behaviour around issues such as health and safety and the use of social media in the workplace.
The recent trend of videos going viral on social media platforms like TikTok are a cause of concern for many employers. A policy that forbids the use of a mobile phone while operating machinery can help protect agricultural and forestry contractors against inappropriate or dangerous behaviour by their employees.
Grievance and disciplinary procedure
Suppose an employee breaches their employment contract or engages in behaviours that are deemed inappropriate, substandard, or unacceptable. In that case, it is crucial to follow the procedures set out in your grievance and disciplinary policy and ensure that any disciplinary action taken is proportionate and fair.
Documentation and training
Employment policies should encourage good behaviour. They can only be effective if clearly communicated to your employees. It is difficult to hold employees accountable if they can argue they were unaware of your policy.
Increasingly, there is an onus on employers to have formal, documented policies in place and to provide training for their employees on these policies. Failing to implement effective policies is a significant risk to your contracting business.
If things go wrong and you end up in legal proceedings. Poorly drafted employment contracts and policies can result in Adjudicating Officers ruling against you and awarding hefty compensatory sums to your employees.