Massey Ferguson has introduced a new front axle suspension for its MF 3700 AL tractor range. This new option, which is available to order now, will further improve the ride comfort, traction and handling of these stable and versatile tractors.
Suitable for all models, which offer powers of 75hp, 85hp and 95hp, the suspended front axle can be specified for tractors fitted with either the flat-floor or low-profile cabs.
Fully integrated onto the tractor, the suspended front axle does not compromise the manoeuvrability and is compatible for use with the front linkage and PTO, loader sub-frame and pivoting mudguards. The system also provides +/- 45mm height adjustment.
Enhanced comfort and optimised traction
Engineered to the highest standards, the suspended front axle oscillates around a central pivot point. Hydraulic cylinders enable the front axle to move up and down, while accumulator suspension absorbs the shocks.
Front axle suspension also allows the wheels to closely follow ground contours, delivering optimum traction and stability as well as superb comfort for the operator.
The system operates in three modes with straightforward control from two buttons in the cab. One switch allows the operator to select the mode:
• In 'Automatic' mode the axle suspension manages itself with no operator input required
• In 'Manual' mode the suspension does not operate, but operators can use the second switch to set and adjust the height +/-45mm – useful for when mounting implements
• In 'Blocked' mode the suspension is locked in its lowest axle position, but is still free to oscillate around the pivot. This is useful for precise operations, such as loading pallets.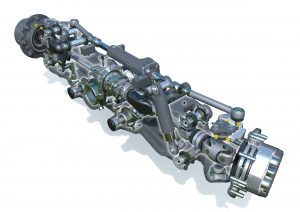 "The MF 3700 AL is designed specifically to combine stability and comfort with a high specification for those working in mountainous and challenging terrain," says Francesco Murro, Director, Marketing Massey Ferguson Europe & Middle East.
"Our new front axle suspension not only delivers best in class comfort for the operator, but enhances performance in the field and on the road."
"Equipped to a high specification as standard, the compact and agile MF 3700 AL Series offers high performance with straightforward control. The new front axle suspension option further improves the performance of these strong, agile and versatile tractors," says Mr Murro
"With powers up to 95hp, the highly productive MF 3700 AL is ideally suited to a wide range of hard work in challenging terrain, in the field or around the farmyard. It's also perfect for large wine applications as well as forestry, municipal and amenity applications," he concludes.