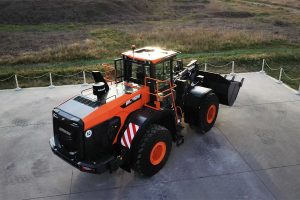 Doosan Infracore announced on March 1 that it had introduced the industry's first wheel loader with a "transparent bucket" function. The transparent bucket is a system that allows the wheel loader driver to see even blind spots in front of the bucket through the monitor in the cockpit. The innovative system records images in front of the wheel loader with cameras installed at the top and bottom and shows the combined images in real time using a curved projection method.
The front of the wheel loader has been considered a major safety issue due to blind spots. With the transparent bucket function, however, the driver can easily check the blind spot in front of the bucket with a monitor to prevent safety accidents. Another advantage is that it can significantly improve work efficiency by enabling a forward perspective through the monitor during loading/unloading work or carrying of soil and sand.
Doosan Infracore is the first company to develop and apply the front projection function like the transparent bucket for a construction machine. Doosan Infracore has applied for patents for it in Korea, North America, Europe, and China. The company exhibited the technology and received favorable reviews at the CES 2020 held in Las Vegas last year.
It has installed cutting-edge safety systems, such as the around view monitor (AVM) system that can monitor the equipment's surroundings and a rear warning system using ultrasonic sensors, in the construction equipment and received favorable responses from customers.
"As construction safety standards have been significantly reinforced, the advanced safety system has become the key equipment option. We plan to continue developing functions that can protect the safety of drivers and nearby workers and lead the creation of accident-free construction sites," a Doosan Infracore official said.