The intelligent assistance systems for the Liebherr wheel loaders support the operator in their daily work. These include active personnel detection at the rear, a new joystick steering system and an integral tyre pressure monitoring system. These and other assistance systems enable Liebherr to offer holistic solutions to optimise safety and comfort and increase performance.
All systems have been developed by Liebherr and are therefore fully integrated in the machine control. It is important for operators to be in a comfortable and safe operating area, where they can concentrate longer and work more efficiently. These useful assistance systems for Liebherr wheel loaders reduce the risk of accidents and their easy operation enables safe and efficient machine operation.
The adaptive working lighting is an intelligent light control system optionally available for the Liebherr L 526 – L 586 XPower wheel loaders. The system adjusts the brightness of headlights according to the application. The various lighting components are only switched on when they are needed – a fully automated process.
With the help of modern light sensors, the light output of the LED headlights automatically adjusts to the position of the lift arms, the working attachment and the wheel loader's articulation angle. This enables uniform illumination of the entire operating area. An additional headlight on the front section of the vehicle and automatic dimming of the front working headlights ensure that the operating area is ideally illuminated at all times to prevent the operator from dazzling themselves. This also reduces reflections and shadows. Ideal visibility conditions thus ensure a high level of safety and enable the operator to work comfortably and without fatigue, especially in the dark and at night.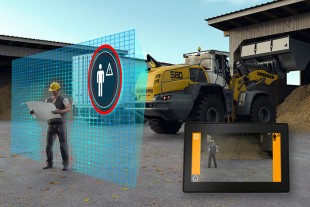 The optionally available active personnel detection for the Liebherr L 526 – L 546 wheel loaders monitors the rear area of the wheel loader and automatically warns of dangers on the display and with acoustic signals. A special feature is that the system uses the latest camera technology to automatically distinguish between people and objects without having to equip people with transponders or other transmitting units. This means that people visiting the construction site, such as truck drivers, office workers or service providers, can also be identified by the system. This makes the Liebherr system one of the safest on the market.
If a person moves to the rear of the machine, the intelligent system alerts the operator. The active person recognition warns of people in the danger area earlier and thus at a greater distance than for stationary objects such as walls or columns. This targeted warning to avoid personal injury not only reduces the risk of accidents. Unnecessary visual or acoustic warning signals are also avoided which reduces the strain on the operator. This innovative assistance system enables safe and comfortable working.