In May of this year the starting signal for the production of the new Fendt Katana 650 has been given. The new series of the forage harvester with 25hp more engine power was presented to the public for the first time on the Agritechnica 2019 .The production started as planned in May.
The new generation of the Fendt Katana 650 is being produced at the AGCO/Fendt location in Hohenmölsen (Saxony-Anhalt). On 8 May the first main frame of the Fendt forage harvester was placed on the main assembly line.
"Our location Hohenmölsen has a high level of competence in the assembly of the forage harvesters. Since 2011 all of the models are being produced there", so Ekkehart Gläser, Managing Director Production AGCO/Fendt. "Similar to the Vario tractor from Marktoberdorf the new Katana model undergoes a two-hour test procedure to determine the quality of the self-propolled machine. But what we have introduced for the first time: One of the first machines is being send from the production line directly into field use to analyse and optimize immediate readiness and quality of the forage harvester."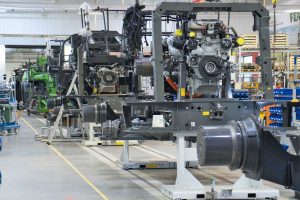 Better cut quality due to the new cracking rollers
The new RS roller cracker with the additional V-spiral groove
The new model series of the Fendt Katana 650 is offering some new technical features. One of the new features are the new roller conditioner R- and RS- roller crackers available for customers.
The efficient R-Cracker does not give any grain a chance and, thanks to the large processing area, delivers outstanding grain disintegration. The RS roller cracker is characterised by its saw-tooth profile and the additional V-spiral groove.
The ability to split at optimum performance has been extended to up to 30 mm with new crackers. The integrated V-spiral groove defibers the crop even better during long chop lengths, thus increasing the quality of the harvested material. With the new RS roller cracker, the contractor can meet all the requirements of his customers, whether dairy cattle or biogas farmers. Fendt thus offers a wide range of applications with just two options.