Citroën have unveiled the facelifted C5 Aircross SUV which has undergone significant design enhancements as part of the product refresh. The new C5 Aircross offers an imposing and rugged design thanks to the newly designed front end, a new rear taillight design and new interior seating also enhances the aesthetic appeal of this vehicle. The C5 Aircross also offers an impressive ground clearance of 230mm for true off-road appeal.
The facelifted version of this C segment SUV, which has been the bestselling Citroën passenger car in Ireland since 2020, will be available in both petrol, diesel and plug-in hybrid versions and will go on sale here in Q2 2022 for the 222 July registration period.
At first glance the exterior changes to the front end are evident. With current Citroën models, the brand logo is designed in chrome on the front grille as an extension of the daytime running lights, however, the new C5 Aircross proudly displays a larger chevron logo set in a black lacquer with chrome surrounds.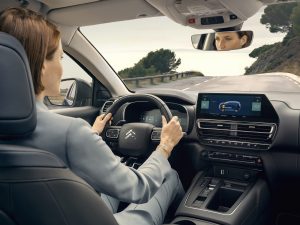 Inside, a new 10" touchscreen forms the focal point of a more modern passenger compartment. This new, larger screen improves ergonomics while the air vents are now located below the screen to ensure a higher reading position. In addition, the fully customisable 12.3" digital display provides all essential and customisable information directly in the driver's eye-line ensuring optimal road visibility at all times.
The new C5 Aircross is equipped with the latest generation of Citroën Advanced Comfort seats offering high-density foam in the core of the seat with an extra 15mm layer of memory foam featuring a specific design to resist sagging over time. The Progressive Hydraulic Cushions suspension, exclusive to Citroën, enhances absorption of imperfections in the road and ensures that passengers travel in absolute comfort, with a real "flying carpet" effect.
C5 Aircross is the only SUV in the segment to offer three individual sliding, reclining and retractable rear seats, allowing MPV modularity in true SUV style. The boot volume is a record for the segment: from 580 litres to 720 litres in the petrol and diesel versions and from 460 litres to 600 litres for the hybrid version.
Finally, special attention has been paid to the acoustic characteristics with the laminated front windows to amplify the cocoon effect within the car. C5 Aircross also offers a wide range of latest-generation technologies with 20 benchmark driver-assistance systems including Highway Driver Assist, a level 2 autonomous driving system that combines Adaptive Cruise Control with a Stop & Go function and the Active Lane Departure Warning system to provide enhanced safety for all occupants.
The C5 Aircross will provide an offering suitable for all uses, in addition to a petrol and diesel engine offering, a Plug-in Hybrid version will deliver 225hp with the possibility of driving more than 50 km in full electric mode up to 135 km/h. This Plug-In Hybrid version will also benefit from a range of online connected services to facilitate delayed charging via a smartphone app and cabin pre-conditioning. Charging is fast, with a full charge completed in less than two hours with a standard wall-box connection.
Irish pricing and specification for the New C5 Aircross SUV will be announced in March with first vehicles expected to arrive on Irish shores in June.