A Tipperary contracting and farm business has reported significant improvements to the health of its soil since moving its tractor fleet onto Michelin tyres.
Coolcroo Farm, near Two-Mile Borris, now runs its four smaller tractors on a variety of different size Michelin XeoBib tyres, while its larger Fendt 828 is fitted with IF 710/70 R42 AxioBib on the rear and VF 600/60 R34 XeoBib on the front. It also operates a Horsh trailed sprayer on VF 710/60 R42 XeoBibs.
"The impact on our soil health has been huge since switching to Michelin, which in turn has improved our yields – and that's the only thing we've changed, so it has to be down to the tyres," says farm owner Michael Healy.
"The comfort on the road from the XeoBib rubber is also exceptional, you can run at very low pressures and you're still not rolling and shaking around. I gave a neighbour a run in one of my tractors and now he's using them as well."
Michelin's XeoBib range is designed for 80 – 220hp tractors, and benefits from a large footprint which helps to reduce soil compaction and rut formation. The tyres are designed to function at one bar of pressure or less regardless of speed or the surface its working on – meaning it's kinder to the soil and travels efficiently on the road.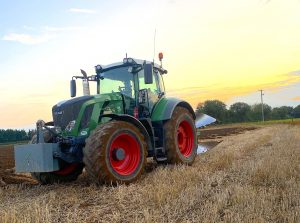 The tyre is also built to be more fuel and time-efficient than standard agricultural tyres, reducing slippage to ensure more traction on soft ground.
Praising the tyre life from both new fitments, Healy added: "We just recorded 6,000 hours from the first set of AxioBibs and we average around 5,800 from the XeoBibs, which is far better than anything we've run before, saving us money in the long run".
A family-run arable farming operation covering roughly 1,400 acres, Coolcroo Farm is renowned for the quality of its potatoes. The farm also produces grain, sugar beet and a variety of grasses.