Specialist UK-based cultivations equipment manufacturer Tillso has entered into an agreement with Spaldings to distribute its Sabre tine system under a new long-term agreement.
Spaldings will be the exclusive distributor in the UK and Ireland of the patented Sabre tine assembly, which is a multi-component system designed for efficient restructuring of compacted soils using subsoilers or cultivators incorporating soil loosening tines.
Spaldings managing director Steve Constable said: "Tillso is an innovative British cultivation specialist and machinery manufacturer leading the way in technology designed for sustainable soil management and conservation.
"Distributing Tillso's Sabre retro-fit system will be complementary to our highly-durable SPL Ultra cultivator, subsoiler and seed drill coulter points, and the other ranges of soil-engaging parts we supply for tillage and drilling."
Tillso's Chris Lane commented: "We're pleased to have teamed up with Spaldings as a major player in the field to supply our unique retro-fit Sabre tine system and provide excellent customer service.
"We are looking forward to working with the Spaldings team to build a platform for future developments in our field of expertise."
The patented Sabre design results from intensive studies of soil mechanics and consists of a common point and shin used with a choice of four soil-lifting wing assemblies.
This enables growers to equip their heavy tine implements with the most appropriate configuration for effective restructuring of compacted zones in different soil types at different depths.
By observing the correct relationship between working depth and tine spacing, implements equipped with the Sabre system will loosen subsoils across the entire working width for maximum beneficial effect but minimal disturbance at the surface.
In addition to being standard equipment on Tillso's Advantage subsoiler, the Sabre system can be retro-fitted to a large number of other manufacturers' subsoilers and cultivators equipped with soil-loosening tines.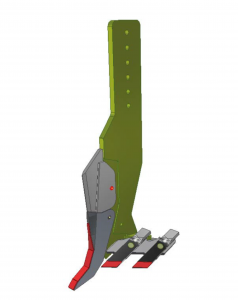 The Ultralite and Mono assemblies have a single fixing to secure a one-piece delta-shaped wing; the Ultralite is designed to work 150-250mm deep with tines spaced 400-500mm apart, while the Mono's working depth range is 225-400mm at 600-750mm leg spacing.
Tillso's Lite and Max tines have a different arrangement that comprises a cast supporting frog with separate left- and right-hand wing assemblies bolted on.
The Lite version with a single wide wing slat each side is designed for a working depth of 225-350mm at 500-600mm leg spacing, while the Max has two chisel-like wing slats on either side for soil-loosening depths of 225-450mm at a leg spacing of 650-800mm.
Each of the four versions uses the same shin and point secured in place by a roll pin and with carbide tiles for protection, and with replaceable side wear plates protecting the lower portion of the leg.
Chris Lane explains that the design of each component and of the assembly as a whole is calculated to apply controlled tension to compacted soil beneath the surface, which then fractures as it is lifted and falls off the wings.
"This precise, targeted restructuring action results in a permanent rearrangement of soil aggregates, with vertical fissures and columns of soil that support subsequent traffic and help to preserve the favourable structure," he says.
The Tillso Sabre tine system will be available to order on the new www.Spaldings.co.uk website, via the Spaldings telesales team and regional sales advisers, and at the company's retail counter in Lincoln.