SsangYong's new generation Grand Musso 4×4 pick-up has to be one of the most understated 4×4 pick-ups on the Irish market. While the SsangYong brand is in re-building mode in Ireland, Michael Moroney believes that this new Grand Musso 4×4 pick-up should be making bigger inroads in a niche market that's has shown 12% growth in 2021 compared with 2020.
The SsangYong brand has been on the Irish market for more than three decades, so it's no longer a newcomer in terms of brand identity even if its market share has never been earth shattering. Older generation Korando models still have their appeal among followers of Korean's longest established 4×4 brand. Now is the time for the SsangYong Grand Musso to make an impression.
I've had the latest SsangYong Grand Musso 4×4 pick-up on the road some weeks back after only prior experiencing the 4×4 pick-up by merely passing glances since Ploughing 2019. So how does it compare with the competition, where the Ford Ranger is coasting ahead of the market? Does it offer value and equally important, can it do the work?
As 4×4 pick-up engines have downsized, SsangYong has further developed the 2.2 litre turbo-diesel engine to deliver 181bhp and 400Nm of torque. I've compared that with Ireland's market leader, the Ford Ranger and there's little to separate them in power terms.
The SsangYong Grand Musso is a smooth operator and is quieter than most of the competition. The engine power was delivered though a 6 speed automatic gearbox that's equally smooth, so much so that you wonder do you really miss the raw engine grunt and more functional feel that you get from some of the competition.
The Grand Musso's 4-wheel drive system draws on SsangYong's years of experience. The 4×4 system is a part-time one with the engine power delivered permanently to the rear wheels. The additional front-wheel-drive system is easily 'dialed in' electronically as needed and there are high and low ratios available for tougher ground conditions demand.
The new Musso also comes with a differential lock system in addition to a hill descent system, to provide better traction on steep and slippery gradients, and for increased towing capability. As it was a very wet December, I was slow to put this ability to a serious off-road field test, perhaps the next time.
On the inside the SsangYong Grand Musso has car-like features that make it easy to drive. The driving position doesn't feel as high as some of the competition, because of the deep door structure. The ground clearance is equivalent to the Ford Ranger even if it doesn't look it.
What you will notice is that the NVH (noise, vibration and harshness) levels on new Musso are much reduced over the previous model. SsangYong claims that this is due to its eight body mounts and polyester (PET) wheel-arch linings give reduced road noise for better comfort. They also claim that the engine bay also includes better sealing to improve sound, dust and waterproofing, and combined with larger rubber engine mounts helps reduce engine noise and vibration.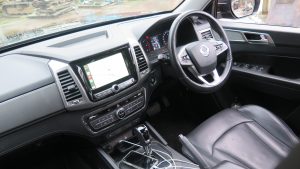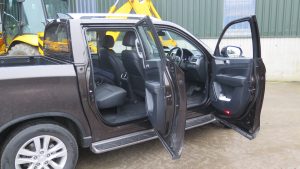 Both the exterior look, the interior features and the smoothness of the driving experience somehow don't give the SsangYong Grand Musso as much a masculine impression as some of the competition. But is life all about the image of hard work and no comforts?
SsangYong don't believe so and you'll soon ask yourself what's wrong with having the necessary raw power to pull a full load without having to experience a rough driving sensation. Because that's an important part of the SsangYong Grand Musso story.
The second part of the Grand Musso story is the working part. SsangYong claims that the new generation Grand Musso can carry a payload of over 1-tonne and tow a trailer of up to 3.5 tonnes concurrently. This converts to a gross train weight of 6900kg which ranks the Grand Musso has having the highest total load capacity of any pick-up on sale in Ireland. That's working ability where it counts.
In quoting those figures, I have to warn that there are some hints of specification confusion. The UK SsangYong team claims a 3.5 tonne towing ability, while the Irish team claims a more conservative 3 tonnes. As if to confirm this confusion, the Irish sales brochure shows the SsangYong Grand Musso towing a trailer with 10 round bales. If they were typical Irish silage bales, I reckon that the loading would provide an interesting challenge to the quoted maximum figure from either side of the Irish Sea!
The pick-up load deck of the Grand Musso is slightly wider and has much deeper sides that the equivalent Ford Ranger. It will easily fit a euro pallet and the pick-up area is plastic lined as part of the standard offer. It also comes equipped with 12V/120W power outlets, and rotating hooks to help strap down loads such as tools and equipment.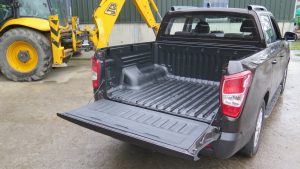 The third part of the SsangYong Grand Musso story is the fuel economy levels. The Musso's e-XDi220 engine is claimed to be highly efficient, quiet and proven engine delivers progressive acceleration from a standing start, and strong low-end torque. It does most of that including cruise at the motorway limit of 120km/hr at just 1750 engine revs.
The rated fuel economy figure is 11.4km/litre (8.8l/100km or 32mpg) which should give a range of 885km on a full 75 litre fuel tank. Ford offers a bigger capacity 80 litre fuel tank so even if its economy is marginally poorer, your re-fill intervals will be very similar.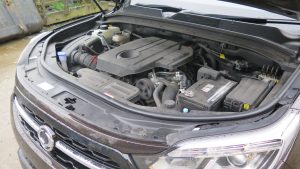 SsangYong have included lots of safety kit into the new Grand Musso including Lane Change Assist, Rear Cross Traffic Alert and Blind Spot Detection to help prevent accidents.  The pick-up includes Electronic Stability Programme (ESP) with traction control system (TCS), hill descent control (HDC), active roll-over protection (ARP) and emergency stop signal (ESS). There is no updated Euro NCAP safety rating available, so while the kit is impressive it has yet to be verified.
And now the value. It's not so easy to establish the SsangYong Grand Musso list pricing, at least from the company's website where price lists are not shown. Best estimate is that the SsangYong Grand Musso that I drove comes with a list price of €38,500 incl. VAT.
That's about €7,000 more affordable than the Ford Ranger Limited with a 10 speed automatic gearbox, while SsangYong offers a 7-year warranty compared with Ford's 2-year offer. The SsangYong offer is now very impressive as is the Grand Musso's work performance and why not have comfort included?
SsangYong Musso Grand v Ford Ranger 2.0 Limited – Specifications
 
SsangYong Musso Grand Auto
Ford Ranger 2.0 XLT
Engine
2.2 litre
2.0 litre
Engine power
181bhp
170bhp
Engine Torque
400Nm
420Nm
0 – 100km/hr
11.9 seconds
12.6 seconds
Economy
11.4km/litre (8.8l/100km or 32mpg)
11km/litre (9.0

l/100km or 31mpg)

Fuel Tank Capacity
75 litres
80 litres
CO2 emissions
226g/km
197g/km
Range Theoretical
885km
880km
Road Tax Annual
Commercial €333
Commercial €333
Euro NCAP Rating
NA
5 Star (2012)
Kerb weight
2210kg
2202kg
Towing rating
3500kgs
3500kg
Ground Clearance
220mm
232mm
Wheelbase
3,210mm
3220mm
Overall Length
5,405mm
5282mm
Pick-up Length
1,610mm
1613mm
Pick-up Width
1570mm
1560mm
Pick-up Side Height
570mm
511mm
Payload
1140kg
1068kg
Warranty
7 years
2 years
Entry Price
€38,000
€43,634