Škoda's Enyaq heralds a new electric car era for the Czech origin brand. Rather than electrify a small car range, Skoda opted to develop a brand-new car that in space and style has hints of the Octavia estate, or even Kodiaq. And that can't be any surprise as the Octavia is the brand's best-seller in many markets, including here in Ireland where it accounted for almost 30% of all new Škoda's sold so far this year.
The similarities are probably very much in my own mind, as the Enyaq is a vastly different car. To me it feels more like an estate car than an SUV while for Škoda it's a new model opportunity and they are pointing it in the direction of an SUV.
For Škoda the Enyaq different, firstly because it's electric and also secondly because it is the first car from the Volkswagen Group's modular electrification toolkit (MEB), that's been manufactured outside of Germany. This means that the battery is incorporated into the floor to save space.
For the Irish market, Škoda is offering two models that differ in their battery capacity and as a result their range on a full charge. You'll have to pay an extra €8,000 to boost your range from 420km in the iV60 model to 535km in the iV80 version, confirming that you must pay significantly extra to satisfy your range anxiety.
For the new Enyaq, Škoda have placed particular focus on the charging experience. They expect that 80% of ENYAQ iV charging will occur at home. Škoda is offering a tailored iV Charger wall box unit installed by professional and safe registered electrical contractors. This charger is claimed to charge an ENYAQ 60 from 0% to 100% in just 6 hours and 15 minutes which is up to eight times faster than a regular plug 13-amp wall socket. That will make a difference and can be most effective with night rate electricity.
The Enyaq iV is driven by an electric motor delivering power to the rear wheels. Skoda will have an all-wheel-drive version in early 2022. The car comes with the technology and driver safety systems.
The Škoda Enyaq has a big car, airy and bright feel about it. The shallow angle of the windscreen, the main dashboard is more open and flatter than in other Škoda models. The dashboard features a series of layers, with each one introducing a different texture and material.
The airiness of the car is supported by the fact that the boot capacity, at 585 litres, expanding to 1,710 litres with the rear seat folded, making this is one of the largest boot capacities of any electric vehicle on the market. That's probably why it reminds me so much of the Octavia Combi. This can be specified with the optional Transport Package, so that the rear seats can be folded forward simply by using the remote release button. There is also the option of remote boot opening with a Virtual Pedal.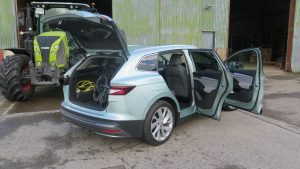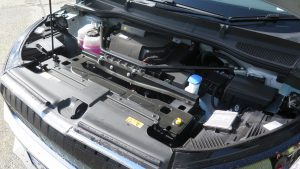 All Škoda Enyaq models come with the latest MIB infotainment systems with a large 13" colour touch screen display with an accompanying digital dashboard. The screen is so big that its Tesla-like. I wonder if that size is needed or could it be a real distraction in the centre of the dashboard. From the exterior, there are optional 21" Betria alloy wheels which are the largest ever fitted to a Škoda.
The Škoda Enyaq is an impressive large estate-type car that further supports Škoda's position as a provider of spacious cars. The car comes with a range that makes electric drive more accessible for rural drivers. It is solid to drive has great roadholding and firmness with comfort on the road.
Entry prices start at €39,593 after all Government grants, so a change from a diesel engine is not too price difficult when you look at the price levels for the new generation Octavia Combi models. This is car worth considering if you are considering moving away from diesel and it will be cost-effective to run and great to drive. It's only downside may be the low towing rating, and towing may well be power hungry for electric drive, so leave that work to the 4×4 in the yard with diesel power.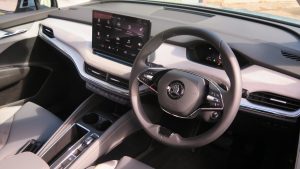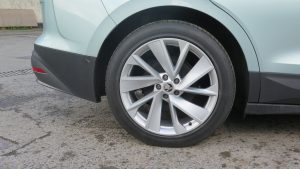 Skoda Enyaq Electric – specifications
Engine
All electric
Engine power
204bhp
Engine Torque
310Nm
0 – 100km/hr
8.7 seconds
Economy
15.7kWh/100km
Fuel Tank Capacity
0 litres
CO2 emissions
0g/km
Range Theoretical
535km
Road Tax Annual
A1 €120
Main Service
12 months or 30,000km
Euro NCAP Rating
5 Star (2020)
Turning Circle Kerb to Kerb
NA
Kerb Vehicle Weight
2015kg
Towing rating
1000kg
Luggage Capacity
585/1710 litres
Warranty
3 years on 8 years on battery 160,000km
Entry Price
€38,593 after grants & delivery