BMW's first fully electric Sports Activity Vehicle (SAV), the recently launched iX range, makes a strong statement in terms of performance and design. There is no mistaking the iX's brand identity as the traditional BMW front grille is sufficiently exaggerated to leave you in no doubt.
This is a large vehicle which BMW claims was conceived purely for electric driving and manufactured using sustainable systems. For BMW, this car claims to bring together the company's latest developments in design, automated driving, connectivity, and electrification as well as new driver services to create a premium car that they claim is unrivalled in its segment.
Once you sit into the iX you can get that instant feel of a car that's packed with technology. That's not because its cluttered with buttons and controls, more that the package is presented in a way that is clear, while you know that there is a lot more technology on offer under the skin.
That big car feeling is obvious by the width of the iX, which is more noticeable on smaller rural roads. The driving performance is impressive in terms of acceleration and road holding. The car has an all-wheel-drive system, making it the very first all-wheel-drive pure electric vehicle produced by BMW. That drive system, coupled with the battery location under the vehicle, makes this heavy 2.4 tonne SAV very stable on the road.
The test car that I drove was the lower power xDrive40 model, which has slightly lower battery capacity than the longer range xDrive50 model. The XDrive40 has a range of 375km on a full charge and with sensible driving. Push the car's performance ability to a level where the 0 to 100km acceleration levels are truly tested at 6.1 seconds and you'll notice the battery range levels drop.
When you mix a combination of longer and short drives with planned charging strategies, this is a car which if you could afford to buy, is relatively easy to live with. However, I found that Easter weekend driving on longer runs made access to public charging points more of an issue than during a normal mid-week.
The Combined Charging Unit (CCU) in the BMW iX claims to have a high level of charging flexibility. DC power can be taken on board at a rate of up to 150 kW in the xDrive40 from a high speed public charger. I found that this allows the battery's state of charge to be increased from 10 to 100 per cent in a little over an hour on a public fast charger. BMW claims that a range of over 95 kms can be delivered in just ten minutes when they are plugged into a DC high-power station, as long as there is an initial battery charge of 10 per cent or more. That's helpful for most runs across a country the size of Ireland.
Over a week where I travelled across the country and covered more than 1,100km, I found that I was unconsciously moderating my driving style in the iX. And I wasn't alone, as motorway drivers all seem to have slowed down. Cruising at 100km/hr is no longer the exception for many motorway drivers as fuel prices at the pump are making us all conscious of economy strategies. So electric car drivers at more modest speeds now fit in with rest of the speed modified car community at this speed and for most of us, there is a level of comfort from that your driving style is now universally accepted.
This iX also comes with a form of adaptive recuperation which recovers power during slowing down or decceleration. The default setting for the system in driving position D. There is also a choice of high, medium or low Brake Energy Regeneration setting for all driving situations in the BMW iDrive menu. The highest recuperation setting is automatically activated in driving position B, which also produces a one-pedal driving feeling.
On the inside the car is impressively spacious with wide opening doors that reveal the carbon fibre struture built around a more hidden aluminium frame. The seating is solid and easily adjusted.
There is a new BMW curved display screen that features a 12.3-inch information display and a control display with a screen diagonal of 14.9 inches housed together behind a glass surface. The complete wide display is angled towards the driver for clear vision.
There is an updated digital personal assistant which now boasts additional capabilities and uses a new graphic system. It was easy to get comfortable with most of the controls, including fast access to Apple CarPlay for phone and map use.
This new BMW iX comes equipped with what is claimed to be the most extensive set of standard driver assistance systems ever seen on a BMW. The new front collision warning system, for instance, now detects oncoming traffic as well as cyclists and pedestrians when turning right. There is gentle warning of stop signs ahead, just to let you know that if you don't hit the brake pedal on time, the car will safely stop. The steering and lane control assistant has been expanded, while the optional active cruise control with Stop&Go function now offers improved distance adjustment.
There is a new exit warning function, which alerts to the presence of cyclists or pedestrians in the surrounding area before any of the doors are opened and there is a new interior camera. The parking assistant including reversing assist camera and the reversing assistant now also come as standard on the iX.
The iX comes with a high safety credientials having recently completed a Euro NCAP crash test with a five star rating. The large rear legroom makes for easy fitting of child safety seats for safer driving. There is no spare wheel included.
The overall iX is a most impressive car in terms of performance and features, even if the front styling is not to everyone's taste. It weighs in solidly at 2.4 tonnes and needs wide turning space due to its 12.8m turning circle, so its not very manoeuvrable.
This is an expensive electric SAV pitched at the luxury end of the market with a six year battery warranty. Entry prices start at €85,815 and its easy to push that price even higher with modest additional specification options.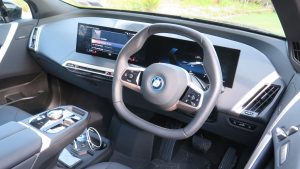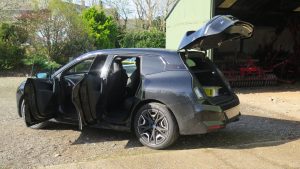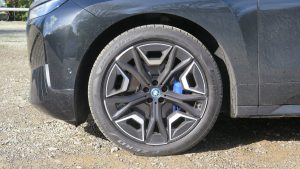 BMW i20 iX xDrive40 M Sport – specifications
Engine/Motor
All electric
Motor power
272bhp
Motor Torque
352Nm
0 – 100km/hr
6.1 seconds
Economy
19.4kWh/100km
Range Theoretical
375km
Charging Time
8hr
Road Tax Annual
A €120
Main Service
12 months or 30,000km
Euro NCAP Rating
5 Star (2021)
Turning Circle Kerb to Kerb
12.8m
Kerb Vehicle Weight
2440kg
Towing rating
2500kg
Luggage Capacity
500/1750 litres
Warranty
3 years on 6 years on battery
Entry Price
€85,815 after grants & delivery