Renault has added a more options to the popular Captur model to add to its attractions as an impressive small SUV that has style and now greater economy. After a test drive Michael Moroney believes that this latest plug-in hybrid offer can be an attractive one and is a further option to the petrol and diesel engine versions that are now available.
The attraction of the new plug-in hybrid Renault Captur offer is that it can deliver better economy. Renault has combined a powerful 1.6 litre petrol engine with an underfloor battery system that comes with impressive fuel economy claims.
This new generation Captur II is a very impressive car to look at and to drive. Renault has improved the styling and that higher position gives great road visibility in what is a small SUV stance to the car. The overall finish of the car is solid and smooth, making it a car that I soon found I loved to drive.
In reality, this car can be used as an electric car for short commutes or local runs and then there is the confidence of that powerful and smooth petrol engine for the longer journeys. To assess the hybrid value, you need to look more critically at your driving style and examine in some detail your specific driving needs.
The reason for that assessment is based around actual fuel consumption figures using real driving examples compared with the theoretical performance from this attractive plug-in hybrid car. The theoretical performance is outstanding, the actual fuel economy figure can be significantly different.
The question is why? To start we must understand that the Renault Captur II hybrid weighs at 297kg heavier than its equivalent petrol engine car. To put that into context we need to understand that the extra weight is due to the additional storage batteries and the extra drive motors for the electric drive system.
The hybrid system will allow you to have a 50km range from a full 4-hour domestic charging. For local drives that's acceptable while for most rural drivers that might mean a nightly charge of the car.
Once that range is passed, then the smooth petrol engine kicks into action, and it is smooth. What this smoothness masks is the fact that you will then be hauling an additional 297kg (the equivalent of 6 x 50kg bags of fertilizer) sitting in your car boot. And that's why when you exceed the plug-in hybrid range, the fuel economy numbers change and plummet.
The car's theoretical petrol engine range of 600km is average for a car of this size and even that is not easy to achieve when out on the national or motorway roads. That equation is not being factored into the hybrid conversation, especially for rural drivers and its bringing with it significant additional car running costs.
This is such a pity, because this new Renault Captur II is so desirable in every other respect. I would live with the slightly compromised boot space from the additional underfloor batteries. I could live with the additional power and smoothness of the hybrid to petrol changeover. But I'm not sure that I could live with the additional running costs for rural drivers.
After the hybrid car Government grant, this Captur II is still expensive to buy. The entry price is from €32,670, which is €6,200 more expensive than the entry level dCi95 diesel version on the current Renault Ireland price list. Add to that a larger 45 litre fuel tank and impressive small car economy and your long drive range based on the fuel in the tank jumps from 600km to close to 950km, when you take the diesel power choice.
The new Captur hybrid has the same maximum 5-star Euro NCAP safety test rating as the rest of the Captur range. It is equipped with the latest suite of safety and driver assistance technologies, to give it a high 5-star Euro NCAP safety rating. The safety kit includes Renault Pure Vision LED headlights with automatic high/low beam, Lane Departure Warning and Lane Keeping Assist, the Renault Automatic Emergency Braking System and Traffic Sign Recognition.
So, when I add up the numbers, even with my environmental consciousness now more finely tuned, the plug-in hybrid option of this impressive car simply doesn't stand up in running cost terms for many rural drivers. That's such a pity as this new Renault Captur II has a lot to offer in so many other respects.
That's why I would still highly recommend the Captur II with strong caution when it comes to engine power choices. Just remember that extra weight loading means the car weighs 297kg more than Renault's standard entry level petrol engine Captur II version. And if you are a regular longer distance driver, the economy potential savings will not be realised, even if you continue to enjoy that impressive Captur II driving experience as much as I did.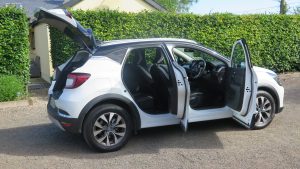 The Renault Captur II hybrid SUV loses some boot space compared with the engine versions, while interior passenger space remains unchanged.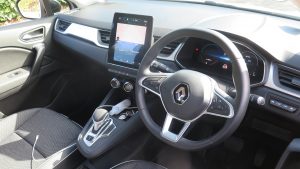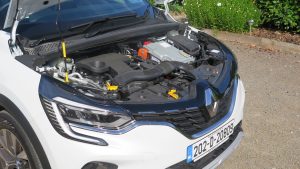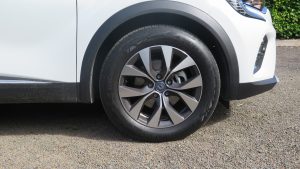 Renault Captur II Plug-in Hybrid 160 Petrol – specifications
Engine
1.6 litre
Engine power
160bhp
Engine Torque
144Nm
0 – 100km/hr
10.1 seconds
Economy
66km/litre (1.5l/100km or 188mpg)
Fuel Tank Capacity
39 litres
CO2 emissions
34g/km
Range Theoretical
2500km
Road Tax Annual
A3 €140
Main Service
20,000km/12 months
Euro NCAP Rating
5 Star (2019)
Turning Circle Kerb to Kerb
11.1 metres
Kerb weight
1564kg
Towing rating
750kgs
Luggage Capacity
265 litres/1118 litres
Warranty
5 years or 200,000km
Entry Price
€32,670 (after Gov. grant)