The seven seat SUV league continues to expand, while one of the originals, the Kia Sorento has received a significant upgrade in styling and specification as Michael Moroney found when he took it for a recent test drive. With Kia's Sorento upgrade, you'll be sure to be impressed.
For Kia, the Sorento has been an important flagship type vehicle in the Kia range and now this fourth generation adds power and size with the option of hybrid drive on the way to compliment to efficient diesel version.
You'll be instantly struck by the new Sorento styling. The SUV looks more stylish and modern than before with stand-out grille design that gives it instant identity. This is an SUV that needs to be introduced, most people who I met during my recent test drive instantly knew its Kia heritage, even though the stylish is completely new. That confirms that the Kia designers moved the styling forward in a way that preserved its identity.
This new Kia Sorento is longer and more spacious than before. Kia claims that it is 10mm wider and longer than before, while the front end design confirms that view, without even resorting to a measuring tape. What's more significant is that the wheelbase has grown by 35mm, and that's a lot, to give better driving comfort. That bit you'll notice as this new Kia Sorento is very pleasant to drive across the challenge of smaller Irish country roads.
And there's more space in the boot, with or without the third row of seats folded. This Sorento is one of the most spacious seven-seat SUV's on the market. Compared with its genetically related Hyundai Santa Fe it has greater luggage area which expands to a class leading storage area once the second row of sliding seats is folded.
And making use of the boot area couldn't be easier. There is electric boot opening with sensor engagement. Follow that with easy folding seats and a trip to your local hardware show becomes easy providing a lengthy and spacious load area.
This new Sorento comes with a higher level of specification than before. The immediate interior confirms that something different is available. The dash layout is more modern and very attractive as well as being very functional.
The additional safety features are a special highlight of the new Sorento. What especially impressed me was the way the speedo and rev counter dials, left and right respectively, convert to provide a real-time side video image from under the side mirrors, once you engage the indicators to turn left or right.
This system is so impressive and gives an especially clear view of what coming up behind or beside you, while still retaining the key criteria of vehicle speed or engine rpm. This is a feature that I had not experienced before and I quickly found it very useful. I will be one new feature that I'll miss in my next test car, I've become that conditioned to its clear benefits.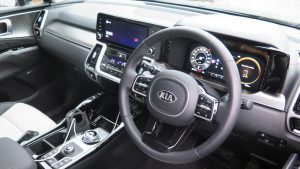 The overall safety package is very impressive even if the SUV has not been through a recent Euro NCAP crash test. I would expect that given its combination of safety features and the greater use of higher grade steel in the structure, that this Sorento will be deliver impressive safety test results.
Kia will thankfully continue to offer a diesel engine version of Sorento into the near future at least, while there is a petrol hybrid Sorento on the way for early 2021. Kia has upgraded this new engine to what they call the Smartstream diesel engine with higher fuel injection pressure and a 19.5kg lower weight to give improved economy and cleaner driving. The engine weight reduction comes mainly from fitting an aluminium engine block in place of the cast iron one in the previous model.
This engine is very smooth in action and economical. The Sorento is rated at 15.6km/litre (6.4l/100km or 44mpg), which in theory should give a range of over 1,000km from the 67 litre fuel tank. It didn't achieve that, my driving economy was 20% below that figure giving a range of more than 800km without a pump stop.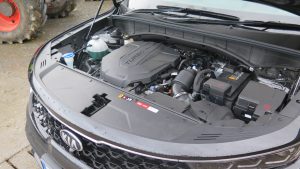 Kia retains the 8 speed automatic gearbox option for the new Sorento and that coupled with a wet clutch system allows the SUV to cruise at the top motorway speed of 120km/hr with the engine purring gently at less than 1800rpm. Kia is claiming better hydraulic efficiencies in this automatic gearbox give faster and smoother acceleration. These features combine to achieve efficiency while you still have impressive towing power at 2.5 tonnes with a braked trailer.
Kia is claiming a 3% improvement in fuel consumption compared with the previous model and I would expect to achieve that on the road. Hyundai has an identical engine in the new Santa Fe model, with a similar 8 speed automatic gearbox and performance figures that are a match for the Kia Sorento. That choice will come down to price and here the Kia Sorento is the more competitive.
There is a new 1.6 litre hybrid petrol engine on the way, but I doubt if it can match the performance and economy of the diesel version, even if it is marginally cleaner for the environment, but just how much cleaner I have my doubts! Toyota also has a new Highlander seven-set model to compete with the Kia Sorento, but there is no diesel engine option, just a hybrid drive that will lack the towing ability of the Sorento.
For my comparison I've looked at the closely related Hyundai Santa Fe and the new Toyota Highlander, as well as a slightly smaller Nissan X-Trail, all seven-seat SUV's. This new Sorento comes out on top in a number of areas, including space, performance, ease of driving and entry price. There are specification options that will add to the entry price of €51,600, however the value comes in terms of the overall package, which is more expensive than before with a price jump of over €5,000 and that includes some new tax adjustments. While the X-Trail is less expensive in terms of entry price, adding equivalent specification will mean little difference in price, while this new Sorento is still more spacious, more economical and has a higher trailer towing rating.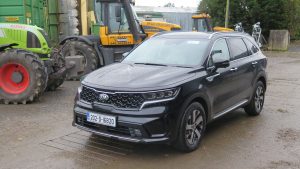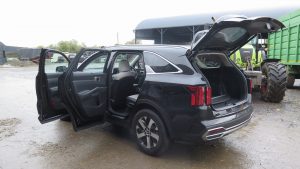 Kia Sorento K4 2.2 CRDi – specifications
Engine
2.2 litre
Engine power
202bhp
Engine Torque
440Nm
0 – 100km/hr
9.1 seconds
Economy
15.6km/litre (6.4l/100km or 44mpg)
Fuel Tank Capacity
67 litres
CO2 emissions
169g/km
Range Theoretical
1045km
Road Tax Annual
€420
Main Service
20,000km/12 months
Euro NCAP Rating
5 Star (2014)
Turning Circle Kerb to Kerb
NA
Towing rating
2500kgs
Luggage Capacity
821 litres/2100 litres
Warranty
7 years
Entry Price
€51,600