Ford has returned with the Puma model and this time as part of a fresh attack on the compact SUV market. This new Puma blends styling from models above and below it to give the Ford a further foothold into this growing sector of the market, according to Michael Moroney.
The original Puma heritage was very much in the sports car mould and the new generation Puma takes that forward in a new direction where sporty intensions are replaced with an SUV that combines compact size with new hybrid engine power and plenty of boot space. This new Puma SUV is aimed at the market that demands comfort and flexibility and Ford delivers that in a package that's also high on technology.
Ford is offering its new hybrid engine as one option for this new Puma. The Ford hybrid system is a mild hybrid based around a 1.0 litre, three-cylinder petrol engine which produces 125bhp and 170Nm of torque that Ford has labelled as the EcoBoost engine.
What's special about this engine is that Ford has incorporated the petrol engine with an 11.5 kW belt-driven integrated starter/generator. This ensures that the engine is still compact. This also replaces the standard alternator to allow for the recovery and storage of energy that is usually lost during braking and coasting to charge a 48 volt lithium-ion air-cooled battery pack. There is no plug-in feature, the energy is harvested from the car's systems on the go.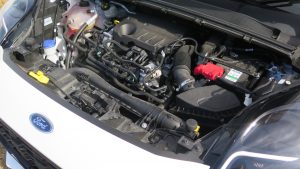 The Ford hybrid system acts as a type of additional motor and works seamlessly with the engine by using the stored energy to provide additional torque during normal driving and acceleration. This hybrid power is also used to run some of the car's other electric features and in normal driving you probably won't even notice that it's there working away in the background.
What you will notice is better fuel economy. This compact SUV is rated to deliver over 720km from its 42 litre capacity fuel tank. That should convert to 22km/litre (4.5l/100km or 63mpg) but in reality these rated figures are difficult to achieve. I was happy with my test drive result, where the range was 650km from the tank and that's very acceptable given that I was driving a well-loaded car for much of the time.
Good loading ability is also one of the important features of the new Ford Puma. Ford is claiming a class-leading luggage space of 456 litres with seating for five. This extra luggage space is provided in what Ford call the MegaBox feature in the boot of the Puma and its very practical.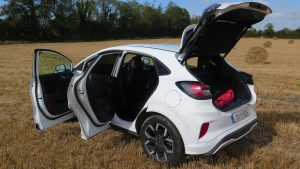 This under the boot floor box gives a deep 80 litres of storage space and is great for the around the farm or the likes of football runs. It comes with a lid to allow the 'hidden' space to be used to conceal dirty sports equipment or muddy Wellington boots. The MegaBox has a synthetic material lining and there's a drain plug in the bottom to make it easy to clean with water.
The MegaBox measures 764 mm wide, 753 mm long and 306 mm deep, and because of its depth can be used to transport unstable items up to approximately 115 cm tall in a stable upright position.
And Ford has packaged all of this along with some impressive car safety features that have ensured that it achieved a high Euro NCAP 5 star safety rating. The car features some advanced driver assistance technologies that Ford claims delivers a simpler and less stressful driving experience. These include adaptive cruise control with stop & go, speed sign recognition and lane centring. There is a new local hazard information system available that can inform the driver of hazardous situations in the road ahead before they become visible to the driver or vehicle sensors. The basic Titanium entry versions come with attractive 17-inch machined alloy wheels, projector headlamps with LED day time running lamps that include automatic dip and high beam features. Ford has included pre-collision assist with autonomous emergency braking in the entry models as well as a clear 8-inch SYNC with navigation and FordPass connect modem system.
Other useful features that add to the value include push-button keyless starting, electronic air conditioning that's easy to use, lumber massage driver and passenger seats, wireless phone charging as well as a cruise control system that comes with and adjustable speed limiter.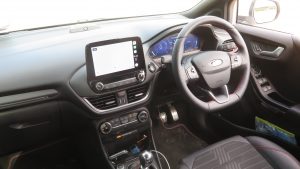 These features along with good economy, modern design and lively performance form the small hybrid petrol engine, means that the entry price of €24,893 is competitive while at the higher end of the market. There's a lot of value in the new Puma as a smaller SUV, even if it's not the most spacious, if the team is small, the load space compensates for that.
Ford Puma ST Line – specifications
Engine
1.0 litre
Engine power
125bhp
Engine Torque
170Nm
0 – 100km/hr
10.2 seconds
Economy
22km/litre (4.5l/100km or 63mpg)
Fuel Tank Capacity
42 litres
CO2 emissions
127g/km
Range
724km
Road Tax Band
B1 €270
Main Service
20,000km/12 months
Euro NCAP Rating
5 Star (2019)
Turning Circle Kerb to Kerb
10.5m
Towing rating
640kgs
Luggage Capacity
456 litres/1216 litres
Warranty
7 years/100,000km
Entry Price
€24,893