The new generation S-Class has arrived in Ireland in standard and long wheelbase versions. Showcasing technology that, in time, will likely appear in future Mercedes-Benz vehicles – previous examples being ABS (1978), Airbag (1981) and ESP (1995) – its introduction prefaces the arrival of a veritable chorus line of new models, including electric and hybrid units, scheduled throughout the year.
Designed with what Mercedes calls 'a high-status grille' highlighting its 200 sq. cms larger front, its classically elegant and more contoured body shape has been given a subtle dash of sportiness evident in its imposing presence and posture.
Two petrol and three diesels are available initially. A plug-in hybrid follows. All have V8, 6-cylinder in-line engines and 9G-TRONIC automatic transmission.
Petrol models are an S450 and S500, both with 2999cc engines, 4-MATIC all-wheel drive, a top speed of 250km/h and 0-100km/h acceleration of 5.1 secs and 4.9 secs and torque of 500 and 520Nm respectively. Diesels are a S350d, S350d 4MATIC and S400d 4MATIC with top speeds of 250km/h, 0-100km/h acceleration from 6.4 to 5.4 seconds and torque of 600, 600 and 700Nm respectively.
Commenting, Ciaran Allen, sales manager for Mercedes-Benz in Ireland said: "demand is expected to focus on the standard wheelbase 350d launching at €121,865. Beyond that, most models are likely to be bought by special order, fitted with features according to individual preference".
A product of Mercedes-Benz's new product strategy, the new S-Class comes with an even higher level of standard specifications with standard items that include AMG Design Line, rear Thermatronic Climate Control, Nappa leather upholstery and trim, heated rear seats, metallic paint and OLED Touchscreen with Augmented Reality.
Emphasis on interior spaciousness and comfort sees driver and rear passenger elbowroom increased by 38mm and 23mm respectively with 16mm higher rear headroom. Its 550-litres boot is increased by 20-litres.
Inside, the ambiance is altogether quieter and more comfortable thanks to improved acoustics and additional air and hydraulic features that adjust suspension and dampen body movement to enhance ride comfort.
An up to five-screen, second-generation Mercedes-Benz MBUX User Experience with 3D display comes with 50 percent better computing power. Its features include eye-tracking spatial perception using cameras and algorithms that anticipate occupant wishes and interpret body language, head and hand movements to manage functions.
The 'Hey Mercedes' function, available to every seat occupant, recognises speech and voice commands in twenty-seven languages. A 'learning feature' helps it recognise buzzwords and vary its voice output beyond stereotypical answers.
Door handles that retract flush with the body when not in use or travelling extend automatically when the driver approaches or touches their outer surface.  Other enhancements include measures to protect the vehicle against vandalism, improved driver assistance packages, an active body control feature which raises the vehicle up to 8 centimetres when a side impact threatens, new headlamp technology which projects warning symbols onto the road ahead, a multi-speaker 4D sound system with enhanced personalisation functions and a new 'over-the-air' system that automatically updates software for more than 50 components.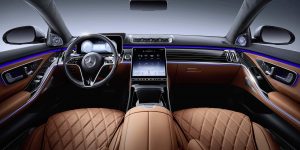 Optional ideas include supplementary ambient lighting, rear airbags, and driver assist tech developed to reduce the turning circle on long wheel base models. Start/stop function works almost imperceptibly without turbo lag thanks to a powerful electric booster and integrated starter generator. Recyclable content is used in 120 components – more than 98kg made from resource-conserving materials and a further 40 kg from renewable raw materials.