Peugeot's 2008 has grown up all of a sudden and it's now taller and more defining on the road. Michael Moroney believes that it now morphs comfortably into a leading position in the small off-road segment of the car market.
My first impression of the new Peugeot 2008 is so strong in terms of size and stature on the road that it truly deserves to be considered as a serious contender. It's longer, higher and wider than the 2008 of the past with more boot space. These features alone makes it worth of any shortlist in the small to medium SUV market.
Peugeot has uniquely offered three power options for the 2020 version of the new look 2008. In price terms, the entry model is petrol powered and there is a €2,000 price jump to the entry level diesel models. The next price jump is to Peugeot's new all-electric power option and here the price jump is a massive €7,535 from the base model.
For a rural audience, the diesel option is still the dominant one of choice. That's because the electric version with its range on a full charge at 310km, is still only about one-third of the 1.5 litre turbo-diesel that I recently drove. This diesel engine in this new Peugeot 2008 is much improved from the past both in terms of economy and emissions.
Peugeot claims that its latest generation diesel cars are on target to meet tough new diesel engine emissions standards nearly a year before they come into effect. This new Peugeot 2008 diesel meets the latest RDE2 real-world driving emissions standards. Under European Union legislation, all new vehicles registered after January 2021 must meet the second phase of the Real Driving Emissions (RDE) test and the Peugeot 2008 clearly does that.
Peugeot's 1.2 litre petrol engines are improving in terms of power and torque with the addition of turbo-chargers. That's why diesel is now less and less of the obvious choice unless you are a high use driver covering a minimum of 25,000km per year.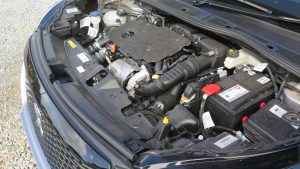 Out on the road the new Peugeot 2008 is lively in terms of acceleration and performance. The six-speed gearbox is a match for the modest engine torque so that you can cruise efficiently on the motorway top speed at about 2,000rpm engine speed. That's part of the benefit associated with diesel car economy; lower engine revs at cruising speeds compared with the petrol engine counterparts.
So while the official economy figures at 22km/litre (4.5l/100km or 63mpg) are impressive my test drive was a close match giving me a range of over 900km from a full 41 litre fuel tank. I drove across a range of road conditions, using a combination of the Normal and Eco drive modes available from the car's engine management system and that's why I was pleasantly surprised with this very impressive economy.
For economy alone, this new Peugeot 2008 takes a top rating. That's also reflected in the road tax cost which will creep up but for the present is still a very affordable €180 per annum for the A2 classification car.
Peugeot makes a lot of noise about the Peugeot i-Cockpit design and layout of the dash area. On some Peugeot models it doesn't work for me while on the 2008, the seating position coupled with the design gave me better visibility of all of the controls.
The entry level specification is good including the i-Cockpit styling coupled with a compact multi-function steering wheel and touchscreen. Peugeot has included Bluetooth, Mirror Screen with Apple CarPlay and Android Auto is also standard across all versions.
These features made it easy to get comfortable behind the wheel of the 2008. Mobile phone set up was quick and all the Apple CarPlay features jumped instantly onto the 7in display screen.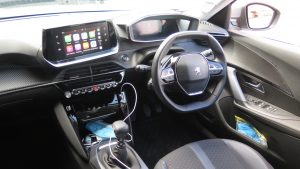 The car's standard specification is good and you move up from 16in to 17in alloy wheels with the first specification jump from Active to Allure that adds about €2,000 to the price. All cars come with air conditioning, 6 airbags, ESP with Hill Start Assist, rear parking sensors with rear view camera, eco LED headlights, front fog lamps, rear full LED 3D claw-effect lights, programmable cruise control and speed limiter, speed limit recognition and recommendation, extended traffic sign recognition, automatic headlights and wipers, two ISOFIX child seat fittings and child locking on rear doors.
The car's safety package with the above features included means that Peugeot's five star Euro NCAP rating was expected. The test car in Allure specification also included a front seat ISO-Fix fitting giving the capacity to have three children securely belted in safety.
The flexibility of the boot space with its floating boot bench was also a useful and practical feature. Peugeot include a spare wheel with all cars on the Irish market and that's another bonus that's often forgotten about.
Entry prices for the new Peugeot 2008 start at €25,700 for the diesel models. The diesel option is still the most economical; for an 8% increase in price you get more than 25% better economy, that's my view based on my driving experience and the official figures supplied. So for the present, I'm still sticking with diesel as the fuel of choice for a car such as this attractive Peugeot 2008 in delivering low emissions and genuine economy.
Peugeot 2008 Allure 1.5 Blue HDi – specifications
Engine
1.5 litre
Engine power
136bhp
Engine Torque
250Nm
0 – 100km/hr
10.2 seconds
Economy
22km/litre (4.5l/100km or 63mpg)
Fuel Tank Capacity
41 litres
CO2 emissions
120g/km
Range
900km
Road Tax Band
A2 €180
Main Service
20,000km/12 months
Euro NCAP Rating
5 Star (2019)
Turning Circle Kerb to Kerb
10.4m
Towing rating
1200kgs
Luggage Capacity
434 litres/1467 litres
Warranty
5 years
Entry Price
€25,700