Like it or not electric power is here to stay, and the choices are growing by the week. Mazda has recently unveiled its sole all-electric car, the Mazda MX-30 for the Irish market and Michael Moroney has taken it to the country on a test drive.
Mazda styling has always been that bit more distinctive and that's why its no surprise that Mazda has gone for new design lines in its first all-electric car to hit the market. The car is instantly recognisable as different, not in an electric car sort of way.
Some electric cars have a predictable look to them, a sort of toned-down styling or attempt at innocence or forgiveness. Not the Mazda MX-30, its styling to my mind, hints that there could be a petrol or diesel engine under the bonnet and that's probably why I liked the look of the car.
While I know that I should have moved on from hankering for a car that looks like one that has an engine, that's probably a reflection of my background and age. Its just that some new electric cars do all of the functional and practical things, its just that they don't feel like the cars that we were used to.
The Mazda MX-30 is different. The styling effect is complimented by an interesting door effect that was present in the old RX models, where the rear door opens back with no centre pillar between what are two solid doors. This concept is designed to give good access into what is a restricted rear seating area. It may look cool, but its not overly practical to use.
The car is powered by a 35.5kWh lithium-ion battery that claims to deliver a range of approximately 200km (124 miles) and comes with AC charging up to 6.6kW and DC rapid charging designed to meet 125A Combo Charging standards. Despite overnight charging from my domestic wall-mounted charging point I failed to achieve a range of more than 160km on the car's display.
The system needs a minimum of 5 hours for a full charge, that's effectively an overnight charge, but even at that I couldn't achieve the rated range. My longest drive from Leixlip to Portlaoise was one of slight apprehension. That's slight anxiety was not helped by a changing issue in Portlaoise that forced me to resort to a 13-amp charging operation, never ideal in my view.
In battery performance terms, this Mazda MX-30 gave an economy rating of 16kWh/100km, which was 12% less than the rated figure of 17.9kwh/100km. That's impressive, it's just that the range over which was measured is too small. That's the bit that delivers a hint of anxiety and it limits the car's appeal to city or at least suburban driving.
Out on the road, this Mazda is good to drive in terms of 9.7 second acceleration and good overall road feel. The car has feeling of a low stance that gives stability along with this fast acceleration, so you'll quickly get to like it.
The interior layout, despite its relatively compact dimensions, is very stylish in an uncluttered sort of way. Mazda uses a veneer of cork materials in the centre console tray section that gives a warmth to the interior. Mazda claims that the inner side door handles incorporate fibres from recycled plastic bottles, as a perfectly suited to Mazda's first pure electric production car.
The entry price is €30,975, inclusive of SEAI grant and VRT rebate, so its relatively expensive. Standard equipment includes LED headlights, 18in alloy wheels, 8-way adjustable driver's seat, windscreen projecting heads-up driver's display, a 7in colour display screen and leather wrapped steering wheel.  The car comes with the Mazda Connect system that includes navigation, plus Apple CarPlay and Android Auto and an impressive list of safety features that have allowed the car to achieve a Euro NCAP five-star award.
This Mazda MX-30 electric car is a compact car with unique door designs that probably limits its appeal. Add to that the relatively low range from its fully charged battery pack and that too limits its appeal in another way. Those features didn't stop me liking the overall effect, it's just that I didn't like it enough to consider it value for money.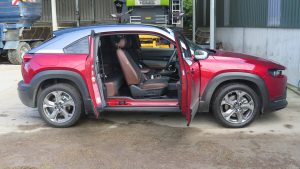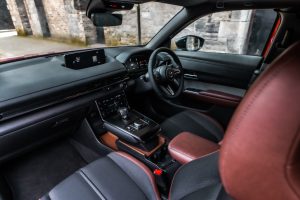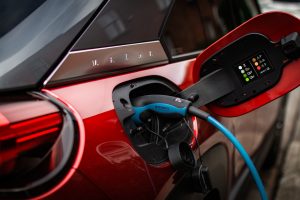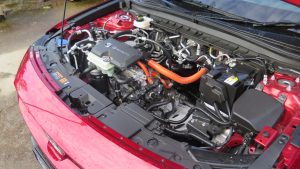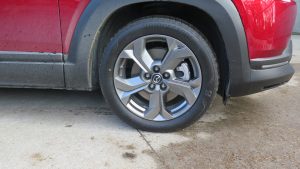 Mazda MX-30 Electric SUV – specifications
Engine
All electric
Engine power
145bhp
Engine Torque
271Nm
0 – 100km/hr
9.7 seconds
Economy
16kWh/100km
Fuel Tank Capacity
0 litres
CO2 emissions
0g/km
Range Theoretical
200km
Road Tax Annual
A1 €120
Main Service
12 months
Euro NCAP Rating
5 Star (2020)
Turning Circle Kerb to Kerb
NA
Kerb weight
1645kg
Towing rating
NA
Luggage Capacity
314/1146 litres
Warranty
2 years on 8 years on battery 160,000km
Entry Price
€30,975