KRONE has given its ZX forage wagons a major update that optimises the pick-up and the passageway into the machine. The revision leads to an even greater cutting precision while ensuring gentle treatment of the crop and also reduces input power.
As tractors become ever more powerful and 400hp pto outputs nearly commonplace, forage wagons, too, can develop unprecedented throughputs, especially when preceded by a high-capacity rake.  Responding to these trends, KRONE submitted the ZX cutting system to a major revision and optimisation.
This was made possible by introducing new manufacturing technology that enables some fine-tuning of the crop flow through the ZX cutting system and achieves an even greater precision at making the scissor-like cuts. The new manufacturing technology relies on innovative robotic welding that minimises manufacturing tolerances on the feeder prongs and the feeder drum. On top of this, the feeding passage was given a honeycomb backplate which allows both ends of the blades to be fixed inside the feeding passage.
New: KRONE SplitCut
A brand-new innovation is the KRONE SplitCut – a system of two plates that are fitted between the outermost feeder stars and the body walls. These plates ensure that no uncut material flows over the rotor ends into the machine. The material flow is split as it passes the first knife and is fed over the tines back to the front where two deflector plates guide the crop to the middle of the rotor where it is cut and then fed into the machine.
Another asset of the new ZX cutting system is the gentle treatment of the material which is achieved by optimising the lengthy top plates on the feeding tines thereby increasing the total crop feed area by 50%. The results are an exemplary crop flow, a well-compacted crop load and an outstanding forage quality no matter the conditions.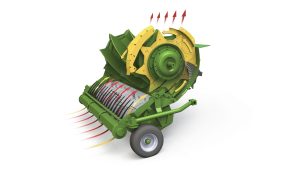 Heavy-duty components
New manufacuring technology also made it possible to optimise the functionality of the cutting system by using beefier components in the individual knife protection system and improving the interaction of these. The twice tempered blades are new developments which not only are much more resistant to stress and strain but excel in any type of condition and crop. The wavy cut, too, was optimised enabling the end of the cutting edge to move closer to the feed tine top plate.
Optimised rotor rpm available as an option
Equally practical is a new option for the new ZX models. This ensures perfect cuts in all conditions and behind all tractors by enabling operators to reduce the rotor speed when operating the ZX behind a less than 250hp tractor or when harvesting thin swaths. In addition to that, the Powerbelt esnures maximum throughputs in all conditions by absorbing the peak loads that typically occur when harvesting lumpy swaths.