Ford is now offering some new hybrid drive engine choices in addition to the well-proven diesel engine to its latest generation Kuga SUV range. The questions for new Kuga buyers remain the same, do I opt out of diesel in favour of a hybrid, or do I stay with diesel power for reasons of running costs. Michael Moroney drove Ford's new Kuga plug-in hybrid (PHEV) and explores the answers.
For so many drivers the choices are not simple in terms of understanding the options and reasons for them. Government intervention has muddied the waters in terms of choices, because so much is dependent on how diesel cars and 4×4's will be taxed into the future. Without that clarity, the choices are difficult one, because over time they could prove to be expensive, but at this point in time, we have no clear signals other than an aspiration to phase out the sale of new petrol or diesel engine cars.
As part of the need for choices Ford is offering the new generation Kuga SUV with a number of power choices. I've had the PHEV version of the Kuga, on the road in recent weeks, which is supported by a 2.5 litre petrol engine. I drove the diesel version late last year, so this comparison is based on both experiences and the latest data from Ford.
If you haven't driven a Kuga hybrid up to now, you'll appreciate the smoothness of the large petrol engine and automatic gearbox combination. The hybrid drive is the seamless bonus as long as you keep the battery well charged. The fully charged battery will then give you a range of about 65k, on electric only power. Once you pass that distance or get tempted for more acceleration, then the petrol engine kicks in seamlessly with support.
The theory is that this hybrid drive can achieve a range of over 1000km from the combination of petrol and electric power. That compares with a range of 875km from the 2.0 litre turbo-diesel version. Ford is claiming that the hybrid bonus will improve the fuel efficiency of the new Kuga by up to almost 30 per cent.
But the reality can be different and so much of the hybrid economy performance is dependent on your driving style. Long distance drivers, and many rural drivers fall into that category, will fail to achieve that hybrid economy aspiration. And that has been my driving experience from what are great hybrid cars like the Ford Kuga.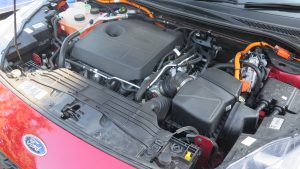 That's probably why Ford is giving more engine choices with the Kuga than ever before. There is now a Kuga Plug-In Hybrid, Kuga EcoBlue Hybrid (mild hybrid) and Kuga Hybrid (full hybrid), alongside Ford's 2.0-litre EcoBlue diesel, 1.5litre EcoBlue diesel and 1.5litre EcoBoost petrol engines, all of which can be coupled to Ford's new and smooth eight-speed automatic transmission.
In terms of the external look of the Kuga, the new styling gives a modern look to the car and it seems bigger than the previous model. Its marginally longer and wider and that delivers more internal space, while the boot space suffers a little in terms of volume.
The internal styling is very different from before. There is a new larger touch control centre infotainment screen and the heating controls have been upgraded. Ford's SYNC 3 Bluetooth communications and entertainment system comes with wireless charging. This latest version of SYNC 3 allows drivers to control audio, navigation and climate functions plus connected smartphones 1 using simple voice commands along with Apple CarPlay and Android Auto compatibility.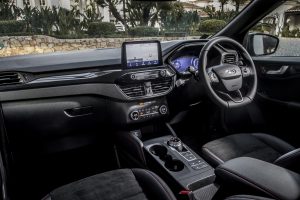 Kuga now also offers selectable Drive Mode technology that enables drivers to adjust throttle response, steering weight and traction control, plus gearshift timings for automatic models, to match different driving scenarios. This system has Normal, Sport and Eco modes, while the Slippery mode gives increased confidence on snow and ice and the Deep Snow/Sand mode works best on soft ground. All of this technology is available on hybrid or diesel models, I expect that the higher torque diesel engine models will give better off-road and towing performance.
Ford claims that the new Kuga makes it easier than ever to tow anything from to small trailers to large caravans. The hybrid version has a low 1500kg towing rating compared with 2100kg for the diesel engine versions.
This new Ford Kuga also has impressive safety credentials. Irrespective of power choice it has been awarded the highest-possible 5-star safety rating by the Euro NCAP independent crash test authority.
Taking all of the Kuga upgrades into account and the wide range of power choices, that in my case came down to the Ford Kuga PHEV versus its 2.0 litre EcoBlue diesel engine equivalent, like so many decisions in life, it's down to the money. After Government support grants, the PHEV hybrid version is marginally lower in price relative to its diesel counterpart.
In practical terms, the diesel version has a 20% larger fuel tank, along with its 100kg lower weight and 35% better towing ability. In fuel economy terms that should give greater range for your litre of fuel, especially when you've passed the 65km range from the plug-in hybrid's electric drive system.
Across longer journeys, I accept that the PHEV version is cleaner in terms of NOx and carbon emissions but your total net fuel consumption over 1000km will be higher once you hit the highway. That meant for every litre of petrol used in the PHEV once in non-electric mode, I travelled 14km compared with 16km from every litre of diesel consumed in the same car.
I remain probably singularly in defence of the new cleaner diesels. I still consider that rural households should not be forced away from modern diesels but encouraged to have the second car in the household, a full electric one, that can be solar charged, for those multiple local short journeys. And my recent Kuga Plug-in Hybrid experience hasn't changed that.
Ford Kuga PHEV v
Ford Kuga 2.0 TDCi
Engine
2.5 litre
2.0 litre
Engine power
225bhp
190bhp
Engine Torque
260Nm
400Nm
0 – 100km/hr
9.2 seconds
8.7 seconds
Economy
90km/litre (1.1l/100km or 250mpg)
17.5km/litre (5.7l/100km or 50mpg)
Fuel Tank Capacity
45 litres
54 litres
CO2 emissions
22g/km
149g/km
Road Tax Annual
€140
€270
Range Theoretical
650km
875km
Electric Range
65km
Not Applicable
Main Service
20,000km/12 months
20,000km/12 months
Euro NCAP Rating
5 Star (2019)
5 Star (2019)
Turning Circle Kerb to Kerb
11.4 metres
11.4 metres
Kerb weight
1844kg
1735kg
Towing rating
1500kg
2100kg
Luggage Capacity
645 litres/1534 litres
645 litres/1534 litres
Warranty
2 years
2 years
Entry Price
€38,586
€41,698