Xerotech, founded in 2015 and headquartered in Galway, Ireland, is now claimed to be a world leading manufacturer of advanced lithium-ion battery systems for use in off-road equipment applications. The company aims to provide electrical power systems for a range of agricultural, construction and mining applications in association with machinery manufacturers.
Xerotech's Hibernium platform is the market first battery system platform specifically developed to provide electrification solutions to off-road industries such as construction, agriculture and mining (CAM). The system uses its patented safety and thermal management technology Xerotherm to enable electrification of "everything else" that uses internal combustion engine today.
Barry Flannery is the founder and CEO/CTO of Xerotech, a battery technology company that designs, engineers, and produces lithium-ion battery packs for non-road mobile machinery. He founded Xerotech in 2015 while completing his PhD, to enable the electrification of the off-highway market which he believes is the next frontier of electrification.
Barry Flannery believes that unlike the electric car market, the off-highway market needs a highly scalable and, critically, a highly flexible battery solution that can be adapted to hundreds of different machine types and classes. He also believes that there is no real difference between mining, construction, and farming battery systems. Currently, standard off-the-shelf diesel engines that deliver power to the vehicle. Xerotech's battery systems are designed to replace these engines.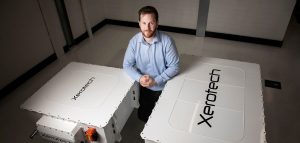 The big advantage claimed for Xerotech's Hibernium platform is its high scalability. Xerotech can offer a huge range of different sizes and capacities based on a module system. Xerotech can offer a battery system from 10-300 kWh with options in 5 kWh increments.
Xerotech's battery platform, Hibernium is built on a modular platform, allowing for high flexibility and economies of scale. All packs are built with: Battery cells, Scalable modules, Xerotherm™ liquid thermal management, Passive Propagation Resistant technology and Battery Management System.
Xerotech are offering one of the best tailor-made battery solutions to mining equipment OEMs at competitive prices and are willing to work with all manufacturers regardless of annual unit requirements.
Xerotech has recently formed a partnership with the Italian-based Meta System company, which is a Tier 1 supplier of automotive electronic systems, to help expand its offering and provide integrated battery systems to the NRMM market.
Xerotech has also now linked up with Swedish-based Agder company, a total supplier to the construction and mining industries, to electrify over 200 units of construction and mining machinery over the next 5 years using Xerotechs scalable Hibernium battery platform. The collaboration represents Xerotech's entry into the Scandinavian market as well as Agder's strong move into battery-electric equipment.
The company's 50,000 square-foot manufacturing facility is home to over 40 engineers and 50 MWh pilot manufacturing line. The company is currently raising $30 million to expand its manufacturing footprint tenfold to 500 MWh and expand the team to 110 by the end of 2021.