JCB is launching a new range of Loadall telescopic handlers featuring more powerful Euro Stage V emissions-compliant engines – and offering the unique DualTech Variable Transmission on additional models.
The award-winning transmission, which combines hydrostatic drive for low speeds and powershift mechanical direct drive at faster speeds for the ultimate in performance and versatility, is no longer reserved for the top-specification Series III Loadalls – making it accessible to more farmers and contractors. It can now also be specified for AGRI Super versions, as well as the smallest full-size Loadall – the 532-60 – for the first time.
The new large-platform Loadall updates include:
AGRI, AGRI Super, AGRI Xtra specs now relate to 109hp, 130hp and 150hp outputs
DualTech VT now available in more models, including new 532-60 AGRI Super
40kph top speed capability now standard on 6m, 7m and 9.5m models
New Auto Stop feature discourages fuel wastage from engines left to idle
JCB Agriculture Managing Director John Smith said: "DualTech VT has been immensely successful and popular in our top-spec agricultural Loadall and now we are making it more accessible to a wider range of farm businesses by adding it to the AGRI Super equipment package and to our 3.2 tonne, 6 metre 532-60 introduced in early 2020.
"User experience and data from our LiveLink telematics system has confirmed our view that this uniquely versatile and capable transmission increases productivity and improves fuel efficiency. It's also a pleasure to use and really does offer the 'best of both worlds' characteristics of hydrostatic and powershift drive."
New Stage V engines
The latest JCB Loadall handlers are powered by 4.8-litre JCB 448 DieselMAX engines with a compact package of exhaust after-treatment technologies to meet EU Stage V emissions compliance and power outputs that relate to the AGRI, AGRI Super and AGRI Xtra specification levels.
In AGRI models, the engine has unchanged ratings of 109hp (81kW) and 516Nm torque; for AGRI Super versions, there is an extra 5hp (4kW) at 130hp (97kW) along with 550Nm of torque; and for AGRI Xtra models the engine also has an additional 5hp (4kW) at 150hp (112kW) but also a 7% increase in peak torque at 600Nm for livelier performance.
John Smith said: "These proven engines have been equipped to meet the latest exceptionally stringent EU particulate matter and NOx levels while eliminating exhaust gas recirculation (EGR) and the variable geometry turbocharger, which has been replaced by a simpler electronically-controlled wastegate turbo.
"At the same time, performance characteristics and service requirements have been maintained and the advanced combined SCR and DPF exhaust treatment technology still fits neatly beneath the engine cover – with the exhaust end pipe now replaced by streamlined vent making the Loadall's class-leading rear three-quarters visibility even slightly better than before."
The efficient fuel combustion characteristics of the DieselMAX engine that help minimise after-treatment requirements also contribute to attractive fuel consumption, which is further enhanced by the new Auto Stop feature that can shut down the engine after a period at idling speed to eliminate fuel wastage.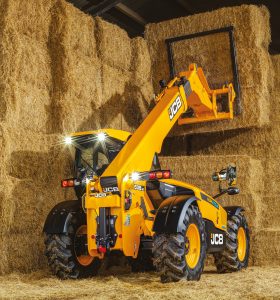 Loadall model line-up
The revised model and specification line-up starts with the JCB Loadall 532-60 AGRI, which continues with a 109hp (81kW) engine but now has JCB's 40kph four-speed TorqueLock 4 powershift transmission, featuring torque converter lock-up for power-efficient direct drive.
This model is joined by the new 532-60 AGRI Super, which has a 130hp (97kW) engine and the DualTech VT hydro-mechanical transmission to bring its combination of smooth and precise low speed hydrostatic drive and power-efficient mechanical drive to the small to medium-size livestock farm for the first time.
At the top end of the performance scale, the bulk handling 560-80 AGRI Super has a regular four-speed powershift but in new top-spec AGRI Xtra guise comes with the 150hp (112kW) engine and either JCB's familiar six-speed AutoShift transmission or the seamless DualTech VT.
All other models in the range – the 538-60, 532-70, 542-70 and 536-95 – are available with a choice of AGRI 109hp (81kW) specification with JCB TorqueLock 4 transmission; AGRI Super 130hp (97kW) spec with four-speed Powershift, six-speed AutoShift or DualTech VT drive; and with the AGRI Xtra package combining the 150hp (112kW) engine with six-speed AutoShift or DualTech VT.
AutoShift-equipped AGRI Super and AGRI Xtra versions of the 542-70 and 536-95 are available as 'sway' models with hydraulic chassis levelling for safer extended boom working on uneven ground, and 40kph top speed is now standard on all 6m, 7m and 9.5m models for quick yard-to-field journeys thanks to a new gearbox and axle combination for AGRI Super variants equipped with the four-speed Powershift transmission.
Standard features and options
All Loadall Series III handlers now come with a seat-mounted control joystick as standard, providing the ultimate in comfort and convenience within the Command Plus cab with its first-class all round visibility, logical control layout and generous interior space.
Air conditioning is optional on AGRI and AGRI Super versions, and on AGRI Xtra models the standard system can be upgraded to auto temperature climate control.
AGRI Super specification adds JCB Auto Smooth Ride Suspension for the boom and the option to fit up to 11 LED work lights to turn night into day all around the machine – a feature that is standard with the AGRI Xtra specification, which also includes a limited slip differential front axle, dirt and dust covers between boom sections, and centralised rear grease points on 7 metre and 8 metre versions.
John Smith added: "By aligning our AGRI specifications with engine power and simplifying the model variations, farmers and contractors will find it easier to home in on the combination of lift capacity and height, power and performance, features and options that best suits their needs and budget.
"And with the DualTech Variable Transmission more widely available, more customers can now take advantage of this highly efficient, versatile and user-friendly drive technology, which is the only hydro-mechanical transmission for a telehandler and with hydrostatic precision for low speeds and mechanical direct drive for high speeds delivers so much more than a regular hydrostatic telescopic handler."
JCB Loadall Series III Stage V
Engine:                4.8-litre JCB DieselMAX
Emissions:        EU Stage V – single DPF/SCR unit under engine cover
Power:                Agri Xtra – 150hp (112kW)
Agri Super – 130hp (97kW)
Agri – 109hp (81kW)
Transmissions:
DualTech VT – 40kph multi-mode hydrostatic to 19kph, auto 3-speed direct drive to max speed
AutoShift 6 – 40kph 6-speed manual/auto powershift with torque converter lock-up
Powershift 4 – 40kph 4-speed manual powershift (560-80 – 33kph or 37kph, tyre dependent)
TorqueLock4 – 40kph 4-speed manual powershift with torque converter lock-up