The motor industry is highly creative in terms of car design and styling and most of all in developing new niche sectors with names that we had never imagined before. Once a new segment is created the next move is sub-divide it to give customers a concept of being different. And so, it is with the SUV Coupé segment, a brand-new invention to allow for the further expansion of a car market segment that doesn't seem to cry out for further segmentation.
And so too was born the Citroën C4 and the Renault Arkana, both French brands that now have a growing number of competitors in the SUV Coupé segment. Both cars feature SUV Coupé styling with a slightly raised vehicle structure that somehow changes how you look at an SUV. That additional SUV Coupé styling with the sloping boot and go-faster look seems to have growing appeal. The motor industry marketing teams have done their job.
I've had both cars on the road in recent weeks, the Renault Arkana first, followed by two versions of the Citroën C4, an automatic petrol version soon followed by an impressive all-electric version. My first Citroën C4 was a form of surprise, I had expected to be driving another car and was pleasantly surprised to get the opportunity to drive the C4.
For some reason I didn't have high expectations for the Citroën C4; prejudice can be a dangerous thing. And a test drive in the Citroën C4 proved that. This is a car that I had underestimated but not anymore.
My views were to the contrary with the Renault Arkana. I had driven the car at its launch some time back and struggled a little to see where it fitted into the now impressive Renault range, that SUV Coupé concept took a while to grow on me.
I had high expectations, more SUV than SUV Coupé and while I'm not saying that I was disappointed, let's put it this way I just wasn't overwhelmed as much as I was with the Citroën C4. Was that because of my starting point?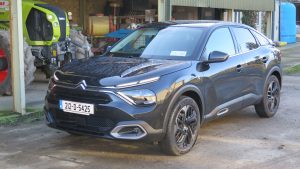 To explain further, the test drive in the Citroën C4 with its eight-speed automatic gearbox coupled with a lively 1.2 litre petrol engine ticked more boxes that I had ever expected. Here was a car that delivered petrol engine smoothness with genuine comfort and with a remarkable level of economy.
The economy rating for the car is 17.9km/litre (5.6/100km or 50mpg) which on paper at least should deliver a range of almost 900km on a full tank. I am regularly a long-distance driver and putting the C4 to the test gave me a remarkably economical result. I could convert to petrol power in an instant with the economy level that this C4 delivers.
The reason for the economy is down to a combination of vehicle weight, engine tuning and that impressive eight-speed gearbox. That combination allowed me to cruise at motorway speeds with the petrol engine hugging below the 2000rpm mark. I've never experienced that in a petrol engine car before, what a pleasant surprise and one that impacts immediately on your running costs. And that was one of the reasons, along with excellent electric (380km range) and diesel versions, why I rated the Citroën C4 as my overall top car in the recent IMWA Irish Car of the Year Awards.
The Citroën C4 is a very noticeably comfortable car and that comfort turned to smugness as I began to appreciate the car's impressive economy. And it's lively too with an acceleration rating of 0 to 100km/hr in just 8.5 seconds.
So why was I underwhelmed by the Renault Arkana? I just simply had expected more. That car has all the Renault features that includes classic interior styling and comfort, but just not as quite as much comfort as the Citroën C4.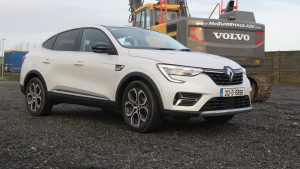 The Renault Arkana was also fitted with the petrol engine and automatic gearbox combination, but without the economy performance of the Citroën C4. The Renault automatic system just didn't reach the economy highlights of the Citroën C4 for me, even if the official efficiency rating is only marginally less at 17.2km/litre (5.8/100km or 49mpg).
The Renault Arkana is a bigger SUV Coupé topping the Citroën C4 in terms of overall length by 200mm, while its wheelbase is 50mm longer. Those vital statistics should give a smooth driving experience and they do, it's just that the Citroën C4 tips the comfort scales marginally more in its favour.
And the Renault Arkana has a bigger boot, 513 litres compared with 380 litres for the Citroën C4 when all two rows of seats are in use. The boots space difference drops with the fully extent of the hatchback is used for load carrying. Part of that is because the Renault seats fold flatter.
The Renault Arkana scored highest in the Euro NCAP safety ratings which penalised the Citroën C4 due to the stringent more recent 2021 testing programme. I think that I would still feel safe in the C4.
There is a price difference between these France designed SUV Coupé models, with the slightly smaller Citroën C4 entry price being more competitive at €26,460 than the Renault Arkana at €30,340. The Citroën C4 offer includes petrol, diesel and full electric power choices. The price jump from the entry level petrol engine version to the all-electric one is almost €8,000, which is significant. The Renault Arkana power choices are more limited to petrol or hybrid power.
The Citroën C4 offer was my choice from this pair of SUV Coupés, scoring highest in terms of comfort, economy, and value for money. This French brand has been growing in stature in reliability index ratings in recent years, jumping from 17th place to 11th place in the most recent UK WhatCar? Reliability rating from among over 16,000 car owners. So be Citroën C4 confident, while you appreciate its comfort and economy.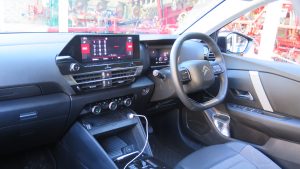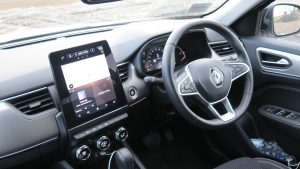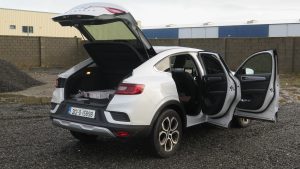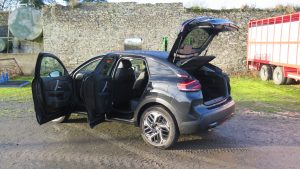 Citroën C4 v Renault Arkana – specifications
 
 
Citroën C4
Renault Arkana
Engine
1.2 litre
1.3 litre
Engine power
100bhp
140bhp
Engine Torque
205Nm
260Nm
0 – 100km/hr
8.5 seconds
9.8 seconds
Economy (WLTP)
17.9km/litre (5.6/100km or 50mpg)
17.2km/litre (5.8/100km or 49mpg)
Fuel Tank Capacity
50 litres
50 litres
CO2 emissions
151g/km
130g/km
Range
895km
860km
Road Tax Rate
€210
€200
Main Service
20,000km/12 months
12 months
Euro NCAP Rating
4 Star (2021)
5 Star 2019
Vehicle Length
4360mm
4568mm
Vehicle Wheelbase
2670mm
2720mm
Towing rating
NA
900
Luggage Capacity
380 litres/1250 litres
513/1296 litres
Warranty
5 years
5 years
Entry Price
€26,460
€30,340