The Irish market for 4×4 pick-ups is a niche one where agriculture and construction are the targets for growth. While the overall light commercial van market is up 6.35%, 4×4 pick-up market is bucking some negative trends.
The latest registrations figures from the Society of the Irish Motor Industry (SIMI) show that the number of new 4×4 pick-ups registered for the first two months of 2021 was up by just over 12%. The same results are coming in for the used imports of 4×4 pick-ups where an analysis shows that the numbers imported in the January to February period rose by 8%. This has happened when used commercial imports dropped by 12.75% compared with the same two months of 2020, which was pre-pandemic.
So while the overall numbers may be small, the trend is an upward one, showing that 1,169 4×4 pick-ups were registered here for the first time this year, that's a combination of new and used imports.
The Ford Ranger continues to dominate the new 4×4 pick-up market with an almost 60% share so far this year, up 10% points on the same period last year. Toyota's Hilux lost share dropping from 19.2% to 16.6% while still the second favourite choice on the market.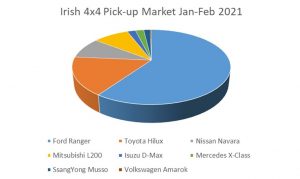 The gap to the rest of the competition is significant with the Nissan Navara in third place followed by the Mitsubishi L200 while the Isuzu D-Max and Mercedes-Benx X Class share a joint fifth place. The big loser has been the Volkswagen Amarok where its withdrawal from the market has impacted on sales, while the remaining Mercedes-Benz X-Class models are also filtering out the market after it too decided to discontinue sales on these respective 4×4 pick-ups in Europe.
In the imported used 4×4 pick-up market analysis we see that the Toyota Hilux is the favourite, pushing Ford's Ranger into second place. The Mitsubishi L200 is the third favourite among the used import buyers, followed by the Nissan Navara and the Volkswagen Amarok.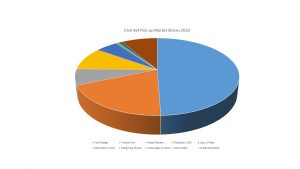 Irish 4×4 Pick-up Market Jan-Feb 2021
| | | |
| --- | --- | --- |
| | Sales 2021 | Sales 2020 |
| Ford Ranger | 385 | 174 |
| Toyota Hilux | 107 | 150 |
| Nissan Navara | 58 | 67 |
| Mitsubishi L200 | 56 | 71 |
| Isuzu D-Max | 13 | 39 |
| Mercedes X-Class | 13 | 6 |
| SsangYong Musso | 10 | 6 |
| Volkswagen Amarok | 2 | 63 |
| Fiat Fullback | 0 | 0 |
| Great Wall Steed | 0 | 0 |
| Totals | 644 | 576 |