Farmhand, sole Irish distributors for Krone, Amazone and Quicke, have appointed The Cooney Furlong Machinery Company as their new Big Line dealer for the South East. This appointment means that they will now be dealers for the Big X self-propelled forage harvester and the Big M self-propelled mower alongside their existing machinery business in Co. Wexford.
"We are proud to extend our partnership with The Cooney Furlong Machinery Company, they have already been doing an excellent job for our brands and provide top class service and back up," said Paul Scrivener, Managing Director of Farmhand "We are really excited to see how they get on in the future with the Big Line machinery."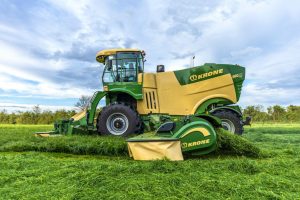 Looking after Krone machinery sales for The Cooney Furlong Machinery Company will be Tom O'Connor, a former employee of Farmhand. "I'm really excited to be able to offer our customers the full line up of Krone equipment, having worked with these machines before I'm confident we are offering the best there is to farmers and contractors. Krone is committed to innovation and excellence and that is obvious to see in these machines."
For more information on the machinery available contact Tom on 087-3834138.