Claas UK has announced a number of changes to its Senior Management Team and management structure that will see Jeremy Wiggins and Brian Wain taking on full responsibility for their respective Sales and After Sales divisions within Claas UK, with Oliver Hölscher joining as the new Chief Financial Officer.
The announcement of these important new appointments within Claas UK reflects the Company's continued expansion within the UK and Ireland markets, and follows the appointment of Trevor Tyrrell as the new Senior Vice-President for Western Europe. In addition to maintaining his role as CEO for Claas UK, Trevor will also have responsibility for France, Spain, Italy, Greece and neighbouring markets, along with Oceania for which he has been responsible since 2011.
Jeremy Wiggins – Chief Customer Officer (CCO)
Jeremy Wiggins has been appointed to the new role of Chief Customer Officer (CCO), overseeing both Sales and Marketing, but also Logistics and Business Services within the Company. Jeremy initially worked at Claas as a placement student from Harper Adams University, before joining the 2-year Graduate Marketing Programme working in the Marketing Department in 1996. From there, he progressed to Product Specialist for Balers and Greenline products in 1998, then Product Manager and finally National Sales Manager, before taking on his current role of Sales and Marketing Director in 2016.
Jeremy will lead a new Senior Sales Management Team comprising John Haines in charge of Logistics, Business Development Manager Bob Townson and Steffan Kurtz, who has been appointed to the new role of Product Marketing Manager. A native of Pembrokeshire, where he initially ran an agricultural contracting business based on the family farm, before working for a local tractor dealership. Steffan joined Claas in 2017 as Product Specialist for Tractors before being made Tractor Brand Manager in 2018.
David Thornton has taken on the role of Product Manager for Tractors and Material Handlers, based in the Claas Ireland office at Duleek north of Dublin, where he will continue with his current Regional Product Support role in Ireland. David was a Claas Scholar at Harper Adams University, after which he completed a 12 month internship with CLAAS in Germany prior to returning to Claas UK as a Tractor Sales Training Instructor. He will work alongside Michael Ives, who is also Product Manager for Tractors and Material Handlers based at Saxham.
Brian Wain – Chief Operating Officer (COO)
Brian Wain takes on the new role of Chief Operating Officer (COO) with responsibility for the After Service and Parts divisions. Brian joined Claas UK in 2004 following the take-over of Renault Agriculture, where he initially started as Technical Assistant before being promoted to the Area After-Sales Manager for Wales and the South-West.
At Claas, he initially took on the role of Technical Manager for Tractors, before progressing to Academy Manager in 2012. In 2015 he was promoted to Customer Service Manager and made a Director in 2016.
He will head a new Senior After-Sales Management team comprising of David McEwan-Smith (Parts Manager), Alex Day (Technical Service Manager), Andrew Dunne (Academy Manager) and Rob Fillingham (Head of Tractors and Connected Systems).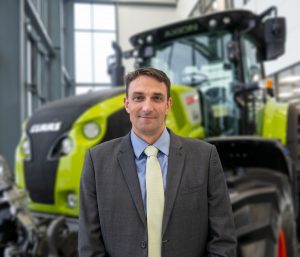 Oliver Hölscher – Chief Financial Officer (CFO)
Oliver Hölscher has been appointed as the new Chief Financial Officer, and replaces Thomas Spiering who has been promoted to Senior Vice President Middle Europe.
Oliver joined Claas in 2008 and has held a number of Production Controlling and R&D Controlling positions within the company. Most recently, for the past five years he has been Head of Sales for Claas Industrietechnik GmbH based in Paderborn, where he headed up a sales team of seven international sales managers, travelling the world selling cabs, TERRA TRAC units and axles to many OEM manufacturers.