The mid-size hatchback car market continues to be the dominant one in Ireland and now new power options are expanding that appeal. Volkswagen has traditionally been a leader in this market segment while there are more fresh challengers as Michael Moroney found when he drove the new Seat Leon.
For the Volkswagen Group, the new challenger from within is Seat's fourth generation Leon hatchback. You need to drive the car to appreciate why it is arguably now the best performing car in its segment of the market.
Seat has taken the best from the Volkswagen Group manufacturing kit bag and packaged it in a car that looks well and simply drives so well. Now Seat has a range of engine options from compact petrol options to traditional and thrifty diesel now joined by new plug-in hybrid versions.
The diesel engine option is an enhanced version of the diesel power of the past. My earlier memories of Seat diesels were that they were Fiat cast-offs and you quickly knew that. Modern Seat diesels have the latest Volkswagen Group pedigree, which has the benefits of the Dieselgate scandal in terms of significant emission, economy and power improvements. That in a sense has converted a negative for the Volkswagen Group into what should be a cleaner air positive for diesel car drivers.
And that's the impression that you get from the new Seat Leon which I drove with its 2.0 litre turbo-diesel engine. This car is now the true challenger to Volkswagen's Golf in terms of specification, power and economy.
This new Leon is longer and wider than the Volkswagen Golf as it has grown in more ways than one. The boot space is almost identical, while once again the Leon has the edge over the Golf even though I expected them to be similar.
There is little point in comparing engines as they have both emerged from the same stable and the performance data is almost identical. The Leon may be marginally faster, which is probably a function of the fact that the car is very marginally lighter, in terms of kerb weight, than the Golf. And you can also expect similar towing capacities, and the figures reflect that.
The same report comes with the economy comparison. I achieved an economy figure that gave me a range of 900km from the full tank and that's every bit as impressive as the Volkswagen Golf. The Golf has a 5 litre bigger fuel tank to give it more range, while the strict fuel economy figures are almost identical.
In practical driving conditions I would not expect to report an economy difference and both cars are impressive and leaders in this regard. The diesel engine introduces a new Selective Catalytic Reduction system that includes dual AdBlue injectors to significantly reduce NOx emissions compared to previous generation diesel engines.
Modern diesel engines are efficient and clean, there's no argument about that. Even if the Government policy disagrees and the net carbon emission output is lower per km due to enhanced economy, there may still be some work to be done on lowering nitrous type exhaust particles.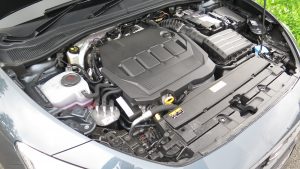 This new Seat Leon has been packed with new driver systems for easier and safer driving.  Seat claims that it is the safest vehicle the brand has ever developed and this is confirmed in a recent stricter Euro NCAP test result. This car has been designed to see more of its surroundings and react to obstacles on the road or sudden movements by other drivers thanks to the integration of a suite of updated and completely new advanced driver assistance systems (ADAS). The system brings together predictive Adaptive Cruise Control (ACC) and an Emergency Assist system to protect the vehicle and its occupants while driving or even while stationary.
The car's predictive Adaptive Cruise Control (ACC) uses feeds from GPS data delivered from the navigation system and a front-mounted camera and Traffic Sign Recognition, allowing it to automatically change the cruise speed depending on the road layout ahead – bends, roundabouts, junctions, changes in speed limits and built-up areas. Seat claim this reduces the need for driver input and evens out speed changes and manoeuvres with the driver keeping at least one hand on the steering wheel at all times.
The FR trim version that I drove has more features than the standard entry Seat Leon SE and comes with an additional €6,000 price tag for extra features including the smooth DSG gearbox and lots of spec. At €32,135 for this diesel car, it is however getting close to Volkswagen Golf pricing and now maybe it deserves to be there.
The FR versions come with sporty front and rear bumpers, Dynamic 17-inch alloy wheels, dual exhaust pipes and a lower suspension set-up. So they look a little different from the outside.
On the inside the FR versions come with upholstery stitching that matches the exterior colour of the car. There is a leather multifunction steering wheel, three-zone air conditioning, wireless charging tray in the front and two additional USB points in the rear.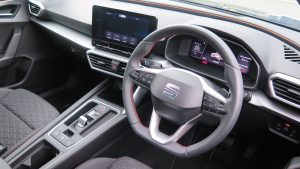 This shows the dash of the new Seat Leon both clean and functional. The DSG speed change mechanism short and stubby and you quickly get used to it, while overall comfort is as impressive as the car's on-road handling.
There's new hybrid versions of the Leon on offer, a mild hybrid and plug-in hybrid model, both claiming to match the diesel engine's economy performance. I'm yet to be convinced even if I know that diesel power is fighting a losing battle.
Seat Leon 2.0TDI FR v Volkswagen Golf 2.0 TDI – specifications
 
Seat Leon
Volkswagen Golf
Engine
2.0 litre
2.0
Engine power
150bhp
150bhp
Engine Torque
360Nm
360Nm
0 – 100km/hr
8.6 seconds
8.8 seconds
Economy
21.3km/litre (4.7l/100km or 60mpg)
22.2km/litre (4.5l/100km or 63mpg)
Fuel Tank Capacity
45 litres
50 litres
CO2 emissions
123g/km
122g/km
Range – theoretical
950km
1,110km
Road Tax Band
A2 €180
A2 €180
Main Service
20,000km/12 months
20,000km/12 months
Euro NCAP Rating
5 Star (2012)
5 Star (2019)
Turning Circle Kerb to Kerb
10.5m
NA
Towing rating
1600kgs
NA
Luggage Capacity
380 litres/1467 litres
381 litres/1237 litres
Warranty
3 years
3 years
Entry Price
€32,135
€35,395