Land Rover's new Defender, replaces the iconic model in the Land Rover history with a new model that Michael Moroney believes will change the brand's perception. With comfort and performance coupled with practical features, this is a 4×4 that's back in pole position.
The new Land Rover Defender has been one of those 4×4's that's been so eagerly awaited. Most traditional Defender owners were keen to see how much Land Rover would change this iconic model. And many of these traditionalist were also anxious that at least some of the Defender heritage features would be kept intact.
I've driven the new Defender in recent weeks and it's clear that this is a complete change in terms of styling, performance and comfort for Land Rover's original 4×4 model. What's changed is simply everything. This new Defender will change the brand's perception. With comfort and performance coupled with practical features, this is a 4×4 that's back in pole position.
The new styling mirrors the Defender of the past with a more modern design that is very pleasing to look at. The styling alone is a winner and its unique design means that everybody driving one will get noticed for being different.
The driving performance is also totally different as is the feel of the new Defender. Land Rover has fitted the Defender with its latest generation diesel engines that deliver pace and impressive economy for what are still big machines.
The 2.0 litre twin-turbo diesel engine in the 240bhp version that I drove was matched to an 8 speed automatic gearbox. That gave a driving sensation which was more like a Discovery than the Defender of the past. The economy levels have improved, while still marginally less economical than the latest Land Rover Discovery models.
I returned an economy figure of that was about 20% off the rated economy numbers of 11km/litre (09.1l/100km or 31mpg). The big 88 litre capacity fuel tank means that you can expect a range of close to 900km.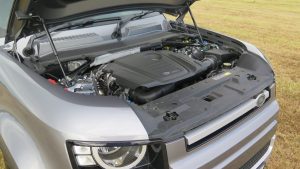 Any notions that the new Defender is a predominantly a working vehicle now need to be put aside. The ladder chassis of the past that underpinned our notion of Defender strength is now gone.
Despite this Land Rover claims that the Defenders new and unique heavy-duty aluminium monocoque architecture means that this new version is their toughest and strongest 4×4 vehicle ever created. They claim that it has triple the torsional rigidity of the older body-on-frame or ladder design while it is lighter and more fuel-efficient. One thing was obvious from my test drive experience and that was that it is also far more comfortable and pleasant to drive.
This new Defender is a huge step forward in terms of driving comfort. The seating position and the legroom makes driving the Defender a pleasure compared with a chore in the past, where you stooped to get good road visibility. You don't have to crouch to drive it, and everything about driving the new Defender is just more comfortable. That's why little of this new Land Rover 4×4 resembles the Defender of the past, other than its name and its 3.5 tonne towing ability.
The question that Defender enthusiasts will ponder over is has the change been worth it? That will only be answered over time. Can it achieve the legendary off-road kudos of the old Defender? Will it have the durability to be a works machine with the range of attachments that have set is apart?
The engine ability has clearly been tested in the latest Discovery models. The 2.0 litre Ingenium engine that's double turbo-charged gave impressive power and acceleration returning a 0 to 100km/hr figure of 9.1 seconds. It drives like a Discovery but without as much body roll.
There is a lot more to this new Land Rover Defender than meets the eye. Compared with the Discovery this is more of a work vehicle and that's not just in terms of looks. It's marginally shorter and wider than the Discovery, while having a longer wheelbase. It has greater ground clearance giving it better ability to wade through round ground and water.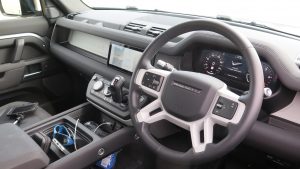 There's also a more solid feel to the new Defender. On the inside the design is impressive and the materials used continue that feeling of strength from the outside with texture power coated surfaces that further emphasise that durability feel.
This Defender has impressive driving technology built around a console that's very comfortable and practical to use. The stubby gear/auto lever is mounted high. The steering wheel have tactile feel to it and comes with multi-function controls.
I have no doubt that it will perform off-road because the new Defender has enough new technology on board that almost imagine that it could float, well not quite! Whether it will have the durability of the past remains to be seen. There is a lot more plastic included in the bodywork, which will be tested.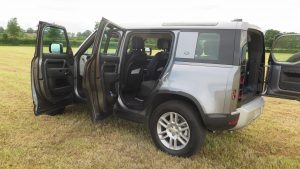 The other plus is that the new Defender is being built in Nitra, Slovakia, which should mean that it will be reliable, some might say for a change. This is a new green field Land Rover factory designed for modern car production where reliability is key and warranty extended.
And lastly let's examine the price, which is expensive. Entry prices of the Land Rover Defender 110 start at €75,460. The road tax rating is high at €1,200 due to the CO2 F class emission rating.
Let's not forget that the old Defender was never cheap, it was durable and versatile if not always reliable. This new Defender brings comfort and impressive driving technology to what is a very versatile 4×4. It priced to meet the competition head on, while its features put it more than a furlong ahead in what is an impressive, stylish and modern Land Rover package.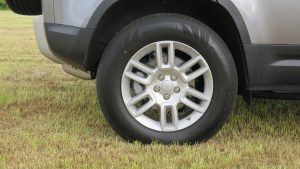 Will it power a digger or baler as in the past? Even though there is a commercial version on the way, I doubt if the Defender will ever be asked to be that versatile again. It will be a practical option for farm and forestry contractors and farmers due to its durability and towing ability. And the Land Rover accessories team have some useful and practical features included and you can expect more on the way.
Land Rover Defender 110 Auto 2020 – specifications
Engine 2.0 litre
Engine power 240bhp
0 – 100km/hr 9.1 seconds
Economy 11km/litre (9.1l/100km or 31mpg)
Fuel Tank Capacity 85 litres
CO2 emissions 234g/km
Road Tax Band F €1,200
Main Service 20,000km/12 months
Euro NCAP Rating NA
Towing rating 3500kgs
Warranty 3 years
Entry Price €75,460
https://www.landrover.ie/