Kidd was one of the best-known farm machinery names in Ireland through the 1960's to the early 1990's. While the company was based in Devizes in Wiltshire, England, the Kidd machines had an interesting history in Ireland, which was next to England in terms of market importance.
Archie Kidd set up Kidd Farm Machinery in 1959. The first Kidd machines were imported into Ireland by IAWS, based at Thomas Street in Dublin from around 1960. This was a short-lived arrangement and the franchise soon moved to McGee's of Ardee, then one of the biggest farm machinery companies in the country at the time.
McGee's of Ardee retained the Kidd franchise until 1975 when Kidd set up its own company, Archie Kidd (Ireland) Ltd at the Long Mile Road in Dublin. This was a contentious move and McGee's began legal proceedings over the loss of the franchise. The case was settled on the court steps more than a year later. Kidd paid McGee's some £50,000 in compensation, a lot of money at the time. Archie Kidd (Ireland) Ltd then moved premises to Knockmitten Lane, located off the main Naas Road.
McGee's sold large numbers of the early Kidd silage harvesters, the Rotoflail, which was available as an inline single chop harvester or an offset machine. The Rotoflail had a 1.2m (4ft) cutting width using 17 flat cast iron flails attached to a strong rotor.
While the Kidd brochure of the day said, "these blades are hardened and tempered to give up to 300 acres of life on normal non-stony ground at correct cutting height." Not all Irish farmers agreed, and as field conditions were not always ideal, it meant that replacing blades/flails became a big issue.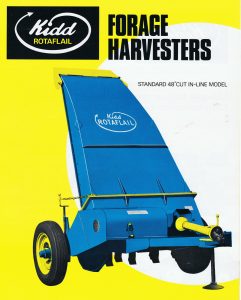 This machine was followed by double chop and precision chop models. They too were far from perfect, while they were of a stronger build than some of the competition. While Archie Kidd aimed to design heavy-duty, robust machines, the harvesters had endless gearbox problems. The double chops were by far the more popular models in the Kidd range in Ireland during the 1970's and 1980's.
Kidd's also produced a range of diet feeding machines, which were considered a forage boxes and were used on many bigger Irish farms in the early 1970's. The mixing of silage, straw and other feeds was done by a set of rotors above the discharge auger. The idea was to layer the feed going into the machine and that it would be mixed evenly as it met the front mounted rotary mixers. The design was no means original as a number of Continental manufacturers were producing similar design machines.
Geoff Daly, who was selling Kidd machines for a number of years with McGee's of Ardee, moved to be the managing director at Archie Kidd Ireland when it was created in 1975. A court case ensued after McGee's lost the Kidd franchise, which McGee's won, costing Kidd significant money at the time. The team at Archie Kidd (Ireland) also included Walter Byrne and Peter O'Sullivan, Walter having worked with Ransomes before that.
Two years later, Archie Kidd sold his business to the Wolseley Hughes Corporation, a major British company which at the time, was buying up other agricultural equipment makers including Parmiter and McConnel.
In 1991 Kidd was sold on to the Danish firm Taarup, which was making a range of silage harvesters from single chops to precision chop machines. Two years later, Kverneland acquired Taarup, and created the Taarup-Kidd machinery brand. And that marked the end of Kidd in Ireland and the closure of Kidd Farm Machinery Ireland, which the company had been re-named. Geoff Daly went on to form Farmec Ireland with his son Gary.
There was a proposal to close the Kidd factory and sell the Taarup forage harvester machines in Ireland both in Kidd blue and Taarup red for a period. This never happened and soon the Kidd range disappeared altogether.
In 2003 there was a management buy-out which acquired the Kidd factory in Devizes, Wiltshire, England from Kverneland. The new company called KFM set about making some of the older design machines, but its existence was short lived.
In 2006 a locally based automotive testing specialist Omitec bought KFM and the Devizes plant. It also acquired the rights to manufacture Kidd machinery from Kverneland and began trading as Kidd Machinery in 2007. Nowadays the Kidd factory produces straw-choppers         and toppers plus some diet-feeders under contract to Kverneland.
There are still a number of Kidd harvesters on Irish farms mainly for vintage events. These are mostly double chop silage harvesters and toppers.  During its Wolseley Hughes days, Kidd was searching for new products to its range.
An Irish designed silage wagon was included in the range but was not very successful. This machine used two small square baler pick-ups and plungers to feed grass up through the floor of the trailer. Kidd made a very small number of the machines, some of which ended up on Irish farms.