Late last year, which now seems more like a decade ago, Nissan launched the new Juke, which in itself has been a 10 year success story for the Japanese brand. Here Michael Moroney reports on his test drive of the latest Juke where the emphasis has been on more space, more technology coupled with a new single petrol engine option for the Irish market.
The Juke has been one of the early cross-overs with styling that lead the field in terms of individuality. Others have followed, most notably Toyota's C-HR, which has a hybrid option, a feature that's denied in the Juke.
The newly styled interior gives improved driver positions, increased rear roominess due to narrower seat backs and a quieter driving experience due to higher grade windscreen glass and re-positioned wing mirrors. The dashboard is made from softer touch materials as is the door trim while there is more storage all round within the car.
The new Juke comes with Nissan's latest infotainment and driver assistance technology. This includes Nissan Intelligent Mobility technology, with claims that this new Juke is Nissan's most connected car ever.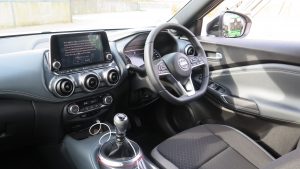 This includes Nissan's advance ProPILOT technology, which offers electronically assisted steering, acceleration and braking. This system is designed for use in single-lane traffic, the ProPILOT system accelerates and slows downs for the driver to maintain the right distance and speed and also keeps the car centred within the road lane.
This new Juke also offers a full package of safety technologies, including intelligent emergency braking with pedestrian and cyclist recognition, traffic sign recognition, intelligent lane intervention, rear cross traffic alert, and blind spot intervention, which Nissan claims is unique to the segment. Blind Spot Intervention warns the driver when a car gets into its blind spot and brings it back in the lane.
This Juke comes with the latest NissanConnect infotainment system so that you can plug your smartphone into Apple CarPlay and Android Auto with ease using the 8-inch touch screen display. You get access TomTom Maps & Live Traffic or you can activate the In-Car WiFi system to allow passengers work or play on laptops or tablets.
The Juke package also comes with the easy to use new NissanConnect Services app which gives you control over multiple aspects of their car. The system allows you to check the door lock status of their vehicle and lock or unlock the car directly from your smartphone. It also allows you to check the tyre pressure and oil level before departing on a trip.
The entry grade XE model comes very well equipped. Its standard equipment list includes 16-inch steel wheels, LED headlights, air-conditioning, a 4.2-inch information screen between the dials on the instrument cluster, as well as safety equipment including automatic emergency braking, lane-keeping assist, cruise control and hill start assist. The jump to the next SV grade costs just over €1,600 for a bigger infotainment screen and bigger wheels.
This new Juke has retained its overall styling design to good effect. Subtle changes brings more passenger and boot space. Nissan claims that the boot space has increased by 20% to 422 litres and there is a general feeling of more spaciousness within the car partly due to the longer wheelbase.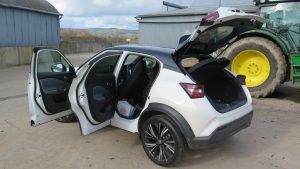 This new generation Juke is also lighter by 23kg, which has helped it achieve a relatively good economy level from the compact three-cylinder petrol engine. There is only one engine available for the Juke and that's a three-cylinder 1.0 litre engine that's smooth and powerful enough for a car of this size.
The six-speed manual gearbox was easy to use along with a light clutch pedal and that added to the driving satisfaction as I covered more than 670km during my test drive. That gave me a good feel for the car and its performance which can be light on power and torque in some driving conditions.
My economy figures showed that I was about 10% off the rated economy figures of 15.6km/litre (6.4l/100km or 45mpg), which in my book is very acceptable. The fuel tank capacity at 46 litres is a match for the competition, and gave me a range of over 640km during my test drive across rural roads and motorways.
The motorway speed limit of 120km/hr will push the engine rev counter well over the 2000rpm mark and that's expected given its torque rating, lower revs dictate economy in any petrol or diesel engine. That performance is to be expected from any petrol engine.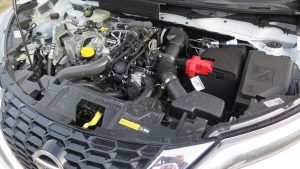 With an entry price of €21,995 this new Juke is competitive relative to the comparison car of my choice, the Toyota C-HR. The C-HR too received an upgrade to include Apple CarPlay and Android Auto while it is still more economical, the price difference is more than €9,000 and the boot load space is smaller.
This new Juke has lots of options around personalisation from colours to wheels and interior styling. This Juke has been an award winner in the past and it will win awards with Irish drivers, for its comfort, space and modern design, even if it has to compromise a little on economy over the hybrid competition.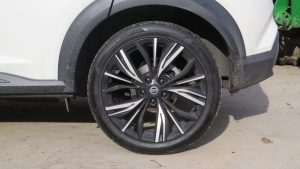 Nissan Juke XE – specifications
Engine 1.0 litre
Engine power 117bhp
0 – 100km/hr 11.1 seconds
Economy 15.6km/litre (6.4l/100km or 45mpg)
Fuel Tank Capacity 46 litres
CO2 emissions 112g/km
Range 717km
Road Tax Band A4 €200
Main Service 20,000km/12 months
Euro NCAP Rating 5 Star
Towing rating 1250kgs
Warranty 3 years
Entry Price €21,995