JCB has introduced Stage V compliant versions of its popular 140X, 150X and 220X crawler excavators. All three machines will use the JCB DieselMax 448 engine. For the 140X and 150X this will result in substantial rise in torque, combining the increased efficiencies of Stage V with the class-leading operator's cab and proven features of the T4F models.
Key features include:
JCB DieselMax 448 Stage V engine delivering increased torque
Combined SCR, DPF and DOC offering reduced service intervals
X-Series cab with improved specification
Reduced daily checks and extended service intervals
T4F models will remain available in non-Stage V territories
The T4F JCB EcoMAX 444 engine from the previous 140X and 150X has been replaced by a Stage V, 4.8-litre JCB DieselMax 448, delivering the same 81kW (108hp) power output, but with 516Nm of torque, a rise of 135Nm. The 220X moves from the EcoMAX 448 in T4F trim, to a new JCB DieselMax 448 Stage V engine, offering the same 129kW (172hp) and 690Nm of torque. The X Series hydraulic system delivers speed and controllability, while the machines now feature automatic engine shutdown, to reduce fuel consumption and emissions when the excavator is not in use.
JCB XSERIES 150 LC
These excavators are equipped with a new Selective Catalytic Reduction Filter (SCR-F) that comprises a combined SCR, Diesel Particulate Filter (DPF) and Diesel Oxidation Catalyst (DOC) with a large soot holding capacity. There is no longer a requirement for Exhaust Gas Recirculation (EGR) and the system has been removed from the new inlet manifold, resulting in a cleaner burning engine.
As part of the move to Stage V, the cab specification has been improved further, with a deluxe Grammer heated air-suspension seat, climate control air conditioning, a Bluetooth radio, front, rear and right-hand side blinds, a refuelling pump and a revised toolkit all as standard.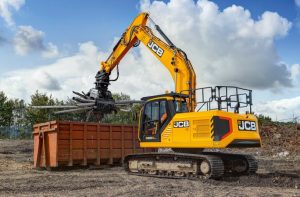 JCB XSERIES 220
The Stage V machines retain all of the benefits of the new X-Series models, with a cab that is 15% larger than the previous JS excavators, featuring improved HVAC, increased standard specifications, a reduced noise level and an adjustable 7" monitor. The machines require less daily checks than their predecessors, with extended hydraulic oil service intervals and ground level access to all inspection areas.
The new 140X, 150X and 220X excavators can now be supplied GPS-ready from the factory, while bi-directional bucket hose burst check valves are available, to work with new fork attachments.