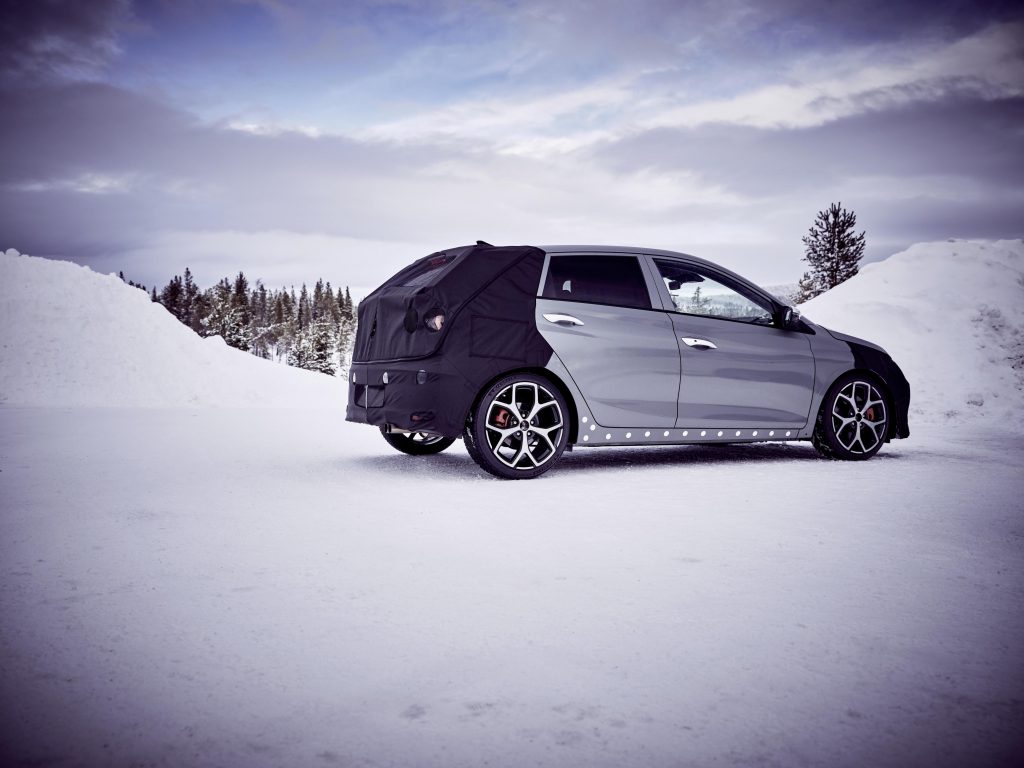 Hyundai Motor has released two new videos showing winter testing for its high-performance models, including a prototype of the all-new i20 N in camouflage. The videos, which were shot in Arjeplog, Sweden, show Hyundai WRC driver Thierry Neuville putting the i20 WRC, the RM19, and the i20 N through their paces in a snowy landscape. In addition, first images of the all-new i20 N have been released.
The first video shows the i20 WRC rally car departing from a vehicle transporter and driving through darkened roads in Lapland, bonnet-mounted headlamps lighting its way. As dawn breaks, it picks up speed, driving through snow-covered forests and around hairpin curves to reach its real playground: a frozen lake. The only sound is the revving of the engine as the car tears across the tundra on a bright Arctic day.
The video cuts to the RM19, skidding sideways along the road and leaving a plume of snow in its wake. In an interior shot, the viewer sees Neuville pumping the pedals and expertly maneuvering the prototype known as Hyundai's "rolling lab". The car draws sweeping curves across the snow.
The camera cuts again, and this time we see a prototype of the all-new i20 N, with camouflage covering over its front and rear. The viewer gets just partial glimpses of the new model's details, as it drives across the snow.
In the second video, which includes additional scenes of the all-new i20 N prototype, Neuville provides commentary to the footage, describing what it's like to drive each model and outlining the unique characteristics of each car from his perspective. Neuville tested the all-new i20 N prototype by driving it alternating with the i20 WRC and RM19.
On the prototype all-new i20 N, Neuville said: "Very interesting car. Very precise. Very easy handling. The engine is revving nicely and the noise is very interesting as well. I'm looking forward to get this one to drive in WRC!"
Of the i20 WRC, Neuville says: "The WRC cars really push to the extreme. And every detail is fine tuned to get the maximum performance and also to be adapted to a driving style."
He describes the RM19 as "very easy to drive." Speaking of the test drive, he says "I had a big smile on my face because I was driving sideways quite a lot."