Dacia upgraded the Duster, its popular and low-cost SUV and its the car that I've taken to the road in recent weeks as the Covid induced lockdown seems to be coming to an end. The Dacia value message is not lost on this newer, second generation Duster, which in some way now looks so much better and feels better to drive.
There's an obvious more modern feel to this new Duster. The build quality has improved and that's noticed in the details, such as how the dash and door panels are put together. This new generation Duster is smoother and quieter to drive and has hints of moving slightly more upmarket in terms of specification options.
This latest generation Duster has no pretence to be a luxury car while its practical features and value stood out for me. Let no one consider the Duster to be a heavy-duty 4×4 off-roader, but the car does offer economy and value for limited on land use.
I've had the Duster Prestige on the road, powered by a tried and tested 1.5 litre Renault designed turbo-diesel engine that noticeably thrifty. The test version was a two-wheel-drive Duster and there is a slightly heavier four-wheel-drive version available along with new commercial versions on the way.
This Duster in all its formats has reasonable ground clearance at 210mm, which is a match for some of the larger 4×4's. Hill descent control and hill start assist systems are available and the front bumper design allows for good off-road manoeuvrability.
Renault designed engine has a good track record in terms of reliability. The 1.5-litre diesel engine provides 115hp with 260Nm of torque at 1,750rpm and offers combined fuel consumption of 20.4km/litre or 57mpg and CO2 emissions of 128g/km.
The six-speed manual gearbox allows for lower revs when driving on the open road and gave me an impressive range of over 1,000km on a full 50 litre fuel tank. That's very impressive economy, even if you won't be won over by the slightly sluggish 0 to 120km/hr acceleration figure of 10.5 seconds.
Let's be clear, this Duster is a very affordable car to buy and to run if you don't heavy-duty 4×4 type performance. There will be an even more affordable commercial version on the way that could offer real value as a rural runabout.
The Duster's improved performance gives benefits in terms of smoothness and interior noise, which is reduced in this new model. Dacia claims to have halved the cabin noise when driving, while adding a totally new dash layout. The other interior benefits include a 20% increase in the boot area over the previous model but unfortunately there's no spare wheel included.
The core features across the latest generation Duster range include new electric power steering, height-adjustable front headrests and seat belts, ECO mode and Stop and Start, gearshift indicator, a Thatcham-approved engine immobiliser, automatic door lock, a tyre inflation kit (4×2 models) and with an emergency spare wheel for the 4×4 models, ABS and Emergency Brake Assist, Electronic Stability Control and Traction Control and ISOFIX points in the rear seats.
The Duster has ventilated disc brakes on front and old-school drum brakes on the rear. This may be part of the reason for the 1500kg towing limitation.
The top Prestige version that I drove adds even more with new 17-inch Diamond-cut alloy wheels, multi-view camera, blind spot warning, climate control and a fob for keyless entry. The latter I'm not a particular fan of because the fob is a little awkward to use or attach to a regular keyring and it can be easily unnoticed in the centre storage area.
In summary, this new generation Dacia Duster looks well and drives well. For rural drivers one important feature is that the diesel engine option has been retained in the range, while so many others have drifted away to petrol and hybrid, where economy and running costs suffer in the search for environmental benefits.
The Duster value offering remains very impressive with an entry price for the higher specification Prestige models starting at €23,172. Re-sale values are building slowly as the brand gets more acceptance, and that's also a measure of running costs that needs to be included as well as the cost of filling the tank, which in the case of the Duster, does not have to be too often.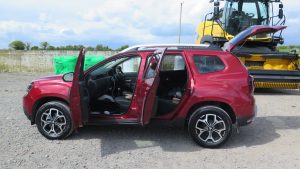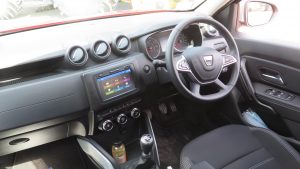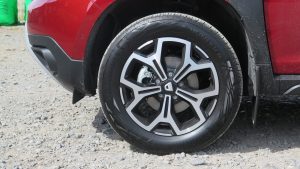 Dacia Duster Prestige 1.5 dCi 115 – specifications
Engine
1.5 litre
Engine power
115bhp
Engine Torque
260Nm
0 – 100km/hr
10.5 seconds
Economy
20.4km/litre (4.9l/100km or 57mpg)
Fuel Tank Capacity
50 litres
CO2 emissions
128g/km
Range Theoretical
1000km
Road Tax Annual
A3 €190
Main Service
20,000km/12 months
Euro NCAP Rating
3 Star (2017)
Turning Circle Kerb to Kerb
10.67 metres
Kerb weight
1840kg
Towing rating
1500kgs
Luggage Capacity
445 litres/1623 litres
Warranty
3 years or 100,000km
Entry Price
€23,172