Citroën's C5X marks a return to the larger car segment of the market for the French brand with a car that claims to combine the three features of being an estate car, with saloon styling and hints of SUV structure. This is a car that has outstanding looks in a car market that is becoming increasingly bland. Top all that off with supreme comfort levels in a way that Citroën seems to have re-invented comfort in the new C5X.
Citroen has given us a car that was instantly desirable by almost everyone that I met during my test drive. The design was the instant appeal and to all it was obviously a Citroën. This is a car that leads the brand with outstanding styling.
Citroën is offering the new C5x with the option of two petrol engine choices or a plug-in hybrid (PHEV) version. All come with automatic transmissions. The test car was the PHEV version where the battery electric drive was combined with a 1.6 litre petrol engine that delivered 225bhp when stretched to its power limit.
That petrol hybrid combination when combined with Citroën active Advanced Comfort suspension, provides continuous active control over the suspension. Citroën claims that the active suspension control system reinforces the work efficiency of the Progressive Hydraulic Cushions by releasing the suspension more while driving to fly over the road, while reducing body roll and guaranteeing body support when carrying heavy loads.
That engineering speak means impressive comfort for everyone on board the C5X. Couple that with acoustic laminated front and rear windows to provide insulation from outside noise and the comfort is enhanced by a quiet cabin.
This is car that's also easy to get used to driving. There is a large infotainment screen up front and getting mobile and other accessories set up was quick, logical and efficient. Heating controls were easy to understand and clearing a frosty windscreen was quick and effective.
There will be forever plus and minus comments about PHEV's and their efficiency, running costs and value. The Citroën C5X came with a range of 720km on a combined petrol tank and fully charged battery. The battery range is a modest 63km, not always easy to achieve. I took to a long journey immediately and that electric range was predictably soon exhaust on the motorway, even while setting the cruise control to 100km/hr.
I've been converted to more fuel efficient driving by the arrival of PHEV's and electric cars. The 100km/hr self-imposed limit was delivered an economy level that's impressive and worth sticking to. My more than 800km most comfortable test drive across a range of conditions, delivered a petrol engine fuel economy figure of 6.9l/100km (41mpg or 14.5km/litre).
That performance is all the more impressive because the car's PHEV battery pack adds more than 300kg to the kerb weight compared with the petrol versions of the C5X. An additional penalty for the PHEV version is the lower towing rating, but only marginal compared with the higher power petrol engine versions.
The new Citroën C5X comes with impressive safety kit but it was not enough to achieve a five star rating in the September Euro NCAP crash testing programme. This was due to what Euro NCAP reported as "marginal performance in some of the active safety tests."
Boot space is a major plus for the new Citroën C5X even with the PHEV version, it is bigger than some competing cars. There is an automatic boot opening feature for the large boot lid that's a useful extra.
Entry prices for the Citroën C5X start at €42,370 for the entry level petrol versions while the PHEV versions start at €50,120. The economy advantage of the PHEV over the straight petrol versions is marginal except if you are a short commute driver with home charging on an overnight electricity tariff.
This is a very desirable car to look at, admire frequently and to drive of be a passenger in. The impressive comfort and quietness add to the desirability of what is a competitively priced large car with good warranty and improving support on the Irish market. Yes, I'm converted but not entirely convinced about the PHEV option.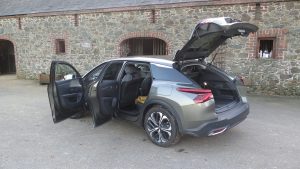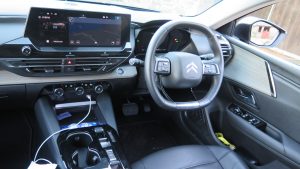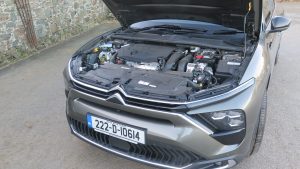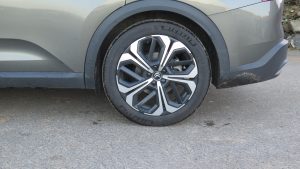 Citroen C5X PHEV – specifications
Engine/Motor
1.6 litre petrol + Electric Motor
Engine + Motor power
225bhp
Engine Torque
250Nm
0 – 100km/hr
7.9 seconds
Economy
15.9kWh/100km or 6.9l/100km
CO2 Rating
30g/km
Electric Range Theoretical
63km
Road Tax Annual
A €140
Main Service
12 months or 30,000km
Euro NCAP Rating
4 Star (2022)
Luggage Capacity
485/1580 litres
Towing Capacity
1350kg
Warranty
5 years on 8 years on battery
Entry Price
€50,120