Toyota's new Hilux 4×4 pick-up makes a strong statement in terms of power and comfort that will surely provide a challenge to Ford's market leading position with the Ranger. While there have been some upgrades to the Hilux in recent years, these are the most significant improvements and bring what's rated as the world's most 4×4 pick-up to a new level.
This new Toyota Hilux gets more engine power and torque than ever, coupled with new levels of comfort.  This new Hilux has a fresh front end look with a clear distinction now being made for the higher-grade Invincible model, which Michael Moroney had on his recent test drive. There's a new three-dimensional new grille and front bumper treatment which significantly increases the pick-up's road presence.
The extra power for the new Toyota Hilux from a bigger capacity four-cylinder engine is what instantly impresses. The engine is smooth in terms of power delivery and the lower speed idling is instantly noticeable.
Out on the road the matched six-speed automatic gearbox has a lively and responsive performance and that makes the Toyota Hilux easy and pleasant to drive. And all the time you know that there's power in the form of 204bhp and 500Nm of torque under that bonnet to take on almost any challenge.
This combination gives impressive acceleration and the 0 to 100km rating is 10.7 seconds, putting it well ahead of the Ford Wildtrak competition. The engine changes are significant to deliver this result, with notable changes to the turbocharger and engine gasket materials which Toyota claims have delivered power and improved economy. This new engine also meets the latest Euro 6d exhaust regulations.
The Toyota Hilux is impressive on the road in terms of economy and smoothness. The economy rating that I achieved was very similar to the Toyota rated figure of 11.4km/litre (8.8/100km or 32mpg). That ensures a significantly better range difference from a full 80 litre tank of diesel between the Toyota Hilux Invincible and Ford's Ranger Wildtrak.
The Toyota Hilux did not come with a towbar to compare towing performance, which is rated at 3.5 tonnes. More interesting is the fact that the towbar is an extra item on the specification listing costing €980 for the Toyota Hilux, while Ford offers a similar towbar for €419.
The comfort features of the new Toyota Hilux are also noticeable. The improved suspension benefits from front and rear shock absorber tuning and it brings noticeable comfort when on the road. The rear leaf spring and twin shock absorber rear suspension system has also been revised and again the comfort improvements are very noticeable.
Toyota has a new variable flow steering system for the Hilux which claims to enhance steering response when cornering or changing lanes. It offers lighter steering at low speeds for easier manoeuvrability and gives more weight at higher speeds for greater confidence and control. Toyota claims that the system enters standby mode when the vehicle is not being steered, such as when driving straight ahead. This feature reduces the power steering pump consumption torque and helps to deliver better fuel efficiency.
Toyota has provided the Hilux with a new electronic function which  Toyota claim replicates the effect of a mechanical limited-slip differential for improved traction on low grip surfaces in 2-wheel drive mode which is available on 4WD models only. This system lowers the engine speed at idle from 850 to 680 rpm and a tuned accelerator response for greater driver control at lower speed off-road driving.
For off-road driving the new Hilux has a class-leading minimum running ground clearance of 310 mm on double-cab versions, and the ability to wade to a depth of 700 mm which is marginally less than that of the Ford Ranger.
The interior of the Toyota Hilux has also been upgraded. The new lower position of a new, 8″ centre console-mounted infotainment screen is a better fit. This unit adopts mechanical buttons and dials for enhanced operability under all driving conditions. Toyota claim that the Hilux enhanced multimedia system features faster software and screen response and incorporates both Apple CarPlay and Android Auto for smartphone integration.
This new Toyota Hilux Invincible comes with a smart entry and push-button start, satellite navigation, automatic air-conditioning, front and rear parking sensors, and a 9-speaker JBL Premium Sound System incorporating an 800W 8-channel amplifier and CLARi-Fi technology.
The 4×4 pick-up market remains strong in Ireland and across Europe where buyers blend professional and leisure features, so road manners and comfort are as important as durability. Ford has been the market leader with the Ranger, while the January 2022 sales figures show that this new Toyota Hilux is making a strong comeback.
Entry prices for the Toyota Hilux Invincible model with an automatic gearbox start at €51,810 (incl. VAT) and that's marginally more expensive that Ford Ranger Wildtrak. The new Toyota Hilux Invincible offer is now more tempting for reasons of power and comfort. It is now also a match for the best in terms of towing ability and payload capacity at 3.5 tonnes and 1 tonne, respectively, with impressive new safety features.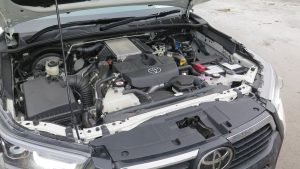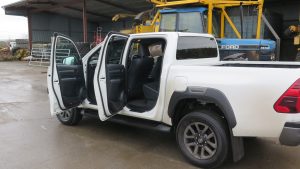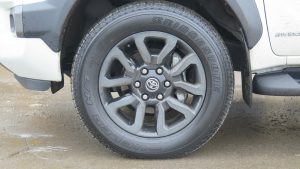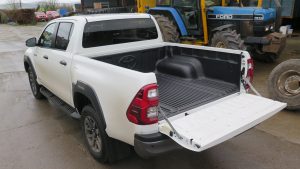 Toyota Hilux Invincible v Ford Ranger 2.0 Wildtrak
Specifications
Toyota Hilux Invincible
Ford Ranger Wildtrak 2.0 XLT
Engine
2.8 litre
2.0 litre
Engine power
204bhp
213bhp
Engine Torque
500Nm
500Nm
0 – 100km/hr
10.7 seconds
12.6 seconds
Economy
11.4km/litre (8.8/100km or 32mpg)
9.35km/litre (10.7

l/100km or 26mpg)

Fuel Tank Capacity
80 litres
80 litres
CO2 emissions
233g/km
278g/km
Range Theoretical
912km
748km
Road Tax Annual
Commercial €333
Commercial €333
Euro NCAP Rating
5 Star (2016)
5 Star (2012)
Kerb weight
2340kg
2390kg
Towing rating
3500kgs
3500kg
Ground Clearance
310mm
237mm
Wading Depth
700mm
800mm
Wheelbase
3085mm
3220mm
Overall Length
5325mm
5359mm
Pick-up Length
1525mm
1545mm
Pick-up Width
1540mm
1560mm
Pick-up Side Height
480mm
511mm
Payload
1010kg
1034kg
Warranty
3 years
2 years
Entry Price
€51,810
€48,392