Circle K, Ireland's largest forecourt and convenience retailer, has announced details of the latest installation of high-power EV chargers at Circle K Kill South on the N7. Today's announcement continues Circle K's strategic partnership with IONITY, Europe's leading high-power EV charging provider.
IONITY's high-power charging stations are strategically located at six Circle K sites across the country including Circle K Gorey on the M11, Circle K Athlone on the M6, Circle K Kill North and Circle K Kill South on the N7, Circle K Cashel on the M8 and Circle K City North on the M1. In these locations, the six IONITY EV charging stations are each equipped with an average of four 350kW chargers for electric vehicles using the leading European standard Combined Charging System (CCS). IONITY chargers use 100% renewable electricity.  Therefore, drivers get the benefit of emission free and carbon neutral driving.
Jonathan Diver, Senior Director Fuels at Circle K Ireland commented: "We are delighted to make this announcement today continuing our strategic partnership with IONITY. This further increases our EV capabilities across our network of service stations and more importantly delivers more high-power charging solutions for motorists across Ireland.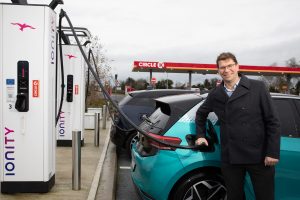 IONITY are renowned globally for being at the cutting edge of EV charging and our partnership with them is testament to the scale, quality and geographic spread of the Circle K network both here in Ireland and internationally. We look forward to working closely with IONITY in the years' ahead to develop our EV capacity further.
At Circle K, we know that the forecourt of today is not the forecourt of tomorrow and people will look to us to show leadership on electrification. We are already leading the evolution in this regard in terms of our extensive EV and alternative fuel capabilities across our network and we have a pivotal role to play in ensuring a smooth transition to electric vehicle usage in this country."
Pia Bretschneider, Country Manager, UK & Ireland at IONITY, commented: "IONITY's continued partnership with Circle K demonstrates our commitment to helping drive forward electromobility across Ireland and the rest of Europe. The new charging stations will enable drivers to travel hassle-free across the country and charge their EV in the time it takes them to enjoy a cup of coffee at Circle K's facilities. The ultra-fast chargers are absolutely critical for a successful transition to electric mobility and ensuring zero emissions at the tailpipe. Our commitment to green mobility is also reflected by the use of energy only from 100% renewable sources at all of our stations. It has been a pleasure to partner with Circle K who clearly understand their customers' needs to ensure their journeys are as enjoyable as possible, whilst forwarding the e-mobility revolution."