The Swedish farmer and owner of the company Ranch of Sweden AB talked about contemporary agriculture themes, and BKT listened to his opinions and suggestions as a person that uses BKT tires every day.
Stefan lives in Tystberg, not far from the town of Nyköping in the South of Sweden. There, together with his wife, he manages a modern agricultural company, which stretches over an area of 700 hectares. Not only does he cultivate mostly cereals, but his company is also the only farm in Sweden to produce Camelina seeds and oils. Camelina Sativa is an oilseed plant, whose seeds are used to obtain a precious oil full of polyunsaturated omega-3-6-9 fatty acids, and vitamin E. This plant is interesting because its cultivation has a low environmental impact: it requires little energy and no irrigation; it is strong; resistant to diseases, pests and insects; it does not require crop protection products. If planted at high density, the plant prevents the growth of weeds without the need for herbicides.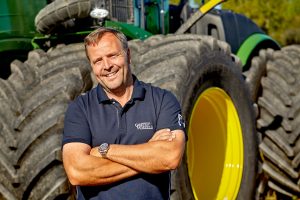 "The production of Camelina oil was an idea of my wife, Therese. She has many years' experience in food sales and has always been interested in so-called functional foods," says Stefan Ranch. "She manages Ranch AB, which sells and markets our cold-pressed Camelina oil and our dry-toasted Camelina seeds. I immediately welcomed her idea because I am in favor of organic agriculture. But that's not all: this product is healthy and allows us to reduce our environmental impact. We have also been able to differentiate ourselves on the market!"
However, in order to produce Camelina, Stefan had to reduce the compaction of his soil.
"I have always been passionate about tires, rims, and pressure. I am aware of the difference they make, but I think that most farmers don't pay enough attention to soil-compaction. We must be more sensitive and protect our soil. I have been cooperating for 20 years with the University of Uppsala in Sweden testing tire pressures and their impact on the soil. I'd say I'm a "tire nerd" as tires have always been my thing." This is well-known also by Gripen Wheels, the Swedish distributor of BKT products, which has listened carefully to Stefan's needs, providing him with the best possible solution.
Stefan has a John Deere 9570R tractor equipped with eight twinned BKT tires, all of the same size. We are talking of AGRIMAX FORCE, the most popular BKT product designed for high-power tractors over 250 HP. Thanks to the IF technology, AGRIMAX FORCE operates at a lower inflation pressure compared to a standard tire – at the same load. Moreover, it enables the machinery to benefit from a larger contact patch, extraordinary flotation capabilities as well as a uniform weight distribution at low pressures.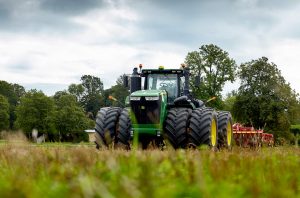 "Soil protection is like reputation: it takes years to build and protect it, and just a few seconds to destroy it," says Stefan. "AGRIMAX FORCE is perfect in this sense. I chose it on Gripen Wheels' advice because I had to fit my new tractor that was heavier than the previous one. I wanted to work at low pressures, at 0.5 bar for tire so that they could withstand a much heavier tractor using the biggest available size: 900/60 R 42. I am really satisfied; these tires are comfortable to drive. I'd say a smooth ride both on the road and in the field."
It is important to note how agriculture has its own pace in Scandinavia, due to the particular climate. Summer is quite short, and farmers must be ready to do their job in a few days, day and night. Therefore, they need this heavy equipment that is able to withstand such stress.
"More than the product," adds Stefan, "I trust the people that can recommend me the right product knowing my needs. I also need an expert opinion regarding a "full tire" solution. This is why it was easy to choose Gripen Wheels and BKT."
Stefan is the symbol of the contemporary farmer and his real needs while facing the matter of sustainability. And not just that. In the family business, also Stefan's young son, Didrik Ranch, works "full speed ahead".
"I always quarrel a bit with Dad, but that's normal, we have different visions. The fact is that I would never do anything else in my life than this job. My future is here for sure. From him, I have also inherited my passion for tires." says Didrik, and then he speaks about the role of technology: "I am just curious to see where the development of ever-more-advanced solutions will take us. Don't forget that until few years ago, 750-HP tractors were unthinkable, not to mention driverless vehicles… – pure science fiction. I am sure that technology will help agriculture face the challenges of environmentally-friendly and sustainable production, my only worry is the falling number of farmers… You see, I don't have many friends that do this job. It's a hard life. For this reason, my generation has other interests. It is more oriented towards safeguarding the planet, which is a noble and essential goal. However, this will not stop me or my sector in which the farming contractor will probably play an increasingly important role."