For economical and low emission slurry spreading, farmers and contractors need flexible and reliable spreading technology. That's why Vogelsang's tried-and-tested ExaCut ECL precision distributor is the core of spreading systems in Ireland. Irish farmers and contractors rely on the versatility, quality and efficiency of our distributor technology.
Vogelsang's robust and powerful precision distributor meets the spreading demands of both small and large farms. The ExaCut ECL caters to your spreading application and individual requirements from pig slurry to thick, fibrous slurry.
Saving time, money and work on the farm requires reliable technology, especially when it comes to spreading slurry. Finding the perfect distributor is a decisive factor for the best slurry application, and the ExaCut ECL precision distributor has proven itself in the market time and time again. Whether you're looking for reliable spreading technology or adapting to your spreading application and regulations – the Vogelsang ExaCut ECL is claimed to be the best distributor!
With more than 5,000 units operational in Ireland today, the ExaCut ECL has won over farmers and contractors with its excellent cutting results, blockage prevention and simple, fast service. Always adapted to the challenges and requirements of the agricultural sector, precision distributors by Vogelsang do precisely what you want them to: spread slurry quickly, reliably and economically.
Vogelsang let contractors and farmers speak for themselves about how the ExaCut ECL benefits their slurry spreading.
Jamie Hurley from Hurley Agri Services is a contractor and owns a dairy farm in Co. Waterford. He now applies slurry with a 9m SlurryKat dribble bar and an integrated ExaCut ECL. "With my new spreading system and integrated ExaCut ECL, I can work much more accurate. With the splash plate I used before, it was taking too long for the slurry to work. Now I can deposit the slurry precisely and in the correct quantity. That is why the slurry gets in grazing now sooner, and I can go back on the fields earlier."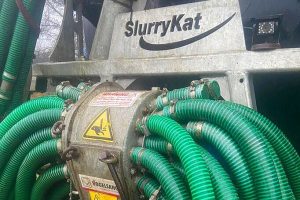 Stephen Smyth is the Company Director for Evergreen Fields Limited Transport and Agri Services in Co. Galway. He works around 10,000 hectares annually and spreads about 10,000 tons of bio-solids digestate. Stephen uses a Major Equipment Disc Injector with the Vogelsang ExaCut ECL.
"The ExaCut ECL convinces me with its low maintenance and easy operation. We have been using the precision distributor from Vogelsang over the years with no major issue. It is a good durable product built to take abuse and last. Robust and service-friendly technology plays an important role for me."
Ruairi Delaney is a farmer and contractor in Co. Mayo. For efficient slurry spreading, he relies on the dribble bar system with an integrated ExaCut ECL.
"I had to go for a low emissions slurry spreading system because I was too high in nitrates for a splash plate. We now get more value from the slurry through controlled spreading and the ExaCut ECL distributor. We can spread the slurry more easily and more often. The ExaCut is also lighter and compact for our system."