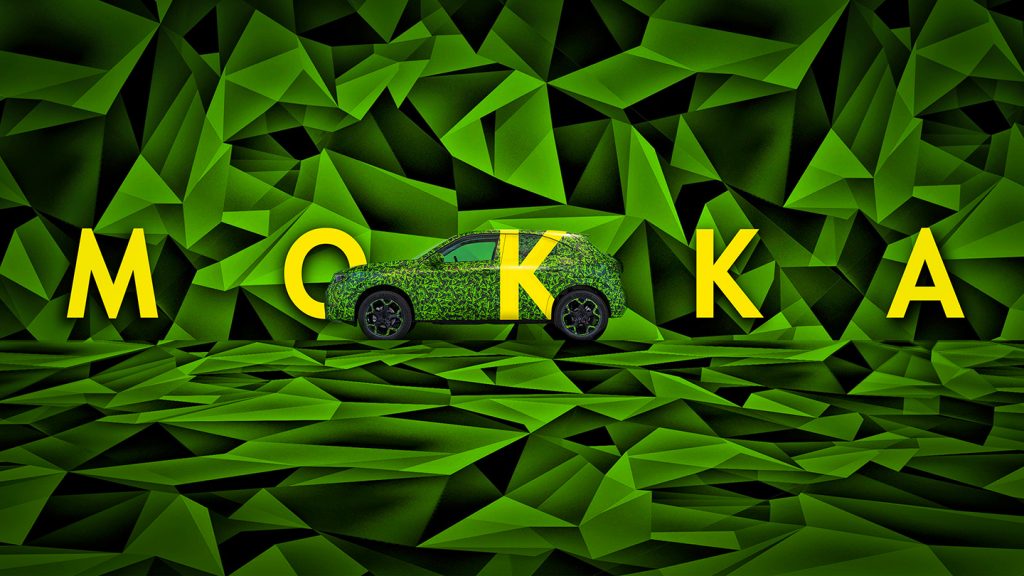 Opel has confirmed the all-new, second-generation of its best-selling Mokka crossover has commenced a road-testing phase with Opel engineers. The all-new Mokka is set to enter production in the final quarter of this year, with its arrival in showrooms expected in early 2021. The vehicle will be available from launch with an electric powertrain, ahead of petrol and diesel engines, a testament to Opel's commitment to electrifying its entire range by 2024.
Opel enthusiasts will observe that the new model has shed the "X" in its name, a nod to the much celebrated original Mokka, that debuted in 2012. The bold new model is compact and robust like its popular predecessor, but promises to deliver German engineering excellence, in an even more stylish, efficient and technologically advanced package.
Covered in striking green camouflage, images of the muscular all-new Mokka test cars feature a large, yellow K across the rear doors and roofline and tease viewers as to what is behind the camouflage. Although the more intricate details of the design are not completely visible yet, the muscular new Mokka has been designed to impress and already shows crisp proportions with short front and rear overhangs and a fully digitised cabin, hinting at a clear, new Opel exterior and interior design philosophy.
Opel CEO, Michael Lohscheller, said: "I have followed the development of the new Mokka very closely for two and a half years and I am very proud of this new Opel, which will be electric from the very beginning! I can promise that the new Mokka will be one of the most exciting cars in our long history! This second generation shows everything Opel stands for today, and in the future and it will change the perception of our brand. Our engineers still have important work to do, but I'm looking forward to presenting the new Mokka soon."
James Brooks, Managing Director at Leeson Motors, Opel Importer in Ireland, said: "We are excited to give a sneak preview of what is to come with the all-new second-generation Mokka. The all-new Mokka will denote an important next step in Opel's new design philosophy. Launching the car with a fully electric engine builds on our strategy to give our customers the freedom to choose the model and powertrain to suit their lifestyle or needs."
The Mokka EV will join a quickly expanding range of electrified Opel models, including the Corsa-e and the Grandland Hybrid 4, just launched, and the new Vivaro-e, due to arrive before the end of this year. #opelireland