Visitors to the 2018 National Ploughing Championships may have noticed a very different crawler-type tractor on WR Shaw's stand. The crawler in question is owned by the Royal National Lifeboat Institution (RNLI) and was based at Clogher Head Lifeboat station, Co. Louth. It is one of around thirty built by Clayton Engineering Ltd in Wales for the RNLI.
The Talus MB-H crawler seen at 'The Ploughing' was specifically designed for the RNLI to launch and recover Lifeboats from beaches. The firm builds and has built a number of specialist tractors for the RNLI including the County based MB-764 and the RNLI/Clayton designed Talus MB-4H. The latter is articulated which has earned it the nickname 'The Bendy'.
In January 2019, due to the retirement of the current owners and managing director at Clayton Engineering, the RNLI took over ownership of Clayton Engineering Ltd, a company with which it has had a very close working relationship for forty years. The firm now manufactures and supplies almost half of the RNLI's lifeboat launch and recovery systems used throughout the UK & Ireland.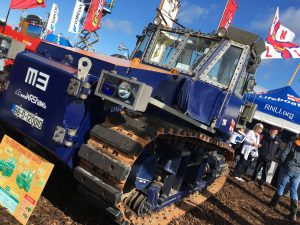 About RNLI: The Royal National Lifeboat Institution (RNLI) is a charity and has an active fleet of 349 lifeboats based at stations around the UK and Ireland. Between them, RNLI Lifeboats cover 19,000 miles of coastline and some busy inland stretches of water. All are manned by a largely volunteer crews, on-call 24-hours a day, 365-days a year.
By Bruce Lett (bruceclett@gmail.com)