These past few weeks have been eerie in terms of motoring, there is little scope to test drive a car when you are confined of the 2km distance limit. The one consolation for me has been the limited driving that I've done has been in an Audi e-tron 55.
That brings no cause for complaints; I've not had to venture near a diesel or petrol pump where rumours abounded of them being the cause of the spread of the dreaded Covid-19 virus. This was a new advantage of electric motoring that I would never have included in my benefits list prior to the start of March 2020.
The Audi e-tron has allowed me to cocoon in a very different way, one that's both comfortable and luxurious, even for the short drives that I've taken near where I live. There are few better cars to have at your disposal at this strange time for our world, than an Audi e-tron.
So every day and sometimes a few times a day, as I walk around it and wonder at the Audi e-tron I have developed an ever growing admiration for what it can do. That's even if I can't experience it all of its abilities at this time.
And I've never had to worry about a refill; the overnight charge gave me assurance that I'm good to go if needed with a range of almost 350km. Sometimes, I just sit in the car in the yard and wonder at its impressive design and performance.
The latter has only been moderately tested on a special mission as far as the shores of Lough Owel near Mullingar. That test was a combination of range and performance. Both impressed.
The Audi e-tron gave me a full range capacity of 347km from an overnight charge. After my 150km Mullingar round trip the car was still good for almost 200km. This is despite a few attempts at an acceleration test just solely to experience the massive torque which jumps to 600Nm on boost power. And it's impressive and you need to be prepared for the massive power surge. The driving range on a full charge is reasonably good when you consider that it weighs in at over 2.5 tonnes and can accelerate in a 0 to 100km/hr race in less than 6 seconds.
The e-tron design is still in the Audi SUV design camp. It feels bigger than a Q5 and smaller than a Q7, in essence it is probably the right size for an SUV. There is an equally strong feeling to the car and that's reflected in its performance.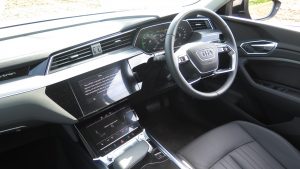 The interior of the car continues that luxury experience. The dash layout is true Audi, with an electronic dash and German clarity in terms of function. It's easy to get comfortable and understand all of the car's abilities.
There are driving options that include Power and Sport modes, while I found that Eco driving was impressive in its own right. With the e-tron's acceleration ability what more do you want or need.
This is car that's very great to drive, quiet, powerful and comfortable. The 95kWh battery pack is tucked under the body of the long wheelbase SUV to give a sense of balance to the car when you're out on the road. This gives superb road holding and vehicle handling.
The design of the Audi e-tron is based on the fact that the front and rear axles are each powered by a separate electric motor to make this a true Audi quattro. There is no mechanical connection between the axles. Instead, an electronic control unit distributes the torque evenly in fractions of a second.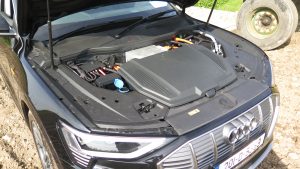 For most driving the e-tron uses its rear electric motor to achieve the highest efficiency. If the driver demands more power than the rear electric motor can supply, the electric all-wheel drive uses the front motor to redistribute the torque as required to the front axle. The electric motor in the rear end has an output of 150 kW and achieves a torque of 310 Nm; the front engine supplies the front wheels with up to 75 kW and 150 Nm or torque. The system's combined power is 225 kW.
The battery in the e-tron floor stores 82 kilowatt hours, and Audi claims this allows for a range of more than 450 kilometres according to the WLTP standard. I could only achieve a range of 347km from my charging experience. The battery is charged with a maximum of 125 kilowatts. Audi claims that it takes about 30 minutes to return to 80 percent of the total capacity.
The car has come through the Euro NCAP testing programme with top marks, so be confident in its safety credentials, which include a front seat ISO-Fix kit for child seats. There is some additional comfort from the fact that the seatbelts give you a confident hug as you take off driving.
The Audi e-tron is an expensive electric car option make no mistake about that. The entry price for the car is €76,990 or £71,560 in N Ireland, that's before the up to €10,000 tax back benefits for private owners.
Will it save you money or just the planet? Audi calculates that the e-tron will be most cost efficient if you are home charging with night rate electricity. They have some useful comparisons on the Audi Ireland website (www.audi.ie) where they give you the cost options for the e-tron using night rate or day rate compared with diesel and petrol running costs of equivalent traditional internal combustion engine cars in their range.
With night rate electricity at your disposal for home charging (night rate charging €0.098/unit) the annual running cost differences between a e-tron and the likes of an Audi Q5 based on about 2000km/month usage, will be about €664 without insurance for the e-tron compared with €1,390 with diesel version of similar vehicle. If you opt for day rate charging then the cost differences are much smaller.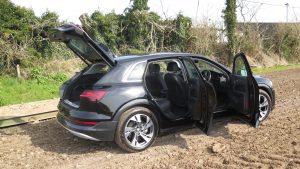 Lockdown or not this is still the most superb electric car that I've driven, one to desire in every respect, if only it was more affordable.

Audi e-Tron – specifications
Engine Electric
Engine power 390bhp
0 – 100km/hr 5.7 seconds
Electric Power Consumption 22kW/100km
Fuel Tank Capacity 0
CO2 emissions 0 g/km
Road Tax Band A0 €120
Main Service 12 months
Euro NCAP Rating 5 star (2019)
Towing rating 1800kgs
Warranty 3 years/100,000km
Luggage Space 660/1725 litres
Diesel Entry Price €76,990
N. Ireland Price £71,560